Why should people need a restroom to wash their hands?
One impact the COVID-19 pandemic is having on society is amplifying the importance of handwashing. Everyone from small children to the elderly is reminded how important it is to wash their hands to slow the spread of disease. Even when the pandemic is over, people are likely to stick with this hygienic best practice.
Of course they'll wash their hands when they use the restroom. (We can even hope they'll keep doing it for 20 seconds every time.) But now that everyone is so much more aware of the danger of cross-contamination, they'll want to wash their hands more often outside the restroom, too.
Unfortunately, in most facilities, the restroom is the only place people can wash their hands. Until now.
Introducing the Sloan Mobile Handwashing Station
The Sloan Mobile Handwashing Station is much more than a sink on wheels. It's a complete, touch-free hand hygiene station that can be placed almost anywhere in almost any facility.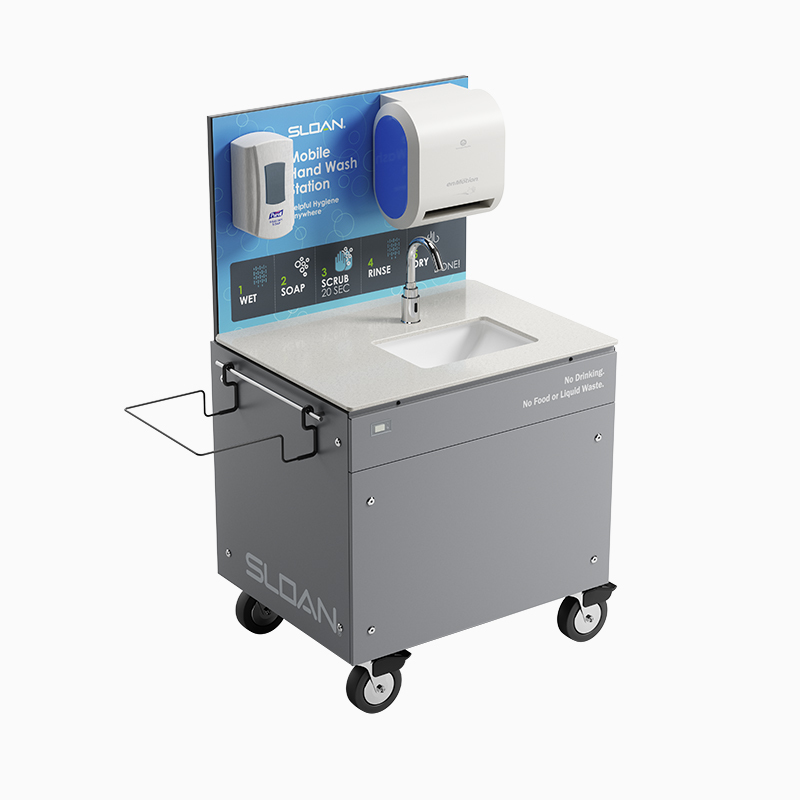 Based on the model you select, the station features:
A Corian® sink deck with vitreous china undermount bowl or stainless steel deck with stainless steel drop-in sink

An EnMotion sensor-operated paper towel dispenser

A CS-8 wall-mounted sensor-operated foam soap dispenser

Lockable caster wheels

Handle and trash bag holder
Select models are also available with:
A water heater

AC or DC power

A drain pump

A protective hood for outdoor use
All models operate touch-free to reduce the likelihood of germs being transmitted.
The Mobile Handwashing Station pairs attractive design with the durability you expect from Sloan. It's a simple solution that helps you enhance health, wellness, and hygiene throughout your facility.
Places Where the Sloan Mobile Handwashing Station Makes Sense
Think of all the places people may want to wash their hands. There's no limit to the locations where it makes sense to place a Sloan Mobile Handwashing Station.
School hallways. Since kids and teachers touch so many things in the classroom, they'd be smart to wash their hands between classes. Teachers can also place Mobile Handwashing Stations outside auditoriums and cafeterias to let kids wash up before or after assemblies or lunch.
Airport terminals. Think of all the things you touch in the five minutes it takes to grab your bag and get off the plane. Don't you wish there was a Sloan Mobile Handwashing Station right outside the gate?
Stadium concourses. Stadium restrooms are notorious for long lines, so people who just want to wash their hands get discouraged and may not wait. Mobile Handwashing Stations let them wash up without queueing up.
Shopping malls. Retail environments are another place where people touch lots of things—and the restrooms are not always nearby. Place Mobile Handwashing Stations throughout the mall, and shoppers can practice good hygiene without a major detour. Plus, parents of small children will be eternally grateful.
Office conference rooms. How many people go in and out of a busy conference room during the course of a day? They sit in each other's chairs, touch the same parts of the table, and maybe even pass around a box of donuts. That Mobile Handwashing Station will get plenty of use.
Office break rooms. The coffee maker. The refrigerator door. The cabinet handles. The buttons on the vending machine. There are many things in the break room that everyone touches, so they'll be happy to have a place to wash their hands afterwards.
Government facilities. Any place lots of people come in and spend time waiting—such as the post office or the department of motor vehicles—can be a breeding ground for germs. The Sloan Mobile Handwashing Station is ideal for highly frequented government facilities!
Handwashing is—and always will be—a high priority for helping people stay as healthy as possible. Whether you manage a small school or a giant international airport, you're likely to find several locations where Sloan Mobile Handwashing Stations make reaching that goal easier.
Contact Sloan to learn more about hygienic solutions that make facility management easier.
Stay Up to Date
Sign up for the Sloan blog to receive information on the latest trends in commercial building, technology advancements and product updates. It's the leading source of industry news for architects, designers, engineers and contractors.
Thanks for signing up!