Baseball has changed quite a bit in the last few years. The stadiums have changed, too—and Globe Life Field in Arlington, Texas is the latest example of this evolution.
As most of our readers know, we're huge baseball fans here at Sloan, and we're proud to have helped build the state-of-the-art restrooms in the Texas Rangers' new home field.
To celebrate the first season at Globe Life Field—delayed one year by the COVID-19 pandemic—we thought we'd take a look at how baseball stadiums and their restrooms have evolved.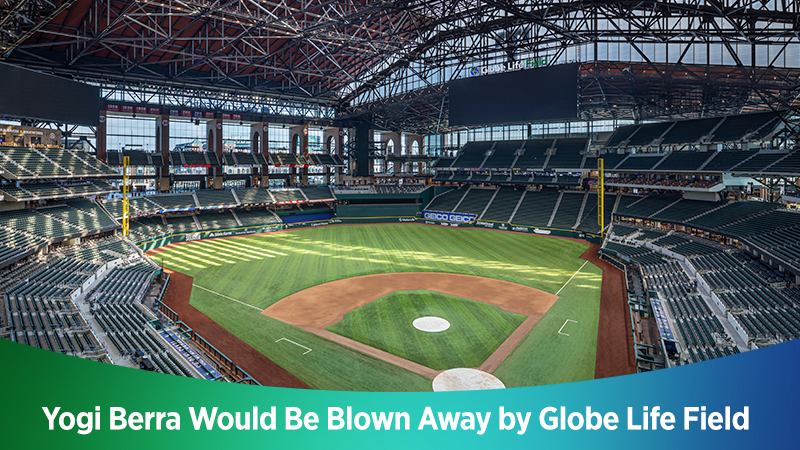 Yogi Berra was a Hall of Fame player and manager from 1946 to 1985. (He's also famous for odd sayings such as "It ain't over 'til it's over" and "Baseball is 90 percent mental, and the other half is physical.") For generations of fans, he was the epitome of old-school baseball.
He once said, "If the people don't want to come out to the ballpark, nobody's going to stop them," but he never could have imagined a palace like Globe Life Field, which has a host of fan-friendly innovations designed to keep fans comfortable and help them enjoy the game even more.
Dugout clubs

put fans right at field level from foul pole to foul pole—a unique vantage point in Major League Baseball. The Home Plate Club is just 42 feet from home plate, which is 18 feet closer than the pitcher.

Two 360-degree walkable concourses

—one on each of the upper and lower levels—give fans a more intimate experience by letting them circulate throughout and around the entire stadium.

The largest single-panel operable roof

in the Majors—all 5.5 acres of it—shelters VIP parking when it's open, and keeps everyone inside cool and comfortable when it's closed.

Clear ETFE panels

in the outfield archways let plenty of natural light into the stadium, even with the roof closed.

Nine LED video displays

—with the equivalent screen area of 1,220 60-inch televisions—give fans everywhere in the stadium a close-up view of every play.
The stadium also added a number of health precautions in response to COVID-19, which enabled them to be the first in MLB to allow full attendance at games. This concern for hygiene is also evident in the Sloan products selected for the stadium's 42 restrooms.
Major League Restroom Hygiene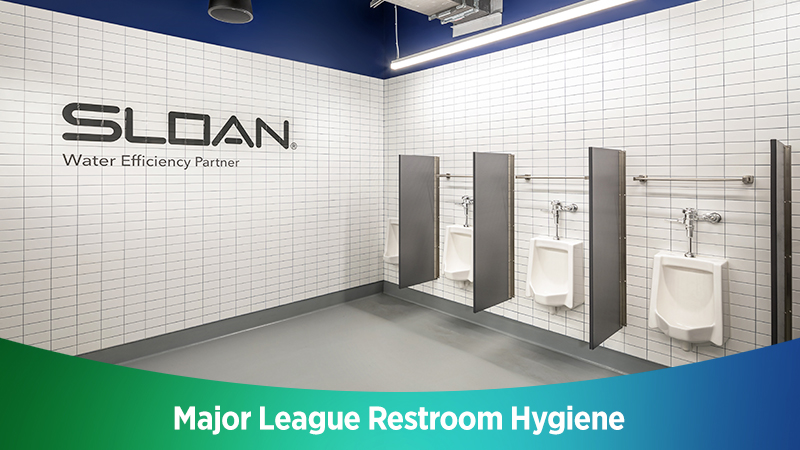 When Major League Baseball needed a neutral site to host the 2020 World Series, —with live fans—they selected Globe Life Field. The stadium's touch-free Sloan restroom products helped make it a hygienic destination while the COVID-19 pandemic was still in full swing.
Sloan technology also helped stadium management keep its restrooms maintenance-friendly with Bluetooth-enabled products. Sloan 111 SFSM Flushometers let maintenance teams wirelessly monitor the health and status of flushometers while saving time and increasing water efficiency, while Optima EBF-650 Faucets provide quick information on battery life, water usage, and troubleshooting.
Helping Vaccinate 4,000 People a Day in San Diego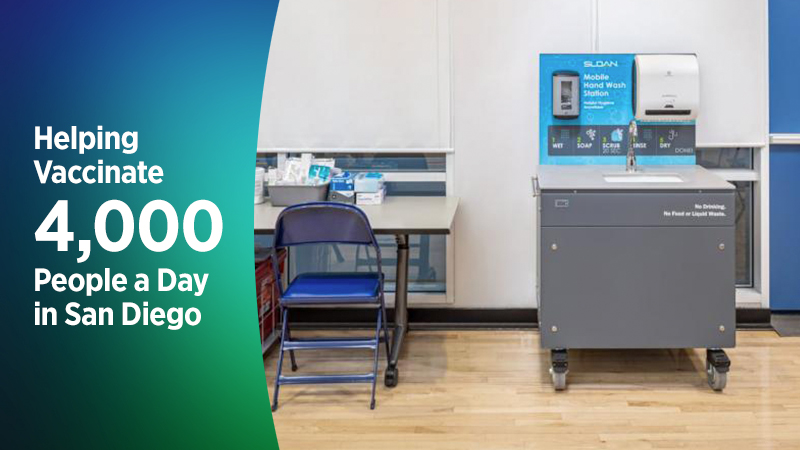 Baseball stadiums aren't the only place Sloan is helping maintain high hygiene standards for large groups of people. We're also helping the University of California San Diego athletic complex vaccinate close to 4,000 people against COVID-19 every day.
Needing greater access to handwashing facilities than their restrooms could provide, the complex placed Sloan Mobile Handwashing Stations in the vaccination room, waiting room, and post-vaccine treatment center to make sure every visitor had a handwashing outlet nearby.
Sloan technology has contributed to the construction and renovation of many of the world's most advanced facilities. Want ideas for making your next project more stylish, more hygienic, and more efficient? Contact Sloan!
Stay Up to Date
Sign up for the Sloan blog to receive information on the latest trends in commercial building, technology advancements and product updates. It's the leading source of industry news for architects, designers, engineers and contractors.
Thanks for signing up!