Sinks are the first thing visitors see in most commercial restrooms and can have a strong influence on first impressions. If you're going to make a visual statement, it's only logical to focus on sink design first.
But where do you start? The choices can be intimidating.
At Sloan, we offer a broad range of sink designs, from traditional to cutting edge, because we know architects and designers have endless ways of expressing their commercial restroom design vision. But even within a specific design language, the range of stylish sink choices can make it hard to narrow down on the right design.
Add in all the other variables—number of stations, sink colors, number and style of faucets and soap dispensers, enclosure styles, and more—and it can be hard to imagine how all the possibilities look.
Not anymore.
Introducing the Sloan Sink Configurator
The Sloan Sink Configurator is a new, free, online tool that lets you combine an array of various sink options and see exactly how these choices will look in your new restroom. All you need is to click, and you can visualize the real-world possibilities of your design vision.
Don't love it? Try different options and see if you like the new look better. Still not happy? Scrap everything and start over!
Once you've configured the perfect sink, you can save the design for future use or updates and download renderings, pricing, and other specifications to flesh out your proposal.
Here's a look at some of the options you can select to customize your sink in the Sink Configurator.
Background: Your sink won't exist in a vacuum. The Sink Configurator lets you choose the background tile and color of the restroom so you'll have a more accurate idea of how your sink will look when it's installed.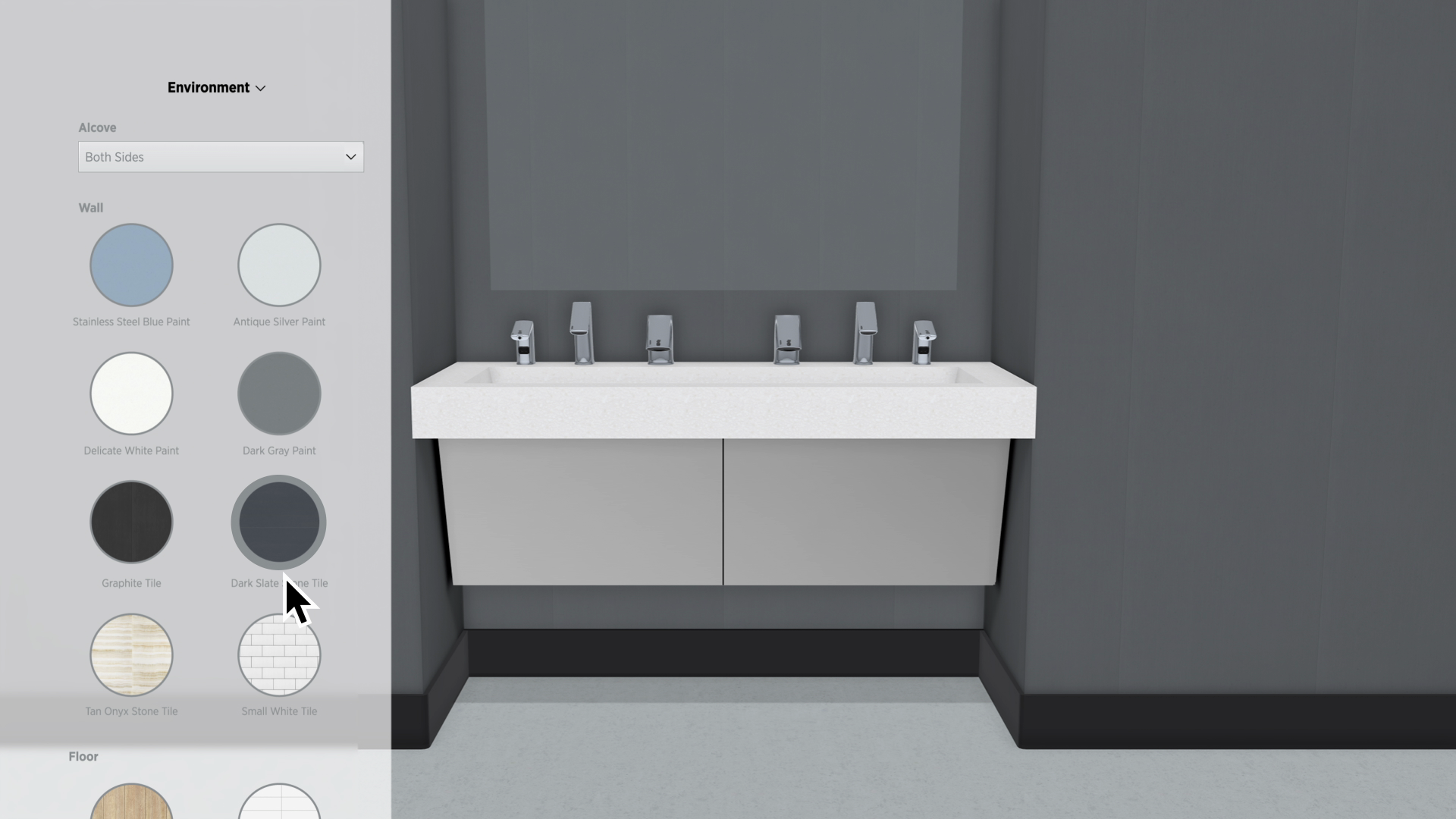 Sink type and stations: Choose from the most popular Sloan sink styles and see how they'll look with as many as eight stations. Do you prefer a continuous trough or individual basins? Try both and see what feels right! Oh, and don't forget to move the point of view around so you can assess the look from different angles.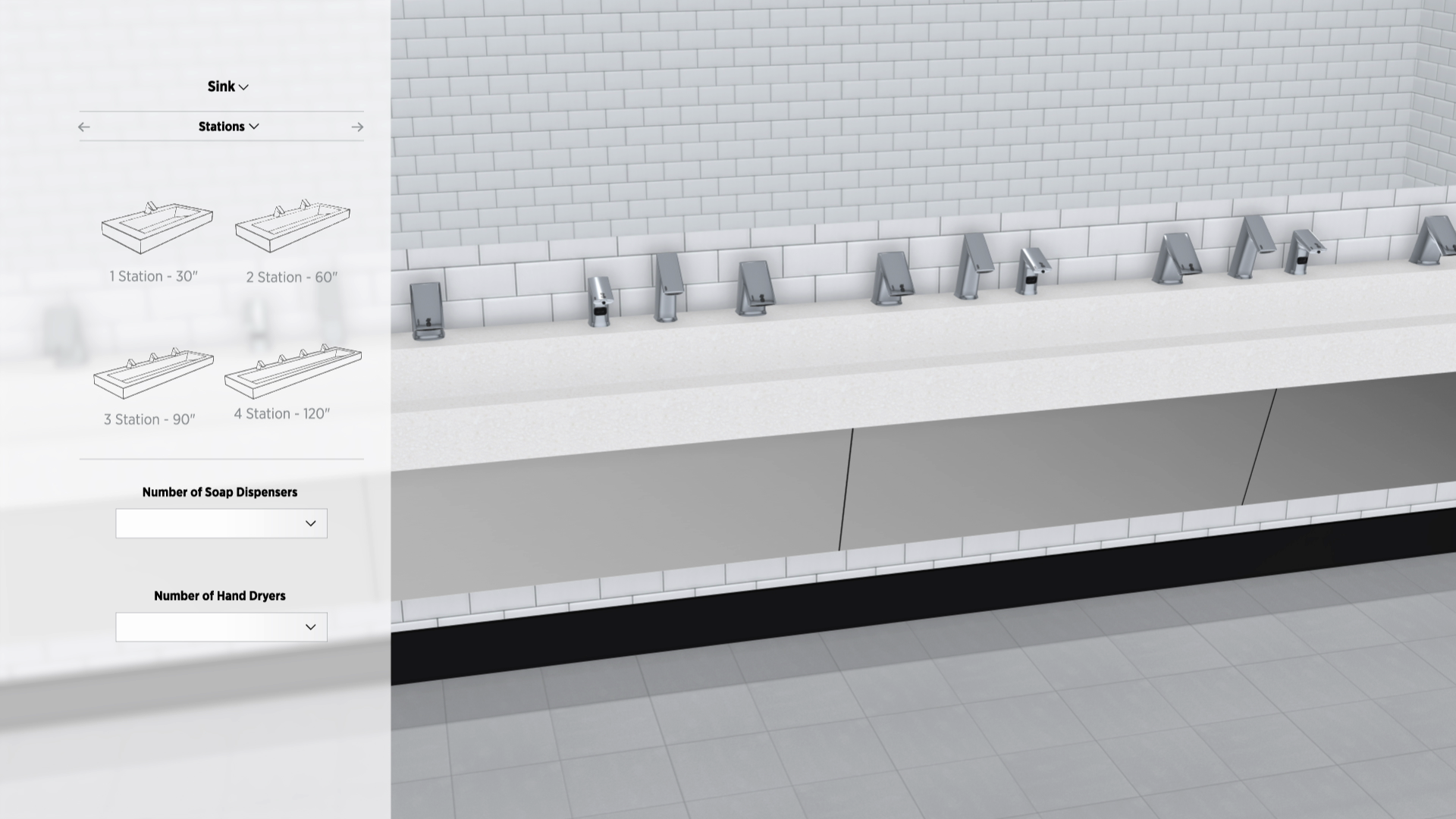 Faucets and soap dispensers: Spout design is an essential element of your sink's overall appearance, so the Sink Configurator lets you choose from every style Sloan offers. You can even filter them by power type, flow rate, finish and several other variables to make sure your favorites will work with your real-world restroom.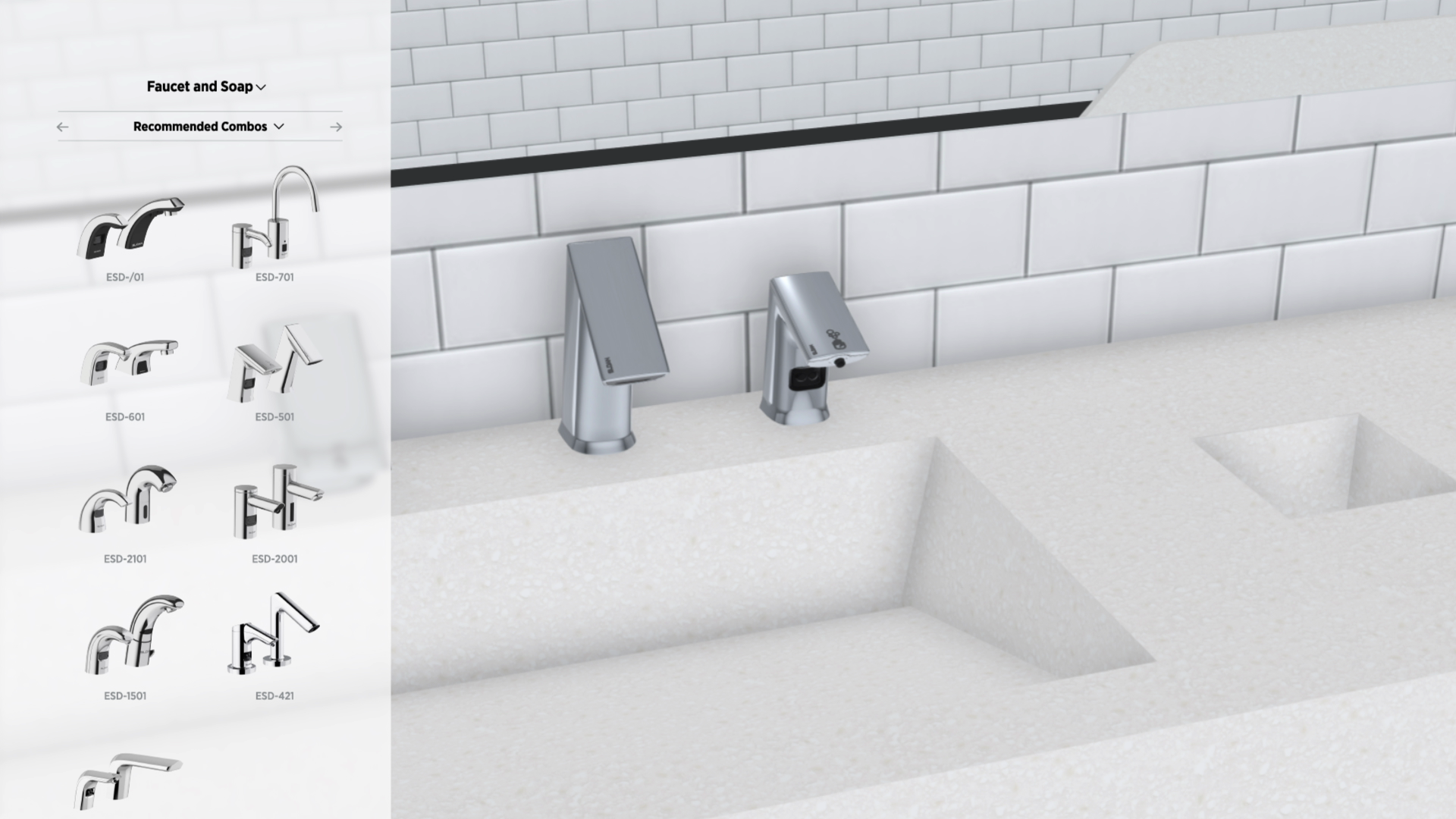 Counter and sink lengths: Every space is different, so the Sink Configurator lets you stretch and shrink the counter and the sinks themselves to see what looks best.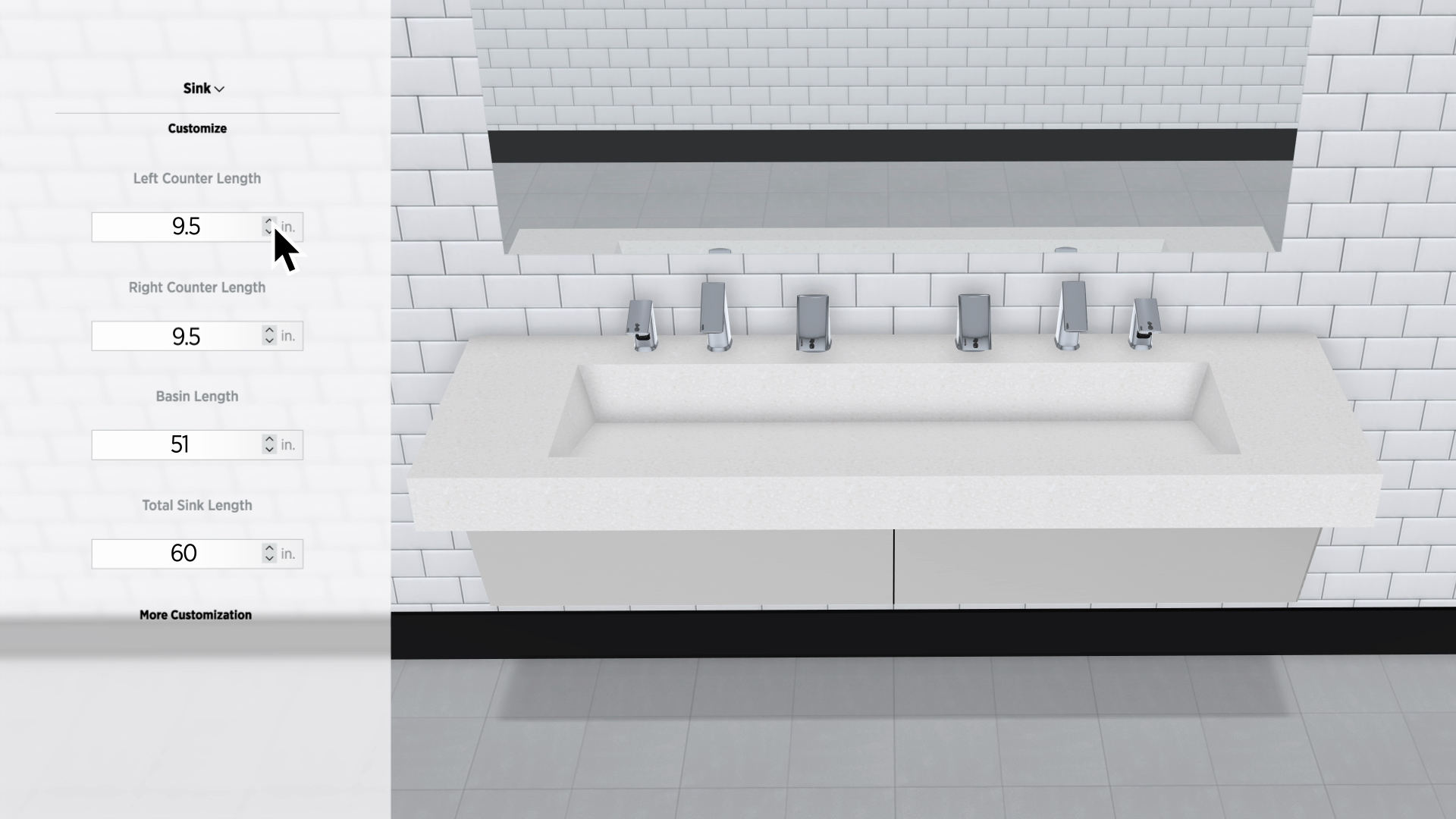 Accessories: Want bag hooks? How many and what color? You can also add paper towel holders, trash holes, and two distinct styles of baby changing station.
Sink materials and colors: Sloan offers dozens of sink materials and colors, and the Sink Configurator lets you explore all of them, in every possible combination. You can even filter them based on your price range, so when you find your favorite combination, you can be mindful of your budget as well.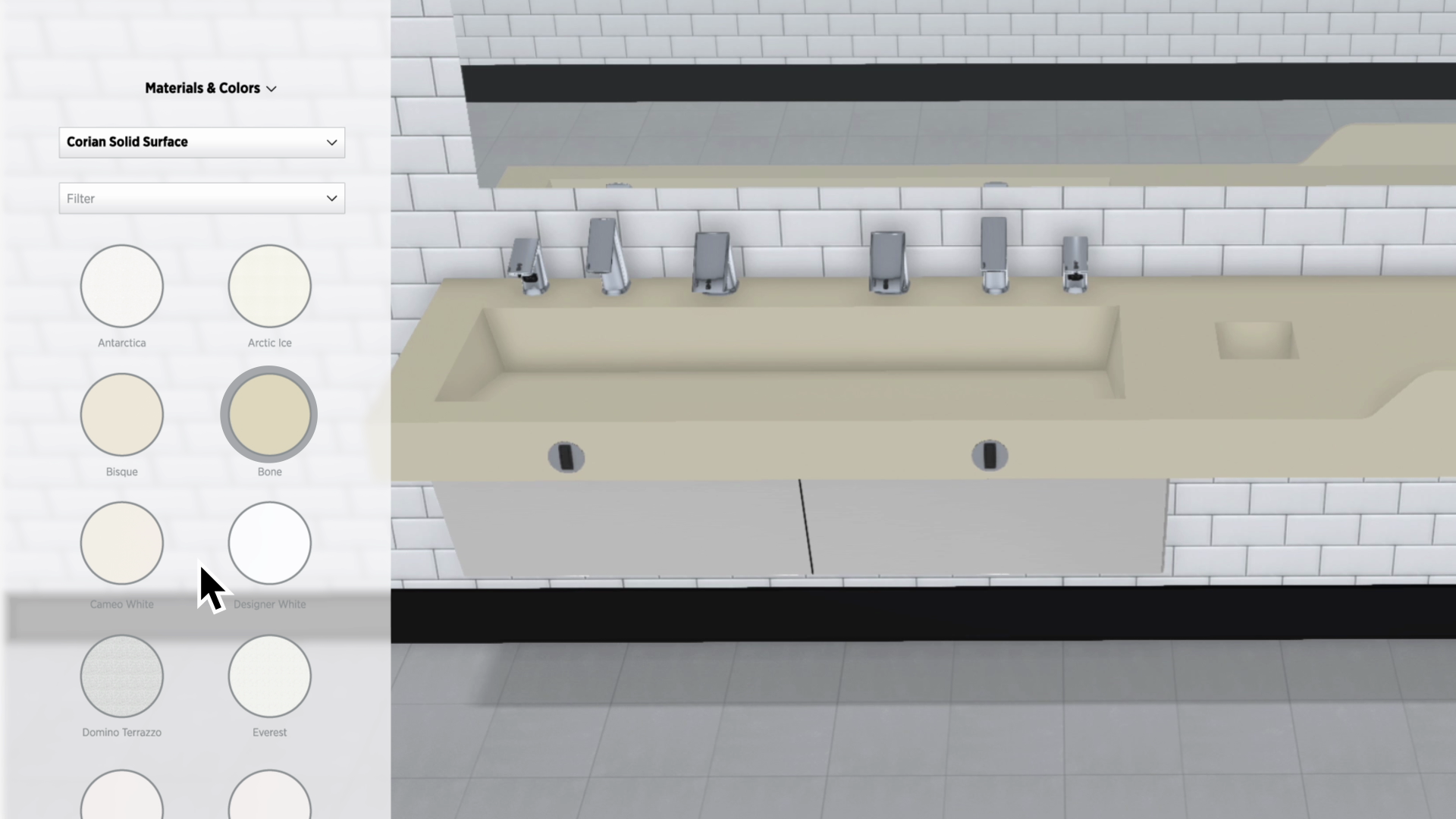 Enclosure styles and colors: See how your sink looks against different enclosure styles and colors—the Sink Configurator gives you dozens of options.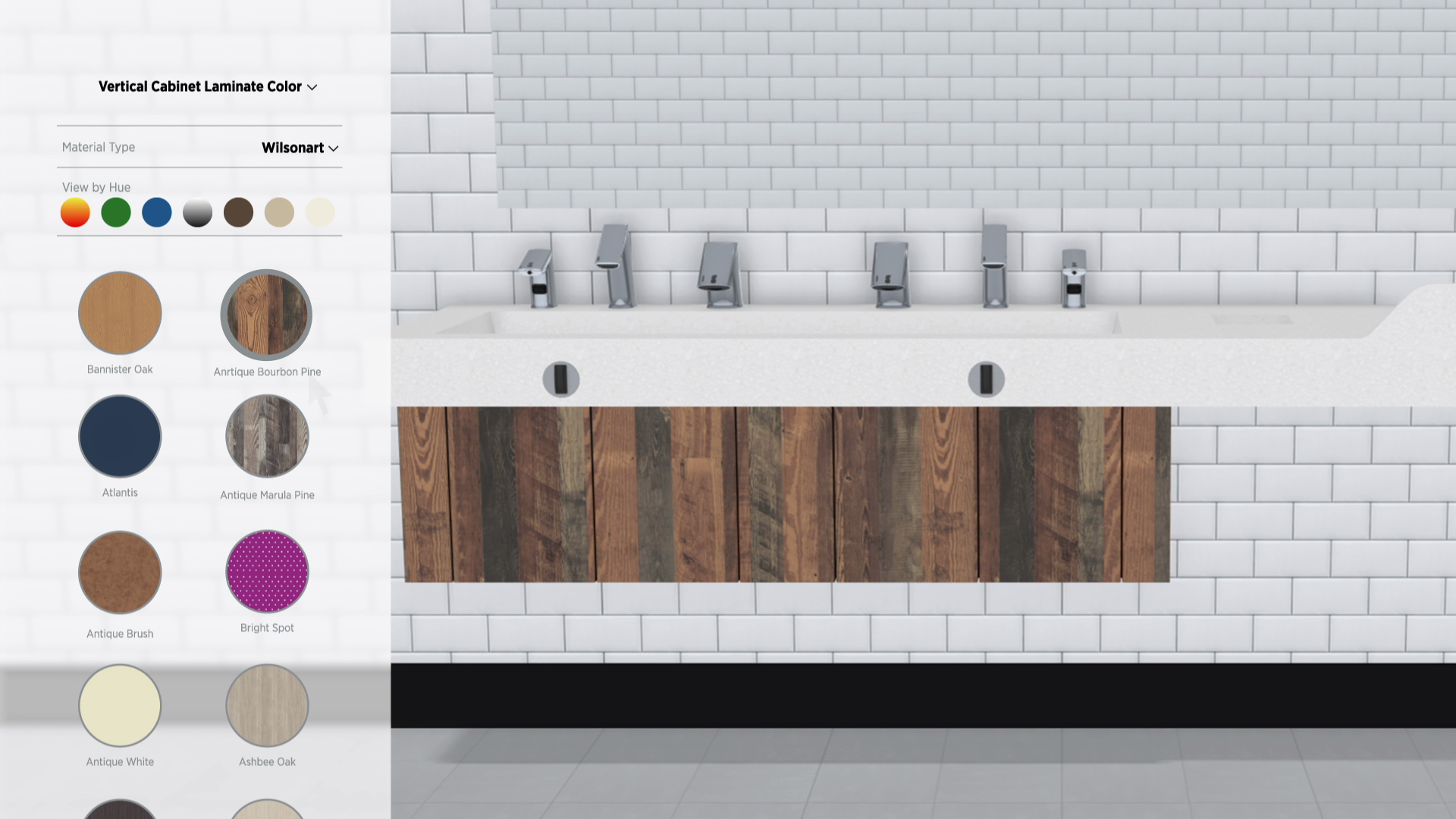 Take the Guesswork out of Choosing Your Next Sink
Specifying a sink has always required a small leap of faith, because there's always been a gap between what you see on a website and how the real item looks in real surroundings.
The Sloan Sink Configurator helps close that gap. You can see—and show your clients—exactly how the specified sink, faucets, and soap dispensers will look in the restroom where they'll be installed. And you can download all the renderings, pricing, and other assets you'll need to flesh out your proposal.
It's free, it's easy, and it's actually a lot of fun. Give the Sloan Sink Configurator a try today!
Want more design inspiration for your next commercial restroom project? Contact the experts at Sloan!
Stay Up to Date
Sign up for the Sloan blog to receive information on the latest trends in commercial building, technology advancements and product updates. It's the leading source of industry news for architects, designers, engineers and contractors.
Thanks for signing up!