This is not a post about a magnificent new building in which Sloan restroom fixtures were installed (although there are many). Nor is it about how Sloan's products help conserve water and promote sustainability (which they do in a big way).
Instead, it's about Sloan making it easier for architects, designers and engineers to create those magnificent new buildings and make them more sustainable.
Now, we know specifying flushometers, faucets, sinks, water closets, urinals and other fixtures for commercial restrooms isn't the first thing on your mind when you're planning a new project, and it's definitely not the most glamorous aspect of the job. But when the time comes, we want to make it as easy as possible to spec the products that complete your vision.
That's why we've introduced more complete, more dynamic spec sheets, along with enhanced web search and faucet model names to help you locate the exact products you need. Here's a closer look.
Better model-specific spec sheets
Every company that makes plumbing fixtures offers general spec sheets, but Sloan is one of the few with spec sheets for every model of every commercial restroom product we offer. That means you can instantly access all the relevant information about the exact product you're considering for your project.
We've improved all our general and model-specific spec sheets. They're created dynamically on our website when you open the spec sheet, so you always have the most up-to-date product data. You'll also discover an enhanced layout with links to additional content sources, like complementary products and technical documents, and faster download speeds.
Our improved general spec sheets, which list all the options available for our flushometers and faucet series, now include:
Interactive capabilities that let you check desired options

Image notes

A download section with links to related documents

Video links

"Last updated" and "View latest version" functionality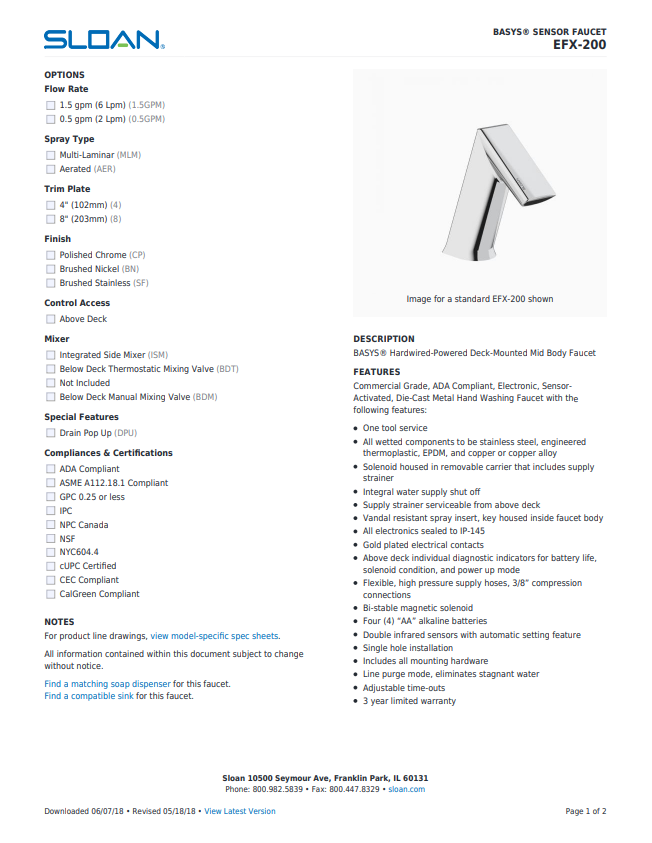 And the improved code/model spec sheets for all Sloan product lines now include:
New detailed faucet titles (more on that below)

More comprehensive product details

Acronyms used in new model titles

Video links

Image notes on any variations not shown

Dynamically generated compliances and certifications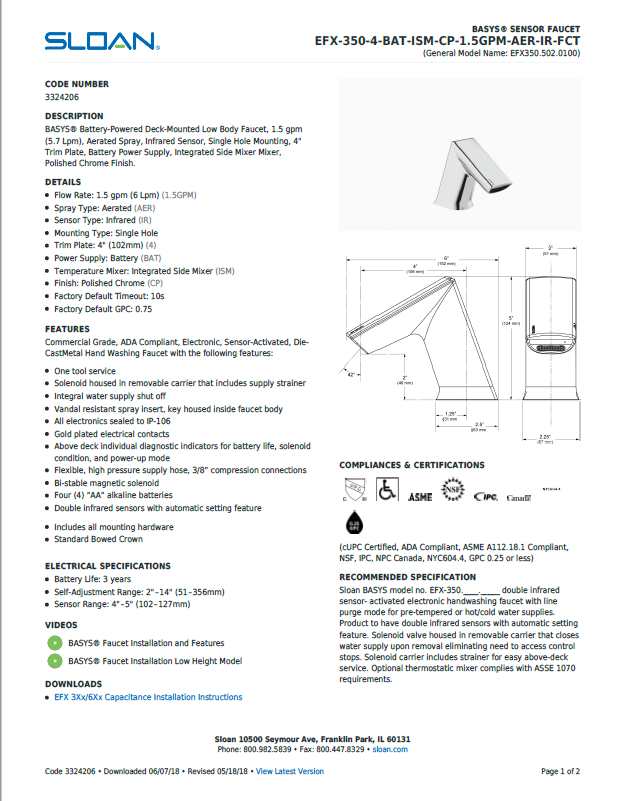 You can access these spec sheets by visiting any of our product pages—which are now even easier to find, thanks to our improved web search.
Find the perfect Sloan product faster
Enhanced search capabilities make it easier than ever to find the Sloan flushometers, faucets, sinks, water closets and urinals your project needs. Start entering a term in the search field on our website, and you'll discover:
Predictive search that completes the term you're searching

Categorization by products, spec sheets, downloads and pages

An all-results search functionality

More refined browsing results, with additional product attributes for more comprehensive filtering
When you find the page you're searching for, you'll find enhancements there, as well:
Additional filter options (enabling quick access to model-specific spec sheets)

More detailed model descriptions

Compliances and certifications within the filter options and written out with the model descriptions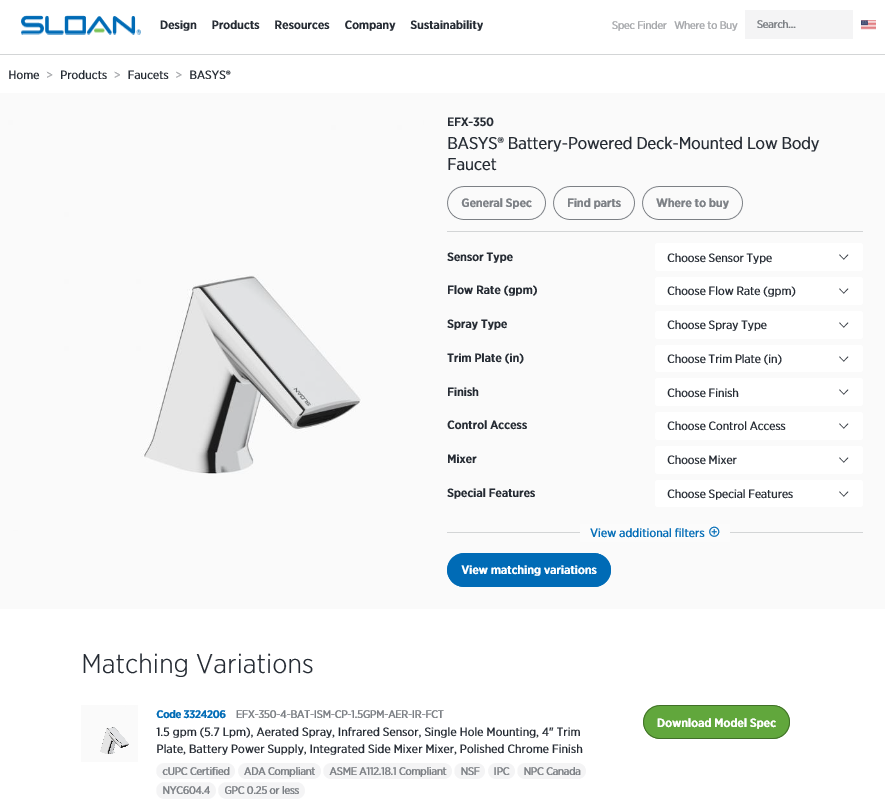 Now we give you many more locations and ways to find the exact model that meets your needs—through search, product line filters or product (series) page filters. And if you're having trouble finding what you need, you can still request a spec sheet by selecting the options and features you want.
New faucet names make specs easier
Sloan offers the industry's largest variety of commercial sensor faucet designs. To make selecting the faucet with the desired options easier we now have more detailed product descriptions.  Faucet descriptions now include information on options such as power supply, flow rate, spray type, mixer, sensor type and more.We know the new descriptions might take some getting used to, so the old description still appear along with the new. 
All these improvements—to spec sheets, search functionality and faucet product names—may not be as sexy as introducing a stylish, new, category-busting product like the AER-DEC Integrated Sink System. But we believe making it easier for architects, designers and engineers to fulfill their visions in sustainable commercial bathroom design is pretty cool, too.
Sloan innovations give architects, designers and engineers the world's largest selection of stylish, sustainable commercial restroom design options. Want to know more? Talk to Sloan!
Stay Up to Date
Sign up for the Sloan blog to receive information on the latest trends in commercial building, technology advancements and product updates. It's the leading source of industry news for architects, designers, engineers and contractors.
Thanks for signing up!