Ah, yes....after a long, cold Chicago winter, what could be better than signs of spring in Wrigleyville?
The field irrigation checks, the waves of contractors, custodians and plumbing engineers, the concessions getting fully stocked—it can only mean one thing: the Cubs home opener is finally here!
At Sloan, we're psyched for a great season. That's because in 2019 fans and players alike will see and experience how Water Connects Us® in ways that extend beyond the Friendly Confines.
Since Wrigley Field's inaugural season in 1914, Sloan has proudly served fans and visitors with the latest commercial restroom innovations. Fast-forward to today and Sloan is the Official Water Efficiency Partner of the Chicago Cubs. When you consider the average attendance for the 2018 regular season was 38,000+ people, that's a lot of water efficiency.
For Cubs fans lucky enough to visit the ballpark this year, here are just a few places you'll find us, along with our water-saving solutions:
Concourse: Sometimes the Friendly Confines require friendly confines, if you know what we mean. The Cubs recognized their fans deserve an entirely hands-free, hygienic restroom experience, so we updated every space with our touchless, engraved BASYS® faucets. They're sensor-activated to get you in and out and back to the action.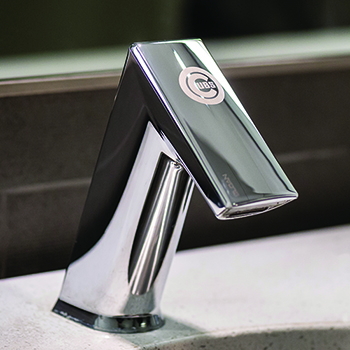 1914 Club: Located behind home plate, the premier American Airlines 1914 Club also provides an elevated experience thanks to rubbed bronze fixtures. Here, Sloan Royal® 186-0.5 Flushometers provide an efficient 0.5 gpf, and sensor-activated Sloan Solis® 8111-1.28 Flushometers on water closets provide a touchless sanitary experience.
Home Clubhouse: Make no mistake—one of the most important facilities at Wrigley Field is the Cubs' real "facilities" in their 30,000 sq.-ft. state-of-the-art clubhouse. The clubhouse is equipped with quality, hands-free fixtures, including Optima® sensor faucets, wall-hung water closets and washdown urinals, plus our ECOS® Flushometers which save up to 30% of water volume.
Bullpens: And last but not least, some of the most entertaining action happens during game delays in Wrigley Field's right-field visitors' bullpen. It's here where you can watch MLB's finest demonstrate athleticism with entertaining moves and grooves in front of a very lovely and familiar backdrop.
Keeping Wrigleyville Friendly, Comfortable and Water-Efficient
If you don't have the luxury of catching today's home opener inside the ballpark, you can still enjoy Wrigleyville any time, day or night—and its vibrant, pedestrian-friendly scene also happens to be home to many of Sloan's dependable, water-efficient fixtures. Here are a just a few of the many places you can spot our sustainable restroom solutions—no ticket required.
Responsible neighbors make for the best hangouts and watering holes. At Sloan, as much as we love Opening Day, we believe water efficient commercial restroom design practices are everyone's responsibility, 365 days a year.
Is your next restroom revamp ready for the big leagues? Talk to Sloan and make our winning, water-efficient solutions part of your game plan. 
Stay Up to Date
Sign up for the Sloan blog to receive information on the latest trends in commercial building, technology advancements and product updates. It's the leading source of industry news for architects, designers, engineers and contractors.
Thanks for signing up!