In the world of commercial plumbing, quality counts. The demands of high traffic, heavy use, and daily wear and tear make durability non-negotiable.
At Sloan, our machined components make it possible for our flushometers to handle more than one million flushes, far exceeding already strict industry standards. Designing fittings and valves for flushometers that can withstand up to 20 years of high-traffic use requires serious know-how, masterful craftsmanship and strict quality control.
One quality that makes our products stand out is our work with copper alloys such as CDA 84400 and CDA 83600­­—otherwise known as semi-leaded red brass and leaded red brass. (Copper comprises only 2% of all cast products in the U.S.) We transform these unique alloys into manual diaphragm flushometer parts, faucets and mixing valves for commercial shower heads, pumps, impellers and fire sprinkler bodies.
This expertise is now available to you for OEM applications through the Sloan Foundry.
Premium OEM Castings without Premium Investment
We've proudly owned and operated the Sloan Foundry for more than 40 years. Our modern ISO-9001-2015-certified 160,000-square-foot facility in Augusta, Arkansas produces 60,000 pounds of castings per day.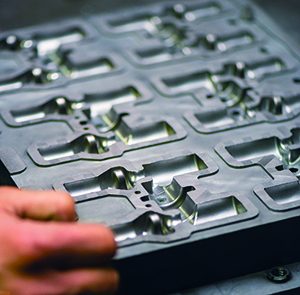 We make metal castings for businesses, helping them reduce the expenditures they would otherwise incur from investing in expensive facilities and equipment. Because our facility is built for high production and employs advanced industrial equipment, we are able to pass the savings on to our customers.
Our state-of-the-art facility—complete with advanced software, automatic core production, tight flask molding and highly skilled operators—can build the parts you need for applications in plumbing, electrical and industrial. Here are a few examples of what we build for our customers:
Plumbing
Valves—including time and pressure water valves, water heater drain valves, shower and laundry mixing valves, and valve seats

Faucets

Stops

Pumps

Impellers

Cooling, heating and pipe fittings

Water meters

Hydrants

Fire protection sprinkler bodies

Electrical and utility industries
Fittings

Switches

Pole line hardware

Connectors

Breakers

Fuse bodies

Clamps

Ferrules

Cutouts

Gas meter locks
Industrial
Locks

Marine and boat hardware

Fittings

Connectors

Pump and valve components

Irrigation components
Our partners come from a wide range of different industries and have spent decades working with us because they trust the masterful craftsmanship of the Sloan Foundry. And since our partners are always expanding their services, we are eager to enable their continued growth.
Our Foundry is Your Foundry: It's the Sloan Way
Partnerships are the core of the Sloan Foundry. Under a mutually beneficial arrangement, we can help you create alloy components without investing in expensive new facilities, equipment, technology or staff.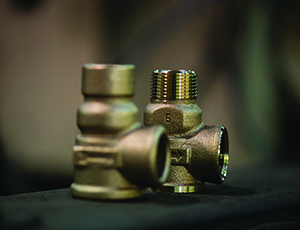 Location is another advantage. Our Made-in-the-USA components allow for shorter lead times, so you can receive shipments within four days (compared to 90 days for overseas foundries).
In addition to our Arkansas operation, our Chicago-based manufacturing operation gives you additional capacity to manufacture within 100 miles of your project site. This potential environmental advantage can help minimize your carbon footprint for LEED credits.
The foundry holds true to the same high standards that have established Sloan's success over the past 113 years. From plumbing to electrical and utility components, from industrial locks to irrigation parts, we believe in helping other OEM manufacturers experience the same success with our state-of-the-art shared foundry resource partnership.
Download the brochure to learn more about the Sloan Foundry and our capabilities.
Sloan helps customers achieve their quality, cost and environmental goals, thanks to millions of metal castings made in our foundry. Want to know more? Talk to Sloan!
Stay Up to Date
Sign up for the Sloan blog to receive information on the latest trends in commercial building, technology advancements and product updates. It's the leading source of industry news for architects, designers, engineers and contractors.
Thanks for signing up!