The United States Green Building Council (USGBC) has announced its eighth iteration of its Top Ten LEED States. Leadership in Energy and Environmental Design (LEED®) has once again proven to be the most prevalent green building certification program in the United States and in 2017 there were 2,647 projects LEED certified equating to over 484 million square feet of space.
In total, more than 40,000 commercial projects representing more than 6.5 billion square feet of space have been LEED-certified to date worldwide, and another 51,000 projects representing 13 billion square feet are in the certification pipeline.
How Are States Ranked
The USGBC ranks the states in terms of square feet of LEED space per state resident, allowing for a fair comparison among states with significant differences in population and number of overall buildings.
Because of this system, Massachusetts, fourth in terms of total LEED square footage, retains its top ranking for 2017. New York moved up two spots from fourth to second and Hawaii makes its debut on the Top 10 list in the third position. California had the most LEED square footage with almost 89 million square feet of certified real estate but was ranked eighth of the Top 10 LEED States. Here is the complete listing of the top 10 states:
2017 Top 10 States for LEED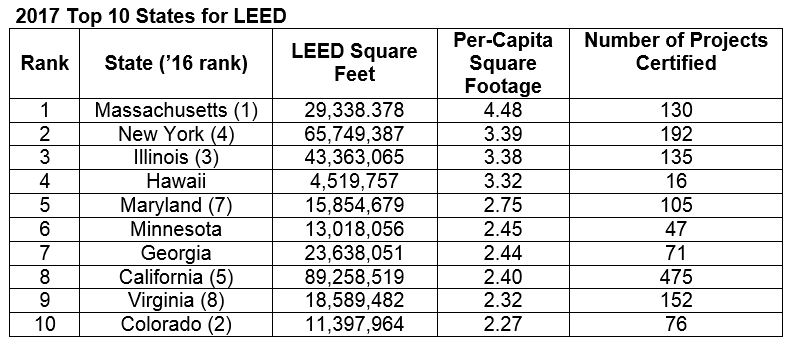 Washington, D.C. is not included in this list because of its status as a federal territory, however it achieved 39.83 square feet of LEED space per resident – more than any individual state.
Types of Building Projects
In 2017, the LEED for Building Operations and Maintenance (EBOM) system was again the more popular rating system with more than 50% of total certified square footage. Second was LEED for Building Design and Construction (LEED BD+C) and finally was LEED for Interior Design and Construction (LEED ID+C).
Here are a few projects that earned LEED certification in 2017:
Why LEED
LEED-certified spaces use less energy and water, save money for families, businesses and taxpayers, reduce carbon emissions and create a healthier environment for occupants and the community at large.
Sloan offers a large product offering to help our customers achieve maximum LEED points for their projects. This includes the Water Efficiency credit, Material & Resources – EPD credit and the Material & Resources – HPD credit. Sloan's innovations have saved building owners billions of gallons of water. Want to know more? Talk to Sloan!
Stay Up to Date
Sign up for the Sloan blog to receive information on the latest trends in commercial building, technology advancements and product updates. It's the leading source of industry news for architects, designers, engineers and contractors.
Thanks for signing up!