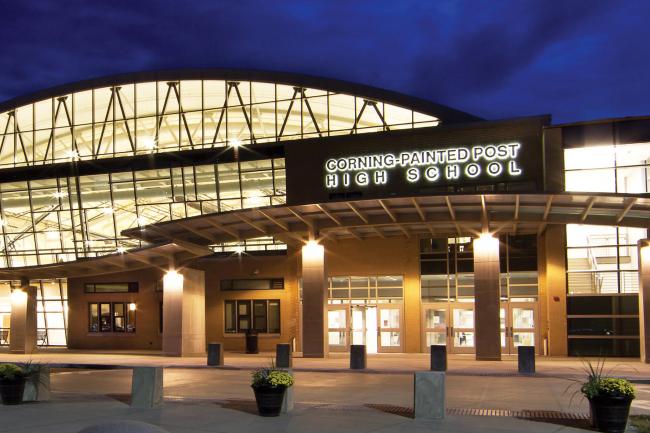 Painted Post, New York
Corning-Painted Post Area School District
Schools and other high-traffic restrooms often benefit greatly from hands-free updates or retrofits. The Corning-Painted Post Area School District, located in the scenic Southern Tier of New York State, was undergoing a nearly $100 million renovation to combine two district high schools and two middle schools.
The restrooms in the dated buildings had been untouched since the late 1990s. The consolidation would double the student population of the high school and add almost 30% more students to the middle school, a total of approximately 4,800 students in grades K through 12.

To provide a more hygienic, convenient restroom, it was important that Hunt Engineers, Architects & Land Surveyors, P.C., the consulting and design firm behind the Corning-Painted Post Central School District renovation project, convinced facility owners to update restrooms equipped with over 20-year-old parts. "The buildings were last updated right before sensor-operated equipment became popular," says Greg Barr, PE, Principal, Director of ME/P, at HUNT. "At first, the building owner didn't see the value in automatic. They had the Sloan Regal® manual flushometers installed in other buildings for years. We showed the client the history of reliability they had with Sloan sensor products." The building owner ultimately followed their recommendation to install battery-operated sensor flushometers.
*Interior photographs by Hedrich Blessing
*Exterior photograph by Hunt Engineers, Architects & Land Surveyors, P.C..
Sloan DSG-82000 sink [Two Station Gradient Basin] was selected for a couple reasons. One being aesthetics, since these are the first restrooms near school entrance, a visual and welcoming statement wanted to be made. Another reason is convenience, as two DSG-82000 sinks were installed side by side, allowing for multi-person use. They were first installed at Corning Painted Post High School and now has been specified in bid documents for use at Corning Painted Post Elementary School.