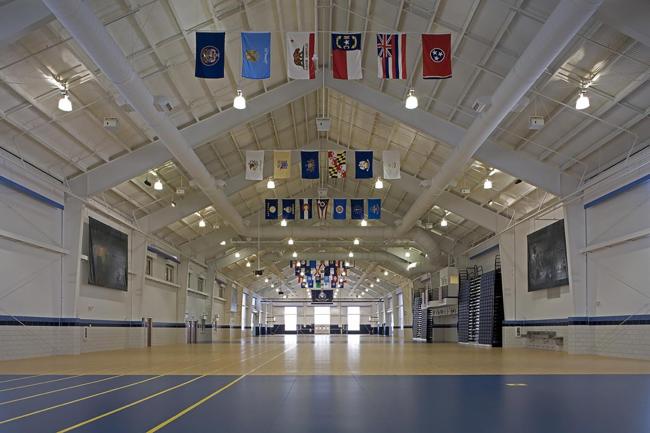 North Chicago, IL
Atlantic Fleet Drill Hall
The Great Lakes Naval Base in North Chicago, Ill., is where all U.S. Navy recruits, about 40,000 young men and women annually, begin their Navy careers with basic training. The $12.7 million Atlantic Fleet Drill Hall, designed by the Darien, Ill., architectural firm Wight & Company, is the primary training facility at the prestigious headquarters of the Navy's Atlantic Fleet and the most prominent landmark on the base.
Naval Facilities Engineering Command, the Navy's construction division, has been designing all new buildings since 2009 to be rated at least LEED® Silver by the U.S. Green Building Council.

The Atlantic Fleet Drill Hall is the first Navy construction project to earn LEED Gold, and the UPPERCUT® dual-flush flushometers from Sloan Valve Company did their part in reducing water usage to help achieve LEED Gold standards. Furthermore, the UPPERCUT meets the federal government's mandate for higher standards of performance in the built environment.

The massive 56,000-square-foot Atlantic Fleet Drill Hall, which simulates the Fleet Navy, includes a 38,000-square-foot gym for physical training, Olympic-style sports competitions and drill exercises; offices; a conference room; and classrooms. The drill hall can accommodate 14 divisions, or 1,200 recruits, at one time and is open 24/7.

In addition to their water-savings benefits, engineers selected and installed 23 UPPERCUT dual-flush flushometers because of their durability, which is an important feature for a plumbing product in this heavily used facility. The UPPERCUT reduces water use by about 30% when compared to standard 1.6 gpf toilets. Pushing the green handle down initiates a full, 1.6 gpf for solid waste and paper. Lifting the handle up initiates a reduced flush of 1.1 gpf for liquid and paper. This provides a savings of one-half gallon of water per flush. Easy-to-understand instructions, etched on adhesive-backed metal plates, are included with every flushometer.

According to Bill Bauer, plumbing engineer at 20/10 Engineering Group, Schaumburg, Ill., the decision to go with the UPPERCUT as the water-saving technology for the drill hall was a good one, and the UPPERCUT has performed well. Although Bauer says he's heard people debate the merits of water-saving plumbing, "I've seen low-flow products, such as the various HETs in our office, perform admirably," he says.
I've seen low-flow products, such as the various HETs in our office, perform admirably.