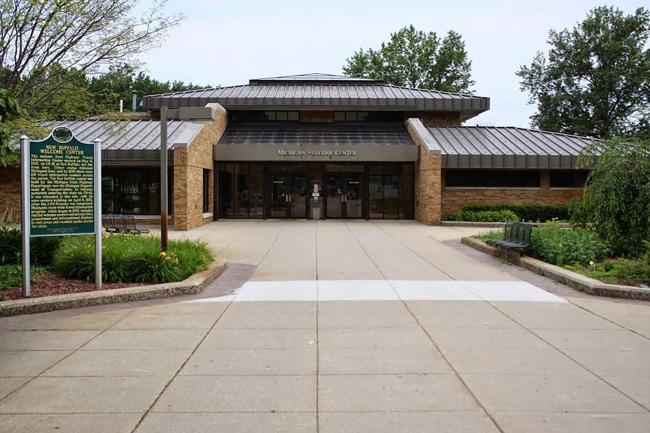 New Buffalo, MI
Michigan Department of Transportation
The Michigan Department of Transportation (MDOT) has installed 165 Sloan Waterfree Urinals as part of a water conservation measure in 18 of its public rest areas/welcome centers, which altogether serve about 40 million visitors a year.
MDOT operates and maintains 81 rest areas along major freeways and roadways for the convenience of the traveling public, 14 of which are also Welcome Centers operated by Travel Michigan, a state tourism organization. Rest areas are open 24/7, offer a variety of services and conveniences, and are located within an hour's travel time of each other.

Upon entering the state of Michigan from the west on Interstate 94, the first and most-used of the Michigan rest areas is in New Buffalo, Michigan. The New Buffalo Welcome Center receives close to 1.6 million visitors annually. The rest area has space for 96 cars and 35 trucks and RVs and a universally accessible playground. Approximately 22% of Michigan rest areas have water-conserving Waterfree Urinals installed.

"Most Michigan rest areas are in rural locations, away from city water and sewage," says Scott Wheeler, program manager for MDOT. "Many of our rest areas are on septic systems and especially septic lagoon systems. We had to choose a urine removal system that would not put an additional burden on the septic and septic lagoon systems and, of course, save water."

A lagoon septic system is a type of alternative septic system and can be very cost effective, particularly in rural areas where the cost of land is lower. Lagoon septic systems consist of one or more lagoons/ponds designed to receive, hold and treat wastewater. They can handle intermittent and very large, sudden loads better than most other types of systems, making them ideal for rest stops.

"We chose Waterfree Urinals because they reduce water and sewer costs, are easy to install and require no water hookups, reduce maintenance and repair bills, and create more hygienic, odor-free restrooms," says Wheeler.

The Waterfree Urinal uses a patented cartridge that acts as a funnel, permitting urine to pass through a proprietary and biodegradable sealant liquid. The pleasant-smelling liquid provides a one-way, airtight barrier between urine and the restroom to prevent odors from escaping the drain. The disposable cartridge collects uric sediment, leaving a clean, odor-free environment.

According to Wheeler, "Maintenance is straightforward, and we train our janitorial staff on proper cleaning and replacement of the Waterfree Urinal cartridges, keeping the system operational and open to the public."

The only maintenance required is routine cleaning of the fixture and periodic cartridge replacement, which is performed after about 7,000 uses. Debris such as cigarette butts or gum is less likely to clog a Waterfree Urinal due to the small size of the drain holes in the cartridge and can be easily removed from the bowl.