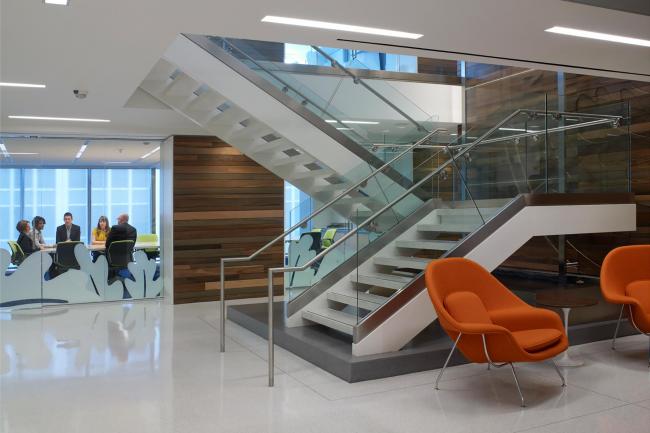 Washington, D.C.
USGBC Headquarters
LEEDing through example.
Far too often government agencies preach one thing and do another, but for the USGBC they have truly put their words into action with their new headquarters in the Foggy Bottom district of Washington DC. Completed in 2007 the building has one purpose, to showcase to the public what green building could do.

The first building to achieve Platinum Certification under LEED's 3 new guidelines, it exemplifies high performance and energy efficiency blending together to create a healthy and productive environment. To do this, architects, engineers and contributing professionals strictly adhered to LEED and other green building guidelines to produce a design that had sustainability woven in every wall and corridor. Goals such as reducing water usage by 40% and overall energy use (as compared to the average office building) by 50% were set to ensure the building met expectations.

Knowing Sloan's commitment to the green movement, builders almost exclusively chose our products for their bathrooms. Selecting our SOLIS® solar-powered faucet, the UPPERCUT® dual-flush flushometer, XLERATOR® Hand Dryer, and WES-1000 Waterfree Urinal, the USGBC's headquarters utilizes some our most advanced systems

When the nation's leading organization for eco-friendly building decided it was time for a new headquarters there was much anticipation as to how efficient the building could actually be. When the final product was done interested parties were not disappointed as the new USGBC would be a shining example of what environmentally responsible building could and should be.

The goal of the building was to not only lead by example but to become a living and breathing lab for the commercial building industry. Far too often new technologies get overlooked out of fear they might not perform properly or for lack of data to support energy savings claims. At the USGBC headquarters, however, new and efficient products would also be showcased with the goal of not only educating builders but also to help the building attain its main goals of achieving the highest LEEDs certification possible and be the most efficient building possible.

Led by designers and contractors from both Perkins & Will and Davis Construction, the building renovation would incorporate principles of reclamation, recycling and efficiency into every hallway, office and bathroom. Giving new life to things left behind by the previous building occupants, the designs utilized existing materials like the terrazzo flooring, glass panels and granite countertops. Even the old office furniture was salvaged for the new building. For the bathrooms, careful attention was given to water and energy savings. Utilizing new technologies like waterfree urinals, low-flow faucets and dual-flush fixtures would be essential. For contractors, when it came time to selecting the right products they turned to the industry leader, Sloan. Currently all bathrooms in the building feature Sloan faucets, urinals, hand dryers, and of course flushometers.

The strategies combined to create one of, if not the most efficient office building in the US. Achieving the distinction of the first Platinum certified building in America the building earned 45 out of a possible 57 LEED points. More importantly, Sloan products contributed to the building receiving a perfect ranking in the water efficiency category, and an impressive overall reduction of water use by 40%.