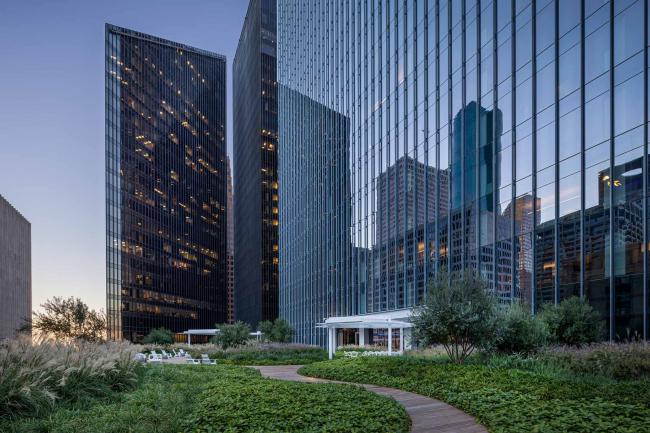 Houston, TX
Bank of America Tower
Bank of America Tower is setting the standard for the future of sustainability.
Opened in June 2019, the 35-story office and retail structure is not only a LEED platinum building, but also was one of the three facilities across the entire country to serve as the benchmark for the new LEED v4.

Representing a shift towards a newer, greener Houston, the building is dotted with sustainable features at every turn. Its Skypark Green Roof overlooks the city skyline and provides tenants with a peaceful space, while the 10-foot floor-to-ceiling glass windows are equipped with low solar heat-gain coefficients, and the elevators also utilize regenerative energy.

The restrooms in Bank of America Tower are no exception. Sloan's Royal® Reclaimed Flushometers are yet another example of the building's commitment to sustainability. Not only do these reclaimed flushometers recycle non-potable water—such as stormwater and rain water—but also they help the facility reduce its water bills by up to 80% when compared to standard restroom products.
*Photography by Caleb Tkach.
"Our commitment to sustainability led us to specify the most environmentally-focused products in order to create one of the greenest buildings in the country. Sloan's reclaimed flushometers were a major part of that effort."