Building owners and engineers specify Sloan's Optima® touchless faucets for many reasons: They're reliable and easy to maintain, they save water and they look great with any commercial restroom design.
Now, Optima faucets have gotten a whole lot smarter. And they can make you a smarter water manager.
Here's how we've made the new generation of Optima faucets easier to install, easier to service and maintain, and easier to adjust for optimized water management.
Adjust Optima faucet settings without crawling under the sink
How much time would you save if you never had to crawl under the deck—or disassemble a sink—to adjust your faucet settings? And how much better would your knees feel?
Well, get ready. The new Optima Control Box (more on that below) and the Sloan Connect App let you access your below-deck controls via your mobile device. The wireless connection puts faucet controls and data literally at your fingertips, so you can leave the tools behind.
The Sloan Connect® App—currently available with Optima ETF and EBF faucets—lets you:
Adjust settings wirelessly—no deck disassembly or below-deck work

Select on-demand or metered activation

Set water-saving faucet timeouts

Activate Line Flush to clear supply lines or drains

Measure and report water usage

Check battery strength

Identify your faucet and access technical data

Generate and share diagnostic reports with Sloan

Save notes about a site or faucet




Manage lots of faucets in different commercial buildings? You can even control multiple faucets and multiple facilities in seconds by applying the same saved settings to all your faucets.
The time-saving Optima Control Box
Above the deck, Optima touchless faucets give you the same variety of stylish options they always have. Below deck, however, we've completely revamped the entire line to reduce installation, service and maintenance time by 50% or more.
All Optima faucets now come with standardized components—standard mounting hardware, a longer sensor cable and quick-connect spout hose—to save time on labor, save money on replacement parts and speed up service time.
But the real transformation is in the Optima Control Box. Its technology requires fewer cords and fewer hoses, and it can be powered by batteries, a wall adapter or an optional hybrid energy turbine. It also gives you advantages like an integrated water shutoff, a quick-change battery cartridge and quick connects for easy inlet and outlet.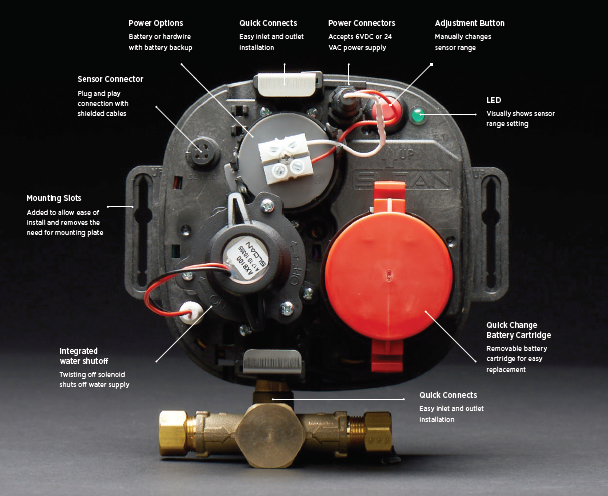 Style, options and water savings
While the new Sloan Connect App and below-deck improvements make Optima faucets easier and more economical to operate, it's their traditional benefits that make them so essential to modern commercial restroom design.
There's an Optima style that's perfect for your restrooms, with options that fit any facility or situation. Deck-mounted or wall-mounted? Your choice. Side sensor or base sensor? Your choice. Hardwired, battery-powered or battery-plus-turbine-powered? Your choice.
And of course, all Optima faucets are sensor-activated for hygiene and water savings.
We've made Optima faucets smarter than ever before. That makes specifying them easier than ever before.
Visit sloan.com/optima-faucets for full details and specifications of next-generation Optima faucets.
Want to know more about Sloan innovations that save building owners billions of gallons of water every year? Talk to Sloan!
Stay Up to Date
Sign up for the Sloan blog to receive information on the latest trends in commercial building, technology advancements and product updates. It's the leading source of industry news for architects, designers, engineers and contractors.
Thanks for signing up!