Here at Sloan, we're all about giving architects, designers and engineers better ways to design dazzling, sustainable commercial restrooms. In 2018, we introduced lots of them.
Here's a quick review.
New developments with Sloan flushometers
The big news this year in flushometers was the introduction of the CX Concealed flushometer, which may be the best-looking, most-innovative concealed flushometer ever. It offers ...
A wall plate 70% smaller than the industry standard, allowing for more design appeal
A selection of five PVD finishes to complement any restroom design
Easier installation with an integrated control stop, an adjustable flush connection and an all-vertical, in-line rough-in
Easier maintenance because a rear access plumbing chase is not required, creating up to 60% more usable space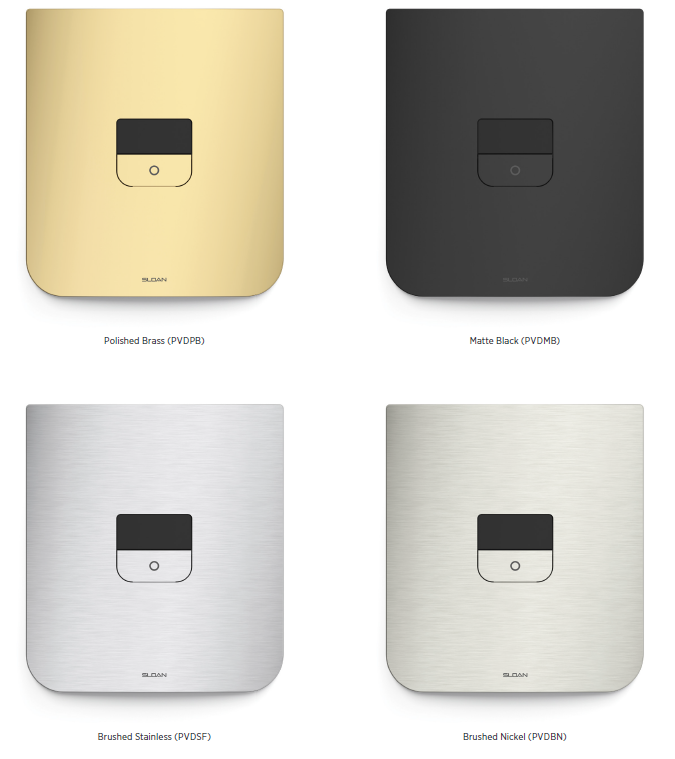 We're also excited about new special finishes for TruFlush, our flushometer for the international market. Brushed Stainless, Matte Black and Matte White give designers and architects greater flexibility to pursue their visions with this attractive, reliable concealed flushometer.
Innovation on deck! New Sloan sinks and faucets
We've made the new generation of Optima® faucets easier to install, easier to service and maintain, and easier to adjust for optimized water management.
The Sloan Connect® App lets facility managers adjust Optima faucet settings without crawling under the sink, while the Optima Control Box can reduce installation, service and maintenance time by 50% or more.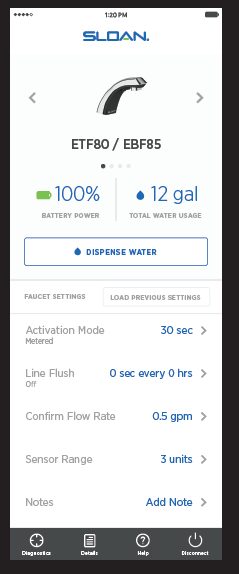 We also introduced three new sinks to our line, featuring design and color options ideal for schools, healthcare facilities, office buildings, malls, airports, stadiums and more: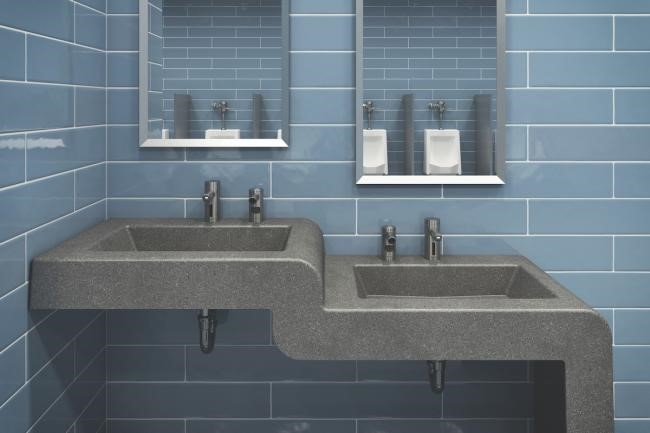 New pressure-assisted toilets deliver flushometer performance
Many light commercial facilities are set up for gravity toilets. Now, for the first time, you can get flushometer performance from the top two brands in pressurized flushing with Sloan pressure-assisted toilets.
With a Flushmate® vessel supplying the pressure and Sloan durability providing the peace of mind, you'll experience far fewer backups or clogs, fewer "double flushes," no tank condensation and a virtual elimination of tank rocking—not to mention more than twice the drainline carry of conventional tank toilets.
We also launched two more exciting new fixtures:
New resources for architects, designers and engineers
Our 2018 innovation didn't stop with new products. These new additions make it easier to specify the stylish, sustainable products that fulfill your commercial restroom vision:
Improved general and model-specific spec sheets help you instantly access all the relevant information about the exact product you're considering for your project.
Our new CEU course for education facilities helps you navigate the choices you face in designing school bathrooms for durability, hygiene, accessibility and sustainability.
Faucet Finder is a fast, super-intuitive search tool that lets you pinpoint the perfect touch-free faucet for your next project, based on anything from spout design to list price.
More innovations coming in 2019!
Stay tuned for exciting new products next year, including:
Our new Designer Urinal

Enhanced hand dryer offerings

New faucet and soap dispenser designs
With innovations like these, we look forward to helping you build more stylish, sustainable restrooms next year and well into the future.
Want to know more about Sloan innovations that save billions of gallons of water every year? Talk to Sloan!
Stay Up to Date
Sign up for the Sloan blog to receive information on the latest trends in commercial building, technology advancements and product updates. It's the leading source of industry news for architects, designers, engineers and contractors.
Thanks for signing up!