This week we celebrate the birth of our nation, with ceremonies from the solemn to the silly. Many of us get much-needed time off work to celebrate with friends and family—and then it's back to business.

As a business based in the United States, we're proud to offer hundreds of commercial restroom products that comply with the Buy American Act:
Water-saving manual and sensor flushometers

Stylish, hygienic touchless faucets

Pressure assist water closets

Urinal/flushometer combos

Hand dryers, sinks and more
The Buy American Act requires government agencies to buy products certified as made in the U.S., and we feel this certification is also valuable to any business that prioritizes American-manufactured materials and components.
Our Independence Day spirit is about more than products, however. We also like to look back on our history and forward to our future.
A Proud American History
A few weeks ago, we dug into the Sloan archives and found this 1942 ad for the Sloan Victory valve. The Victory valve reflects the sacrifices made during the World War II era, along with the spirit of innovation that was fueled by those sacrifices.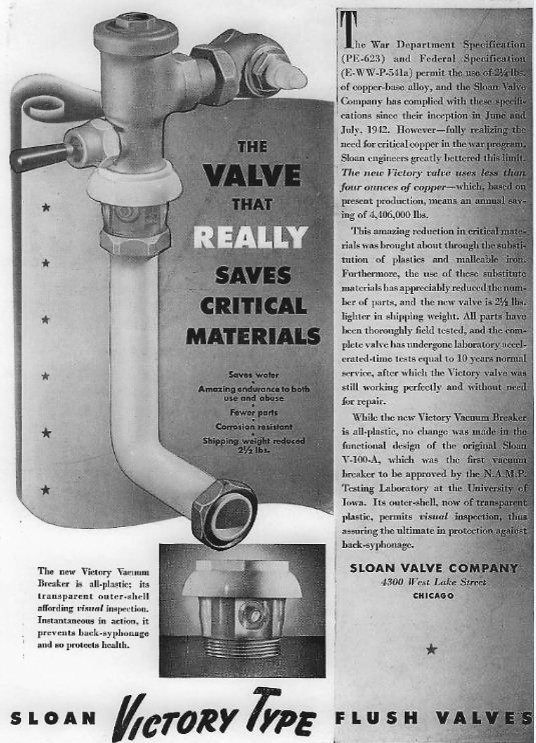 During the war, we did everything we could to support the war effort, because our freedom and our way of life depended on it. We retooled our factory to produce much-needed detonators and fuses for artillery shells. And with so many men fighting overseas, our machines and shop floors were run primarily by women.
Fast-forward to today, and we continue to ensure that our legacy of innovation and sacrifice permeates every product we sell.
A Sustainable American Future
To us, patriotism means making the United States a leader in technologies that benefit the entire world. For now and the future, that means preserving and protecting the environment—especially the fresh water resources that are already scarce in many places across the globe.
We're doing our part with water-saving commercial restroom technologies and a company-wide commitment to sustainability. That commitment includes:
We've even banned plastic beverage bottles from our facility, saving more than 18,000 bottles a year—and the 54,000 liters of water it would have taken to manufacture them.
We believe it's a form of patriotism to help architects, designers, engineers and building owners—in the U.S. and throughout the world—create restrooms that conserve water. When the world needs innovation, it has always looked to the United States—and we aim to keep it that way.
Since the introduction of the modern flushometer in 1906, Sloan innovations have saved building owners billions of gallons of water. For more water-saving ideas and continued learning resources, talk to Sloan!
Stay Up to Date
Sign up for the Sloan blog to receive information on the latest trends in commercial building, technology advancements and product updates. It's the leading source of industry news for architects, designers, engineers and contractors.
Thanks for signing up!