A credit union may look like a bank, work like a bank, and offer many of the same services as a bank, but it's not a bank. The big difference can be summed up in one word: community.
Credit institutions are not-for-profit enterprises that are founded, owned, and operated by their members. While Christian Financial Credit Union (CFCU) is one of the biggest financial institutions in southeast Michigan, it's still focused exclusively on the community it serves.
And it's a big community—CFCU has more than 45,000 members, with membership open to anyone who lives, works, worships, or attends school in Macomb, Oakland, Wayne, and St. Clair Counties, plus dozens of churches, schools, and other organizations.
We're proud we were able to help CFCU's new headquarters in Sterling Heights, Michigan both reflect and better serve this large and growing community.
Touchless Restroom Technology Promotes Greater Hygiene
CFCU is so community-oriented, they designed their new headquarters so that different parts of the building invoke the spirit of local neighborhoods. For instance, one area has a more industrial feel, with exposed brick and open ceilings, to evoke Detroit's Greektown neighborhood.
The building's restrooms are community-focused in more tangible ways, as well: they help keep employees healthy, and they save water to benefit the entire region.
In these times, it's impossible to overstate why public hygiene is so important. Handwashing is critical to reducing the spread of disease, and touchless restroom components help even more by limiting the number of surfaces each person must touch when they use the restroom.
That's why CFCU specified Sloan touch-free flushometers and Sloan AER-DEC® integrated sink systems to create a hands-free restroom experience in all of the building's restrooms. The AER-DEC systems, in addition to their aesthetic benefits (more on that below), also eliminate all paper towels from the building's restrooms—another way Sloan technology keeps restrooms more hygienic.
Water Savings Protect the Great Lakes
Southeastern Michigan is, of course, in the Great Lakes region, the world's largest source of fresh water and a crucial watershed for much of North America. While water is currently plentiful for the region, conservation is an essential component of protecting the Great Lakes for future generations.
Knowing that fresh water is their community's most valuable natural resource, CFCU equipped the restrooms in its new headquarters with:
The 16 high-efficiency flushometers in the new headquarters help CFCU meet their water-saving goals while also ensuring the credit union remains a conscientious neighbor to its vast community.
The AER-DEC

®

Sink System Makes a Clean, Stylish Statement
A building's restrooms should look clean, but they should also look stylish. The AER-DEC sink system helps CFCU accomplish both goals.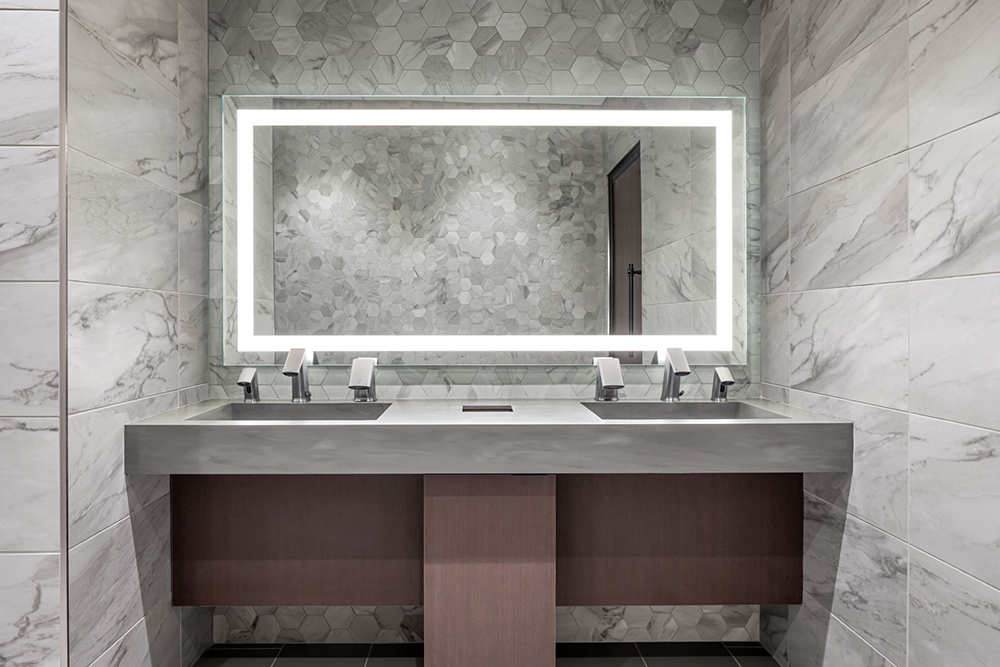 The AER-DEC sink system combines a faucet, soap dispenser, and hand dryer in one sleek, touch-free, hygienic, highly efficient system. This unique setup means users don't have to walk across the restroom to reach a hand dryer, so floors stay dry and restrooms stay clean and paper towel-free.
Plus, the striking angles of the AER-DEC basin, faucet, soap dispenser, and hand dryer match design themes throughout the building, making an indelible statement every time a CFCU employee or guest visits the restroom.
Communities need credit unions, and a credit union such as CFCU needs a headquarters that reflects the best aspects of its community. Sloan is proud to have played a part in creating this new home for an organization that's so important to the people of its region.
Sloan technology has contributed to the construction and renovation of many of the world's most advanced office buildings. Want ideas for making your next project more stylish, more hygienic, and more efficient? Contact Sloan!
Stay Up to Date
Sign up for the Sloan blog to receive information on the latest trends in commercial building, technology advancements and product updates. It's the leading source of industry news for architects, designers, engineers and contractors.
Thanks for signing up!