How much time do you spend on specifications? If you said "Too much," most architects, designers, and engineers would probably agree with you.
Yet, specifications are a critical part of turning your commercial restroom vision into a reality. That's why, at Sloan, we're always developing new ways to help make the spec process easier for you—including our latest innovation, Sloan DesignSpec.
DesignSpec helps you create a finished spec submittal package more easily than you ever imagined. And it's just one of the digital tools we put in your hands to make the entire spec process faster, easier, and more comprehensive.
DesignSpec Makes Your Spec Package Simple, Intuitive, and Fast
Your spec submittal package should be more than just a checklist—it should be a polished presentation that showcases your vision.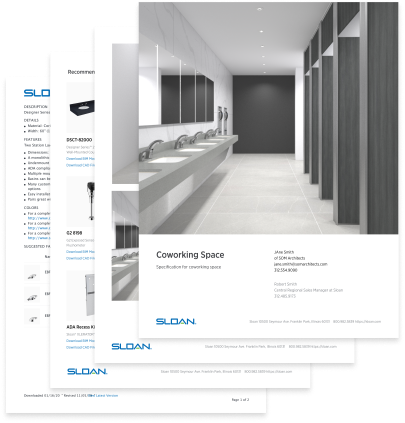 DesignSpec makes building that presentation simple, intuitive, and fast. Here's all you have to do:
Add your project info and choose a cover image.

Add all the products your project requires.

Choose documents to bundle into your project.

Share or download your packaged DesignSpec.
You can add products with a single click—just look for the Add to DesignSpec button!

Once you select your products, you can organize them however you like and download the finished presentation—including a cover image, spec sheets, BIMs, CADs, and more.
As Sloan Strategic Account Manager Kim Darke says in a recent podcast, "Everything you need to get onto your plumbing schedules is right there on your screen."
Our Finders are Keepers
DesignSpec makes it easy to create a finished spec submittal package—once you know which products your restroom requires. With Sloan's sophisticated search tools, we've also made it easier to find those products.
Our Flushometer Finder is a fast, intuitive search tool that helps you filter 12 different factors—such as power source, flush volume, installation, and finish—to identify your ideal flushometer from our selection of thousands.
The Faucet Finder lets you pinpoint the perfect touch-free faucet for your next project, based on spout design, power source, flow rate, spray type, trim plate, and mounting type.
The Sloan Green Product Finder lets you instantly evaluate any Sloan product's compliances and potential impact on LEED accreditation. Combined with our sustainability calculator, you can select the products you need to fulfill your design vision while still making water savings and the environment a priority.
Best of all, our finders are so easy to use, you don't need a guide or a "how-to" page. You can just dive in and start searching!
Sloan helps architects, designers, engineers, and building owners create stylish, sustainable commercial restrooms. Like to know more? Talk to Sloan!
Stay Up to Date
Sign up for the Sloan blog to receive information on the latest trends in commercial building, technology advancements and product updates. It's the leading source of industry news for architects, designers, engineers and contractors.
Thanks for signing up!