Remember when you or your team had to keep a toolbox handy for restroom management? When controlling your faucets and flushometers required wrenches, screwdrivers, and hammers, along with manual gauges and a thousand assorted connecting gizmos?
That was so 2019.
Here in 2020, forward-thinking commercial property managers are deploying Sloan Connected Products to manage their restrooms on their smartphones.
With Bluetooth connectivity and advanced technology, these faucets and flushometers let you wirelessly monitor their health and status, easily generate and share diagnostic reports, and quickly access product technical data. All from your smartphone.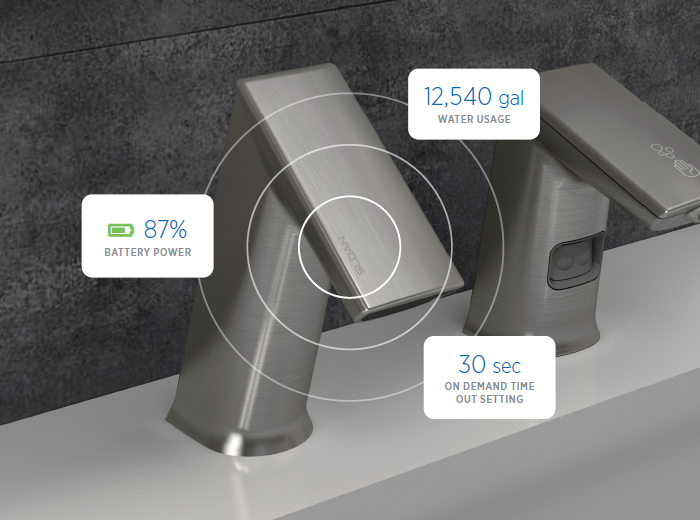 Here are seven ways Sloan's Connected Products (and your smartphone) make restroom management easier.
You'll save time.

Want to change settings on all the flushometers up on floor 14? You used to have to go into the restrooms and adjust each one. Now you touch a single button in your app. You can also run and share diagnostic reports in seconds.

You'll have total visibility into usage.

Monitoring water usage is essential for LEED and other certifications—you can track the water usage for flushometers and faucets for easier, faster reporting.

You'll shorten repair time.

The app tells you what parts you need before servicing begins—and you can send diagnostic reports back to Sloan for time-saving assessment and technical support.

You'll lower costs.

Instead of replacing parts on a fixed schedule—whether they need to be replaced or not—you'll only replace what you need, when you need to.

You'll increase water efficiency.

With on-demand timeout settings, you'll manage how long the water can flow, down to the second, for individual fixtures or groups. You can even customize sensor activation distance for restrooms with different use patterns.

You'll troubleshoot issues

before they become problems with a diagnostics program that helps you quickly identify solutions.

You'll reduce risk.

Programmed line flush helps keep lines clear and users safe. This is especially vital during periods when your restrooms might be idle for extended lengths of time.
The Sloan Connect App® also lets you browse our ever-growing library of FAQs and troubleshooting resources for every fixture, so you will literally have the answers you need at your fingertips 24/7.

Smart Faucet and Flushometer Designs with Bluetooth Connectivity
Stylish and advanced, many Sloan products offer Bluetooth capability, so your time-saving, maintenance-reducing, easy-to-manage restrooms can look and function fantastically:
And, you can also upgrade installed deck-mounted BASYS and hardwired EAF Faucets with our Bluetooth Adapter – sold separately. It installs under the deck for easy, plug-and-play convenience.
*Optima EAF hardwired and BASYS EFX deck-mounted faucet models are Bluetooth-compatible only when using the adapter — sold separately.
Contact Sloan to learn more about advanced commercial restroom technologies that make management easier.
Stay Up to Date
Sign up for the Sloan blog to receive information on the latest trends in commercial building, technology advancements and product updates. It's the leading source of industry news for architects, designers, engineers and contractors.
Thanks for signing up!