Is Chicago the world capital of commercial restroom design?
When we introduced our Collections a couple of years back, our goal was to make cohesive restroom design easier for architects and designers by showcasing complete product solutions in contemporary environments. And since Chicago is our home town, we based the Collections on the visual characters of classic Chicago streets.
After all, no city in the world has been home to more legendary architects than Chicago—from Louis Sullivan to Frank Lloyd Wright to Ludwig Mies van der Rohe to modern-day stars like Jeanne Gang.
The idea of the total restroom caught on. Sloan Senior Product Line Manager Morgan Kish says, "We've had people call in and say, 'I want to purchase everything in that Collection. How do I make that happen?'"
Now we've added a new dimension to our Collections and expanded design options with wall-mounted faucets available on the Rush Street® and Clark Street® Collections.
"A Much Cleaner Look Overall"
"Wall-mounted faucets have been in higher demand," says Kish. "They make the deck look less cluttered and provide a much cleaner look."
The Sloan Rush Street Collection gives architects and designers understated luxury, with natural finishes, smooth stonework, and gentle forms fused with sharp angles. Here's how it looks with our new Optima® EBF-825 Wall-mounted Faucet paired with the Sloan® ESD-420 Deck-mounted Soap Dispenser, both in our Graphite special finish.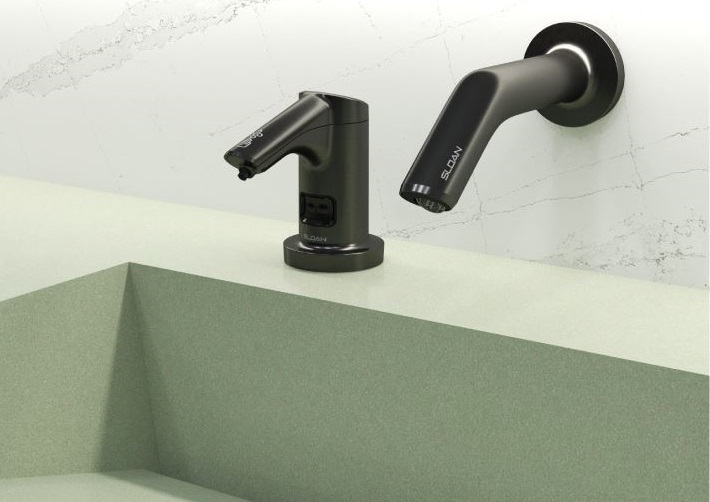 Rush Street sink design with wall-mounted Optima® EBF-825 faucet
The Sloan Clark Street Collection brings precise angles into harmony with subtle curves that capture light and attention. Here's how it looks with the Optima® EBF-815 Wall-mounted Faucet and the Sloan® ESD-410 Deck-mounted Soap Dispenser, both in Brushed Stainless special finish.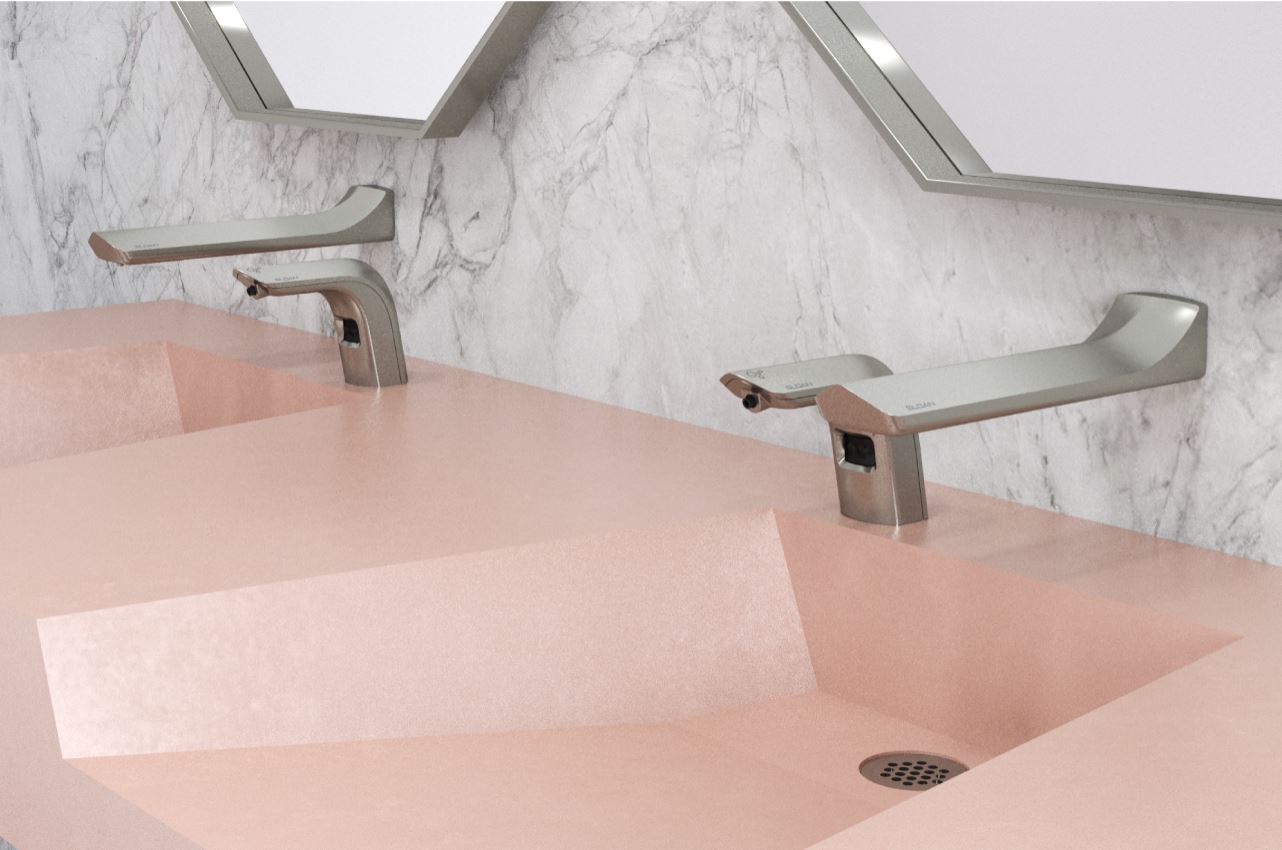 Clark Street sink design with wall-mounted Optima® EBF-815 faucet
Kish points out a subtle but important feature of these new, wall-mounted faucets. "The sensor is integrated into the spout, so you don't see it. Designers really like that because they can choose the finish and then that's really what people are seeing."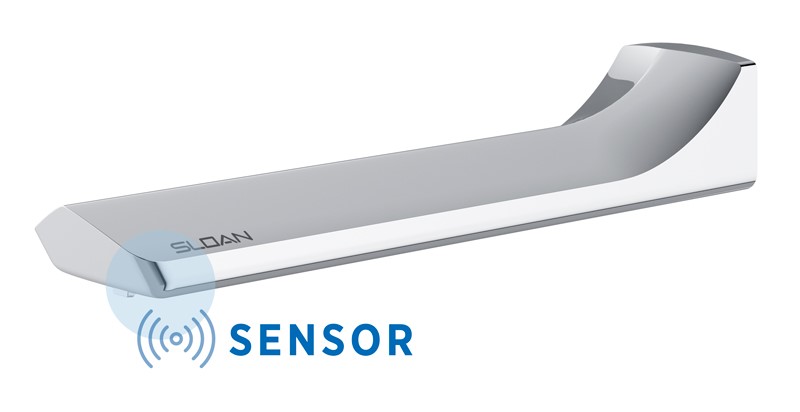 Optima® EBF-815 faucet with integrated sensor highlighted
Hygiene without Sacrificing Style
Kish also points out that, "When you put the faucet on the wall it further reduces people trying to touch it."
In the era of COVID-19, commercial designers and architects have become more aware that touch-free restrooms are significantly more hygienic than those equipped with manual fixtures. That's why all Sloan faucets and soap dispensers are sensor-activated.
"Years ago, we had a little bit of struggle convincing people who were in love with faucet handles to go touch-free," says Kish. "Now people have realized that handles aren't such a good idea as they contribute to surface germs, water waste, and vandalism.
"Our Collections offer such attractive new designs that you don't have to sacrifice aesthetics to get the hygiene you need with a touch-free experience."
"The Importance of Having a More Elevated Restroom"
Aesthetics are, of course, what our Collections are ultimately about—and why they've caught on with commercial architects and designers worldwide. Kish says they're especially popular in high-end applications, such as offices, restaurants, and spas.
"People see the importance of having a more elevated restroom. For example, when people come in for an interview, the restroom is definitely a place they see. They'll see the conference room that you interview them in, but they'll also see the restroom, which can have a big impact on their overall impression."
There's also growing realization among building owners and managers that restrooms need to be updated every bit as much as other spaces. Kish says, "A lot of people recognize that maybe they've renovated the office space three or four times over the last 50 years, but they never touched the restrooms. So, they're taking the opportunity to really upgrade."
"We're Very Proud of Our History"
The new wall-mounted faucets in our Rush Street and Clark Street Collections are just a few of the innovative designs available to architects and designers exploring their unique commercial restroom visions. More ideas are in the pipeline, so watch this space!
When asked if Sloan might someday name new Collections after famous streets in other cities, Kish replied, "We're very proud of our history, and our history is in Chicago, so it means a lot to be able to celebrate those roots."
Contact Sloan to learn more about the industry's most stylish, sustainable, and hygienic line of faucets and soap dispensers for commercial restrooms.
Stay Up to Date
Sign up for the Sloan blog to receive information on the latest trends in commercial building, technology advancements and product updates. It's the leading source of industry news for architects, designers, engineers and contractors.
Thanks for signing up!