When it comes to the competition between hand dryers and paper towels, we have something to say: Enough already!
They both get the job done. But just for the record, hand dryers are environmentally friendlier, more cost-effective, and every bit as safe and hygienic.
Don't take our word for it. Here are three truths to consider before your next commercial restroom update or maintenance project:
1. Hand Dryers Are Environmentally Friendlier
The next time you reach for a paper towel to dry your hands, think of this: It takes 51,000 trees to replace the number of paper towels Americans throw away in one day, which means we dump 13 billion pounds of paper towels into landfills each year.
Reducing the environmental impact of your restroom requires an all-in mentality, from using green cleaners and water-saving fixtures to reducing material waste—especially paper towels. Some eco-minded managers designate "paper towel only" receptacles to divert towels away from landfills for recycling or composting, but the sheer amount of resources just to produce one ton of those paper towels is mind-blowing—20,000 gallons of water, to be precise.
One of the easiest ways to improve commercial restroom sustainability (and save a lot of trees) is opting for newer, jet air hand dryers. Hand dryers, such as the Sloan Optima Air for instance, use only a modest amount of electricity. They range from 8 to 14 seconds of dry time, and our Sloan XLERATOReco® requires as little as 500 watts of energy per use—making it the most energy-efficient, environmentally friendly wall-mounted dryer on the planet.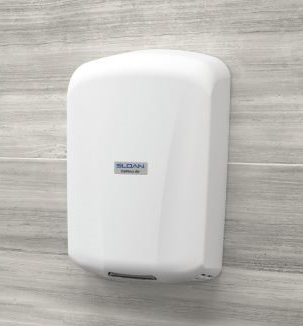 2. Hand Dryers Are More Cost-Effective
Early manufacturers thought you had to evaporate the water to dry your hands. Today, we now know it's easier and more efficient to simply blow the water off your hands using ultra-fast speed, like our Sloan® XLERATOR Hand Dryer model that uses stronger, controlled blasts of air to save both time and energy use.
Let's do a quick cost analysis to get a better idea. The cost of a paper towel dispenser is typically just $40—$60, but then the cumulative costs add up.
In contrast, an average electric hand dryer uses just $14.58 per month worth of electricity. That's approximately 95% less per month than you'd spend on towels—and that's before you factor in janitorial hours, storage and procurement costs.
Sloan electric hand dryers save you money every month. Full stop.
3. Hand Dryers Are Safe and Hygienic
In 2011, Mayo Clinic reviewed twelve hand drying studies (from the 1970s to 2011) and determined that some studies gave hand dryers the upper hand, while others suggested towel trying was more hygienic.
What most of the recent headline-making studies neglect to tell you is this: Washing your hands properly with soap removes most traces of bacteria—regardless of how you dry them. And when you dry your hands fully, either method can provide the same level of cleanliness. What's most important is for people not to walk away with still-wet skin, which is when the transfer of bacteria is most likely to occur.
Modern hand dryer technology has advanced in recent years to include optional HEPA filter models that remove 99.97% of any ambient bacteria, making the germ argument an all-but-moot point.
Both methods are effective at preventing you from having to dry your hands on your pants. But giving restroom visitors the choice is a great way to go—and Sloan's complete line of energy-efficient, wall-mounted hand dryers are a great place to start.
Make Sloan your one trusted source for commercial restroom design, from start to finish. Want to know more about Sloan innovations that save building owners millions of dollars every year? Talk to Sloan!.
Stay Up to Date
Sign up for the Sloan blog to receive information on the latest trends in commercial building, technology advancements and product updates. It's the leading source of industry news for architects, designers, engineers and contractors.
Thanks for signing up!