Sloan has been at the forefront of flushometer technology since it ushered in the modern plumbing era with the invention of the manual Royal® Flushometer. Working as Sloan's Product Line Manager for Flushometers for nearly eight years, Mike Gipson has helped to continually push Sloan's flushometer innovation forward.
How are aesthetics starting to play a more important role in flushometer specification?
I think the commercial restroom has become a more popular place for architects and designers to pay attention to than it was 5 to 10 years ago. We're finding that the architecture and design community is now becoming more involved in specifying commercial plumbing products. More pleasing and aesthetic flushometer options are beginning to present themselves.
Driving a lot of Sloan's new product development, this demand led to our newest concealed flushometer, the Sloan CX Flushometer. If you ask architects and designers to describe an ideal flushometer, they'll say one that's invisible. We responded by developing an all-new concealed flushometer with an attractive wall plate in a variety of finish options. It can also be serviced from the front of the wall, eliminating the need for a rear access plumbing chase.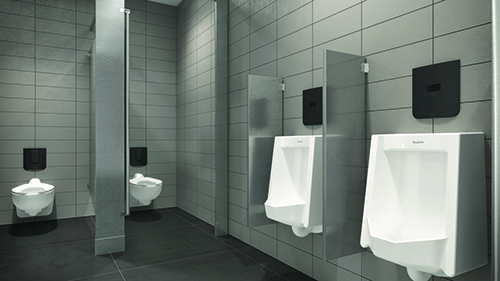 How has a focus on touch-free technology continued to evolve?
Hands-free, sensor-activated flushometers aren't necessarily a new trend, but it's certainly one that is expected to continue. It's in most of the specs we see now, so most of our new product development focuses on sensor-activation. The appeal is obviously from a user standpoint in the fact that you don't have to touch anything. Yet in the commercial restroom space, the other advantage of hands-free activation makes the Sloan CX Flushometer more practical for facility managers to ensure that fixtures get flushed. Commercial restroom user behavior can be a little sloppy so it's nice to have that feature.
Flushometers are continuing to push the envelope in water conservation, but is it important to balance low-flow and operability?
There continues to be a lot of pressure to lower flush volumes and we have responded to this trend with Sloan's low-flow flushometers for both water closets and urinals. Yet, as the industry leader, we're trying to take a moderate, responsible approach. The industry has come a long way with water conservation, and I think we're about to hit a wall and need to be careful about sacrificing performance for the sake of small incremental water savings.
The Plumbing Efficiency Research Coalition published a study on low-flow technology and concluded that once water closets go below 1.28 gpf, operability becomes a slippery slope. A number of variables—from the condition of the pipes and water pressure to the kind of toilet paper used—can dictate performance, so we're trying to educate our audience to make sure they are understanding of the proper flush valve that applies to their industry. For example, if a project is new construction where you know the slope of the lines and the pipes are in good condition, then low-flow flushometers will likely work just fine. However, we try to provide caution when it comes to retrofitting old fixtures in old buildings with old pipes.
What project are you most proud of in your time at Sloan?
I would say Sloan TruFlush and CX Flushometer product launches. The Sloan CX Flushometer was our most innovative flush design in 50 years so it was pretty neat to be part of that. It started out as a valve we designed specifically for the international market. Historically, we try and make the most of what we can with U.S. products internationally, so it was pretty rewarding to watch this evolve and come from the specific needs of the international market.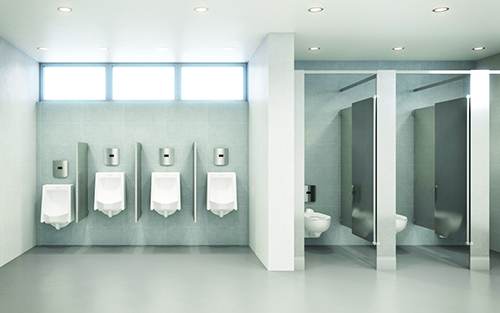 Where do you see flushometers heading in the coming years?
We're heading down a path toward smart flushometers and the Internet of Things (IoT). There's so much information gathering that can be done. For example, how much water's been used and on how many flushes. There are some diagnostics that you can do as well that can be run from phone apps, so there's an intelligence side and then there're also some settings that can be changed. We recently implemented this type of innovation with our redesigned Sloan Optima® faucets. Everyone in the industry is trying to harness this technology, make it more efficient and do so in a cost-effective way that won't be burdensome to the end-user.
This is the fourth edition in a series of Q&A segments with Sloan product line managers for their take on where the commercial restroom has been, what it's evolved to now and where it's going. A previous edition on fixtures can be found here.
Stay Up to Date
Sign up for the Sloan blog to receive information on the latest trends in commercial building, technology advancements and product updates. It's the leading source of industry news for architects, designers, engineers and contractors.