As employers look for new ways to attract and retain the very best talent, they're upping their office design game in every way imaginable.
In a study by Continental Office, 67% of employees said their physical work environment affects their decision to accept or decline a new job, and almost one in four employees (23%) said it affects their decision to stay or leave an organization.
That's why workspace design has turned into a high-stakes competition. From floor-to-ceiling "living" plant walls and logo mosaic murals to mini-golf, DJ booths, full basketball courts and even pirate ships, architects and designers are raising the bar and expanding their approach.
What about restrooms?
Escapism: It's What Employees Want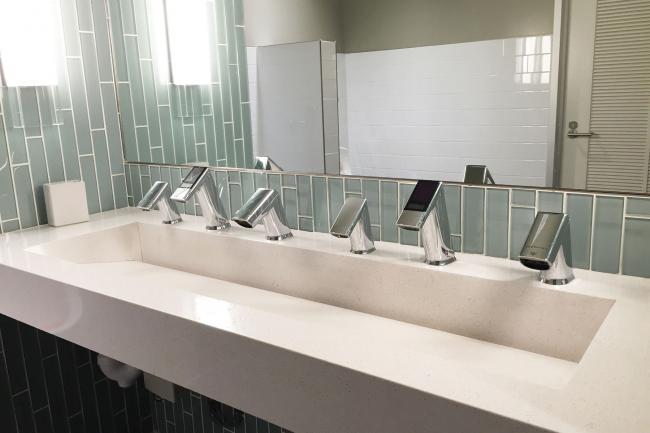 When you spend eight hours in an office, one thing is certain: You will, at some point, need to use an office restroom.  
To address that reality, office restrooms, which were once an afterthought, have become an exciting new frontier for commercial architects and designers.
An important issue innovative office restrooms address is the impact of open floor plans on employee morale. Tearing down cubicle walls and doors might spark more interaction, but it also can make employees feel they're vulnerable and have no privacy.
So enhanced privacy in the restroom has become even more significant—with notable trends in partitions and enhancements like full-wall enclosures, white noise speakers, quiet hand dryers, Wi-Fi access and device storage.
The Basics Matter: Durability and Location
Employees make three to four visits to office restrooms every day, and one global study found that UK workers spent approximately 41 hours in the restroom each year. The takeaway? Office restrooms are high-traffic spaces that must live up to the realities and rigors of heavy use.
Durability, then, matters as much as ever. That's why Sloan flushometers are designed to withstand more than a million flushes over 20 years of heavy use.
Another important factor for office restrooms is location. According to WorkDesign Magazine, when restrooms are centrally located, the process of getting to the restroom encourages mixed-gender conversations, employee mingling and a sense of feeling more connected to other parts of the company.
Corporate Culture Down the Toilet? It All Depends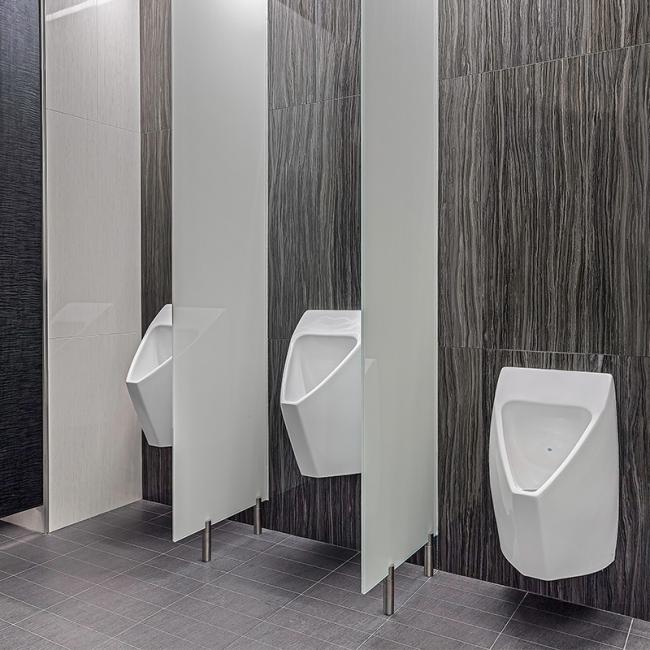 Office restroom fixtures and high-end finishes are evolving to help companies provide more playfully themed or residential-feeling spaces. These initiatives are a true extension of company culture.
Once the planning, maintenance and fixture selections are perfected, a little humor always helps. Employers are finally taking themselves less seriously with restroom themes ranging from Egyptian tombs to 1960s surf culture.
It could just be a matter of time before we all take our cue from the WeWork group of co-working offices: Their WeWee app supports employees—even outside their office environment—by helping them navigate to the coolest potty spots wherever they roam.
Start your design with Sloan water-saving fixtures and office restroom technology innovations, and you'll be leading the annual employee opinion survey in no time.
Sloan helps employers provide optimized, high-performing restrooms for style-conscious, eco-conscious, hardworking employees. Want to know more? Talk to Sloan!
Stay Up to Date
Sign up for the Sloan blog to receive information on the latest trends in commercial building, technology advancements and product updates. It's the leading source of industry news for architects, designers, engineers and contractors.
Thanks for signing up!