Commercial restroom design can be a lot like dating. No really, stick with us here.
When you meet someone new, your first impression isn't usually about their intelligence, their abilities, or how well they'll fit into your life. Your first impression is about how they look.
In other words—first comes the WOW. Then you can start filling in all those other details.
It's the same with designing a commercial restroom. Sure, you're thinking about hygiene and sustainability and how well everything works together, but oftentimes your vision starts with a visual WOW. Once you see the products that perk up your aesthetics antennae, you can start exploring all those other details.
And that's why we've launched our new image library.
A Searchable, Sortable, Visual Index
Whenever we introduce a new product, we showcase them in a variety of settings to demonstrate their design flexibility and aesthetic potential. This helps architects and designers pursue exciting new visions with a range of aesthetic possibilities.
But the image library is more than just a collection of images. It's a searchable, sortable, visual index that helps you find what you're looking for while exploring  many options.
The image library can save you a ton of time putting together your next spec submittal package. More than that, it can help inspire you to make that package more dynamic. It's like a shortcut to making your vision a reality.
Finding Your Inspiration in Three Clicks
Here's how it works.
Say you want concealed flushometers for your next project. Just click the "Concealed Flushometer" button on the left: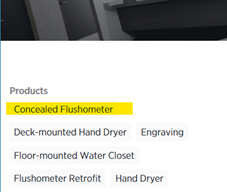 The library immediately serves up all the images with concealed flushometers. Now, maybe your eye is drawn straight to the image titled "Clark Street Urinal":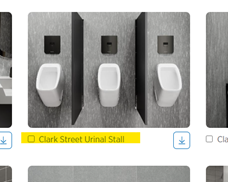 If you hover over the image, you'll see a pop-up button inviting you to view the products in the image. Click that, and you're taken to a page where you learn you're viewing the CX Concealed Urinal Flushometer in Graphite, along with the Vitreous China Washdown Urinal: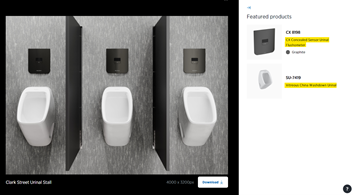 Download the image, and you're one step closer to completing your spec submittal package. And maybe you're inspired by that graphite finish to envision a downtown office restroom design built on a palette of understated greys and blacks.
But that's not the only way you can leverage the library. You can also start your search with color, product finish, or materials: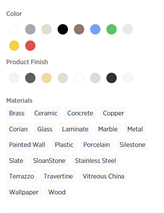 You can even use search terms of your own, such as "fitness," and instantly see images relating to fitness centers:

The image library is an easy, efficient way to start selecting components for your next commercial restroom project based on the aesthetics that catch your eye and inspire your vision.
If only dating was this easy!
Need inspiration to help your next commercial restroom design turn your vision into reality? Contact Sloan!
Stay Up to Date
Sign up for the Sloan blog to receive information on the latest trends in commercial building, technology advancements and product updates. It's the leading source of industry news for architects, designers, engineers and contractors.
Thanks for signing up!