What's more exciting—a new special finish color that expands the palette you can deploy in your commercial restroom design, or a proprietary technology that makes all our special finishes more durable?
Like proud parents who can't love one child more than another, we're equally jazzed by both.
The new color is graphite, and the technology is physical vapor deposition (PVD). They're available on a wide selection of flushometers, faucets and soap dispensers, giving you another tool for building commercial restrooms that fulfill your creative vision.
Here's a quick peek at what's new.
Our New Graphite Finish Creates a High-Contrast Palette
We love our traditional Polished Chrome. After all, it's featured in millions of commercial restrooms around the world, and it's the very epitome of sleek, clean and practical.
But sometimes you may want something a little more… unique. That's why we introduced our line of special finishes in 2017 and why we're adding graphite to this lineup.
What does a graphite finish say about a restroom? It's an abstract, more industrial look, a contrast to the gleaming surfaces people expect in a restroom. For restaurants and entertainment venues that cultivate a minimalistic aesthetic, or offices in buildings with an edgier feel, a graphite finish can be ideal.
Graphite joins these other PVD special finishes in the Sloan lineup:
Polished brass: High-end luxury that's still warm and welcoming
Brushed nickel: Understated yet eye-catching, without showing fingerprints
Brushed stainless: Classic, fresh and won't tarnish over time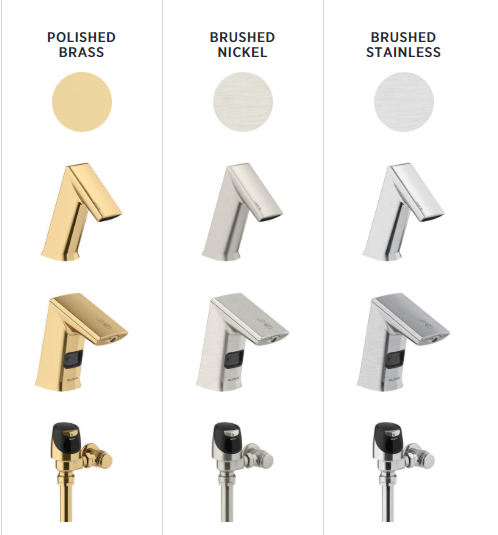 "The commercial restroom is one of the most visited spaces in any building," says Sloan faucet product line manager, Andrew Warnes. "It should leave a lasting, positive impression."
PVD Technology is Tougher and More Sustainable
Our proprietary process for adding special finishes to faucets, soap dispensers and flushometers is almost as cool as the finishes themselves. Compared to powder coating or immersion processes, physical vapor deposition ensures a longer-lasting finish.
Without getting too deeply into the engineering, PVD is a process of vaporizing a solid into a gas, applying it to a surface and condensing it back into a solid. PVD is used to manufacture advanced technologies such as microelectronic devices and thin film solar panels. It's an essential solution for curved and angled products—like restroom fixtures.
Our proprietary PVD process bonds the finish at the molecular level and enhances resistance to the chemicals and abrasion that commercial restroom fixtures face from daily cleaning.
PVD finished products are also environmentally friendly, since they don't require the use of caustic chemicals or additives during cleaning that other products sometimes do. If sustainability is important to you, PVD is a better choice.
To enhance the look of your next project, specify our new graphite special finish. We're sure you'll love the technology that makes it possible.
Check out sloan.com/special-finishes for faucets, soap dispensers and flushometers.
Contact Sloan to learn more about other ways you can give commercial restroom projects your own signature style.
Stay Up to Date
Sign up for the Sloan blog to receive information on the latest trends in commercial building, technology advancements and product updates. It's the leading source of industry news for architects, designers, engineers and contractors.
Thanks for signing up!