With our beloved Cubs in a tight N.L. Central division race, most people probably associate Anthony Rizzo with his stellar performance on the field.
The Cubs' first baseman's performance off the field is stellar, too—measured by families helped, outlooks brightened and lives changed. All that is made possible by the Anthony Rizzo Family Foundation, a cause Sloan is proud to support.
Rizzo says, "Sloan has been an integral part of the growth and success of the Anthony Rizzo Family Foundation. The Allen family has been by our side since the beginning and with their support, we have been able to provide game-changing direct financial assistance to pediatric cancer families not just here in Chicago but across the United States."
After his own brush with Hodgkin's lymphoma when he was 18, Rizzo was inspired to build a foundation to raise money for cancer research and to provide support to children and their families battling the disease.
Sloan President and CEO Jim Allen recently shared some thoughts about the Anthony Rizzo Family Foundation and why Sloan supports it so strongly.
Appreciation and Respect for Families
"Sloan is a fourth-generation family business," says Allen. "We have families with two or three generations of people who have worked here. When you have an individual who brings their son or daughter to begin their career here, that's a testament to the type of company Sloan is. We appreciate and respect families, and we nurture that family element."
Allen continues, "Plenty of our families have had their own fights with cancer. The way the Anthony Rizzo Family Foundation steps up and helps families dealing with cancer is very much in alignment with our values."
In recent years, Sloan has been an All-Star level sponsor of the annual Laugh-Off for Cancer and a Triple-level sponsor of the annual Cook-Off for Cancer.
Allen says, "They put together great events that are not only a blast to attend, but touching and emotional, too. They bring up the families who the money is actually going to help. Anthony's mother and father are always there, and there's plenty of awesome support from Cubs teammates and the front office."
He says, "The Cook-Off is a neat format, with top chefs serving up morsels of deliciousness for everyone to try. Then there's a silent vote to pick the winner [most recently Tony Priolo of Piccolo Sogno], and lots of great items for auction."
"And a portion of the proceeds go directly to families fighting cancer—that's the number one reason Sloan supports the foundation."
A Natural Relationship with Chicago Charities
Sloan supports many other causes—local, national and international. Yet, like our annual participation in the Chicago JDRF One Walk, we have a special focus on charities that make a difference with families close to home.
Allen says, "We are actively involved in numerous events and fundraisers. The causes we support are about community and families. Chicago is Sloan's home base, so we have a natural relationship with the Cubs and their charities."
He cites initiatives spearheaded by Cubs President of Baseball Operations Theo Epstein—the perfectly named Foundation To Be Named Later—as well as player foundation and charitable campaigns which include those by outfielder Kyle Schwarber, pitcher Jon Lester and former Cubs pitchers Kerry Wood and Ryan Dempster. "They're all about people in the community. People who work here feel pride in our support of these initiatives."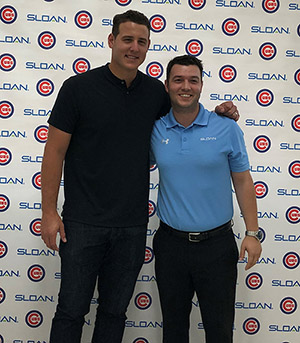 Many Sloan employees have participated firsthand in these initiatives. Allen recalls one event with Anthony Rizzo. "He's the real deal, so giving and so humble. He had his picture taken with something like 290 Sloan employees, one person at a time."
"He goes to the hospital to visit kids because he knows what they're suffering through. He was one of them. We're honored and proud to support his work."
Sloan has been the official Water Efficiency Partner of the Chicago Cubs since 2015, and helps organizations worldwide save billions of gallons of water every year. Want to know more? Talk to Sloan!
Stay Up to Date
Sign up for the Sloan blog to receive information on the latest trends in commercial building, technology advancements and product updates. It's the leading source of industry news for architects, designers, engineers and contractors.
Thanks for signing up!