Since we introduced the Sloan Mobile Handwashing Station last year, it's won over facility managers and users alike. From schools and offices to shopping malls and sports arenas, people love the ability to wash their hands without having to visit a restroom.
Now, even more people can experience hand hygiene anywhere, thanks to our new inclusive ADA-compliant Mobile Handwashing Station.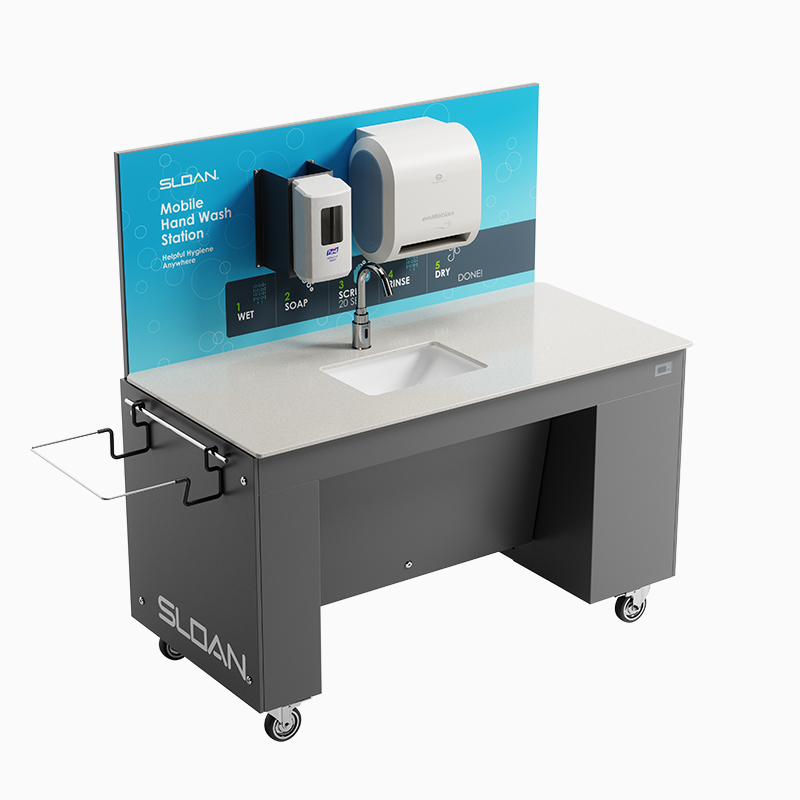 Its wider enclosure allows for greater access underneath and more counter space on top, so differently abled people can easily approach the station, wash and dry their hands, and be on their way.
What is the Sloan Mobile Handwashing Station?
Let's take a closer look at the complete lineup of Mobile Handwashing Stations.
The Sloan Mobile Handwashing Station is much more than a sink on wheels. It's a complete, touch-free hand hygiene station that can be placed almost anywhere in almost any facility.
We offer three fully self-contained models, which permit stand-alone use with no plugin or plumbing required. (They include water and drain lines for connected use, too.) These models are powered by a rechargeable battery and have ample freshwater and greywater storage.
We also offer three connected models, which require connection to a standard 3/4" water line and drain line for greywater. They can still be easily relocated to any location where those lines are available.
All faucets and soap dispensers on all our Mobile Handwashing Stations are touch-free for optimum hygiene and easy use.
The new ADA-compliant Mobile Handwashing Station is fully self-contained. Its height, depth, clearances, clear floor space, and plumbing specifications all comply with the 2010 ADA standards for use by people with every level of ability. It is truly the Mobile Handwashing Station for everyone, everywhere.
The ADA-compliant Mobile Handwashing Station Enables All-day Hygiene Anywhere
In this timeline, we look at a variety of scenarios in which people of all abilities might use the Sloan Mobile Handwashing Station in the span of just one day.
6:45 a.m.
Passengers disembark from Flight 477 into a quiet terminal, and Julianne Peters needs to catch a ride to the conference center as soon as she can. She's delighted to see a Sloan Mobile Handwashing Station right outside the gate, because she can wash her hands without rolling her suitcase into the restroom.
7:38 a.m.
After wheeling himself in from the employee's lot, Steve Escovedo is glad to be able to wash his hands at the Mobile Handwashing Station in the break room before pouring his first cup of coffee.
8:12 a.m.
Kids line up in the hallway outside Jane Terry's kindergarten class to wash their hands before a full morning of hands-on activities. She places a little stool in front of the Mobile Handwashing Station and beams as the kids remember to count to 20 while they scrub.
10:36 a.m.
Carl Nowak stops at the post office to mail a package to his daughter at college. After using the pen and touching the forms at the center desk, he's glad to be able to use the Mobile Handwashing Station before he leaves the building.
1:15 p.m.
Chloe Wong decides to take a break from holiday shopping to enjoy some lunch. She wheels right up to the Mobile Handwashing Station outside the mall's food court, where her legs fit easily under the enclosure, and washes her hands with hot water and soap. Now—will it be pizza or a cheeseburger?
2:22 p.m.
Between classes, Tyler Goldstein swings by his locker to swap his French books for his Biology text. He passes a Mobile Handwashing Station in the hallway and realizes he hasn't washed his hands since lunch. Thirty seconds later, he's off to the bio lab.
3:58 p.m.
Hooray, someone brought snacks for the 4:00 marketing team huddle! Several team members stop at the Mobile Handwashing Station right outside the conference room to wash up before the meeting.
7:27 p.m.
To DeJuan Douglas, it isn't a basketball game without some nachos from the Section 116 concourse. Now his hands are a mess, though, and he might miss some action if he goes to the restroom. Look, there's a Mobile Handwashing Station right at the top of the ramp!
Handwashing is—and always will be—a high priority for helping people stay as healthy as possible. With its flexibility, convenience, and (of course) mobility, the inclusive ADA-compliant Sloan Mobile Handwashing Station makes hand hygiene easier for people everywhere.
Need smart, hygienic restroom solutions for any type of public venue? Contact the experts at Sloan!
Stay Up to Date
Sign up for the Sloan blog to receive information on the latest trends in commercial building, technology advancements and product updates. It's the leading source of industry news for architects, designers, engineers and contractors.
Thanks for signing up!