We've been advocating for touch-free commercial restrooms since we introduced our first sensor faucet in 1974. Since the beginning of the COVID-19 pandemic, more and more organizations have welcomed touch-free restrooms as they are essential to creating more hygienic public spaces.
This growing demand is based on a well-known fact about hygiene: When people touch fewer surfaces, they are less likely to transmit disease.
Now, one of the construction industry's most respected mechanical contractors has worked with Sloan to create touch-free restroom experiences throughout its world-class new headquarters.
Here's a closer look at the new, touch-free restrooms at William R. Nash, Inc. in Tamarac, Florida.
A Contractor with Large-scale Range and Capabilities
William R. Nash began as a specialist in plumbing systems, but today they complete mechanical services for healthcare, hospitality, correctional, sports, entertainment, and high-rise environments.
One example of their range and capabilities: They are responsible for the plumbing, medical gas, and mechanical services for a multi-building Veteran Affairs campus in New Orleans, Louisiana covering 29 acres over twelve city blocks. Another project Nash has underway is the new Frost Institute of Chemistry and Molecular Science on the University of Miami's Coral Gables Campus.
Involvements with projects of this scale means Nash recognizes products that deliver industry leading hygienic, aesthetic, and performance benefits.
So, when the company committed to a new headquarters to accommodate its growing number of employees, expand its prefabrication facility, and create a world-class training center, all under one roof, they knew Sloan would be the partner who could best provide for their new facility's touch-free restrooms.
Advanced Touch-free Technology Wins on Aesthetics, Too.
Nash specified two of the most advanced Sloan touch-free products for use in restrooms throughout the new facility.
They specified Sloan CX Concealed Flushometers for both their Sloan water closets and urinals. The CX is a strong aesthetic choice—maybe the best-looking flushometer anywhere. But it's also nearly 70% smaller than the industry standard, with the industry's smallest front access wall panel. For maximum design flexibility, the concealed flushometer also creates more usable restroom space.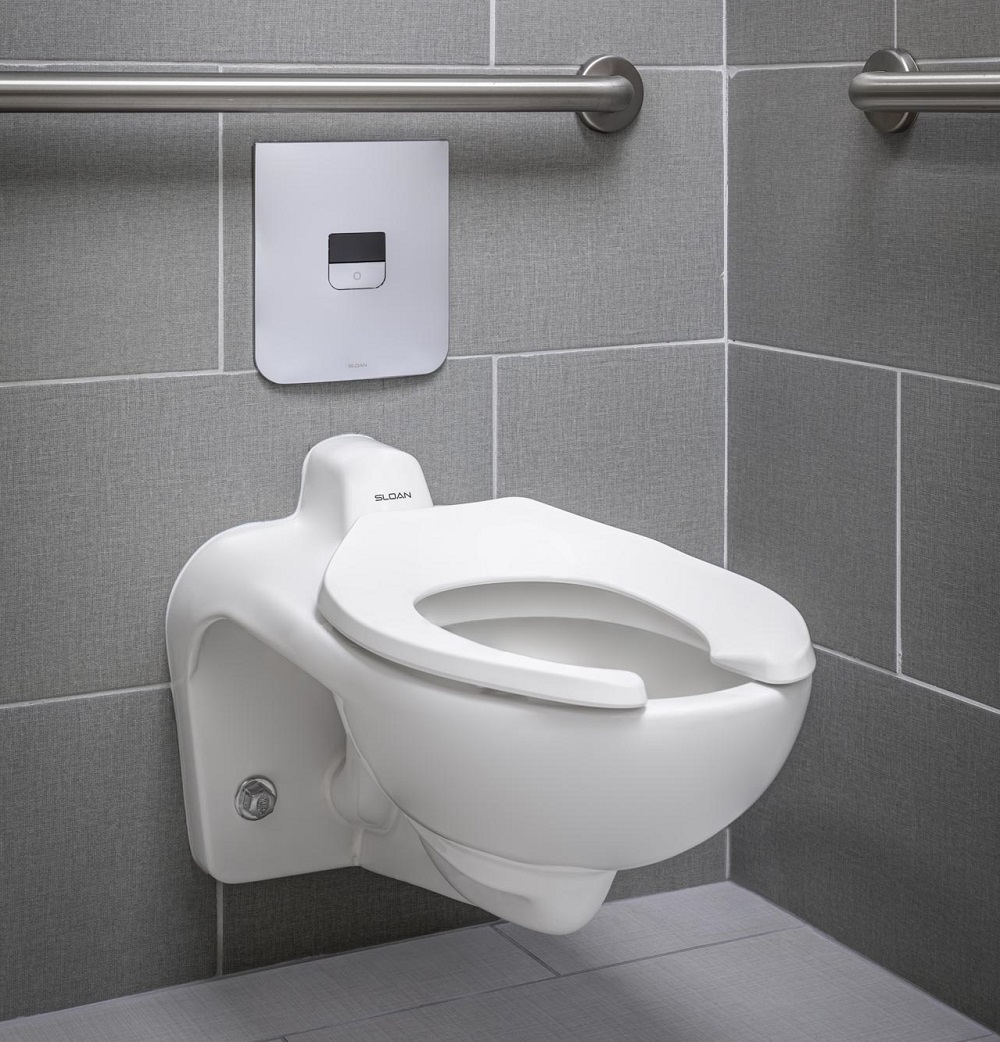 Nash also specified Sloan's AER-DEC® Integrated Sink Systems, with Sloan BASYS® Faucets, Soap Dispensers, and Hand Dryers all working together to create a hygiene-friendly handwashing experience.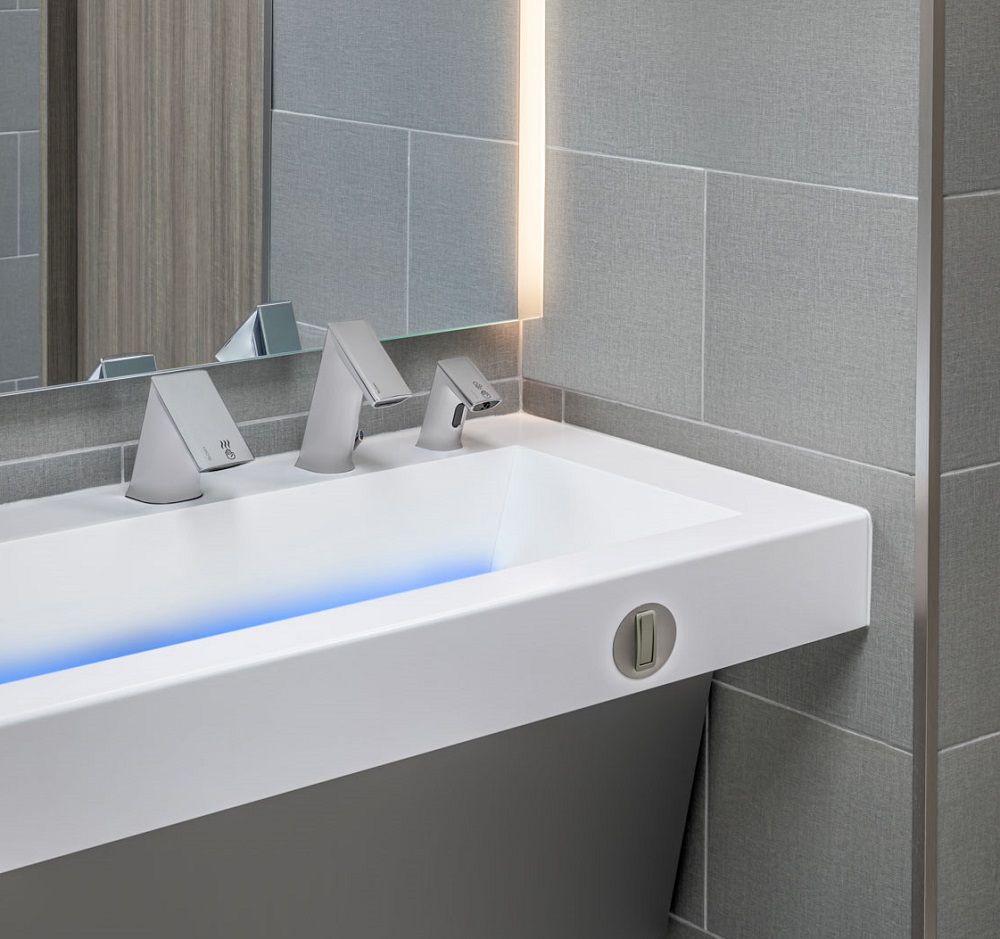 Like the CX, the AER-DEC clearly scores highly on aesthetics—especially with the optional LED lighting in the sink basins. Yet it's a functional winner, too, letting users soap, rinse, and dry their hands without leaving drips on the floor. It even has convenient and hygiene-friendly hooks for purses or jackets, so they don't touch restroom surfaces.
Hygiene Beyond the Restroom
With more than 30 employees working simultaneously in its new prefabrication warehouse, Nash had hygiene needs beyond its standard restrooms. They selected the Sloan 3-Station Wall-mounted Wash Fountain Sink for their warehouse area so employees can access another touch-free location to wash their hands frequently throughout the day.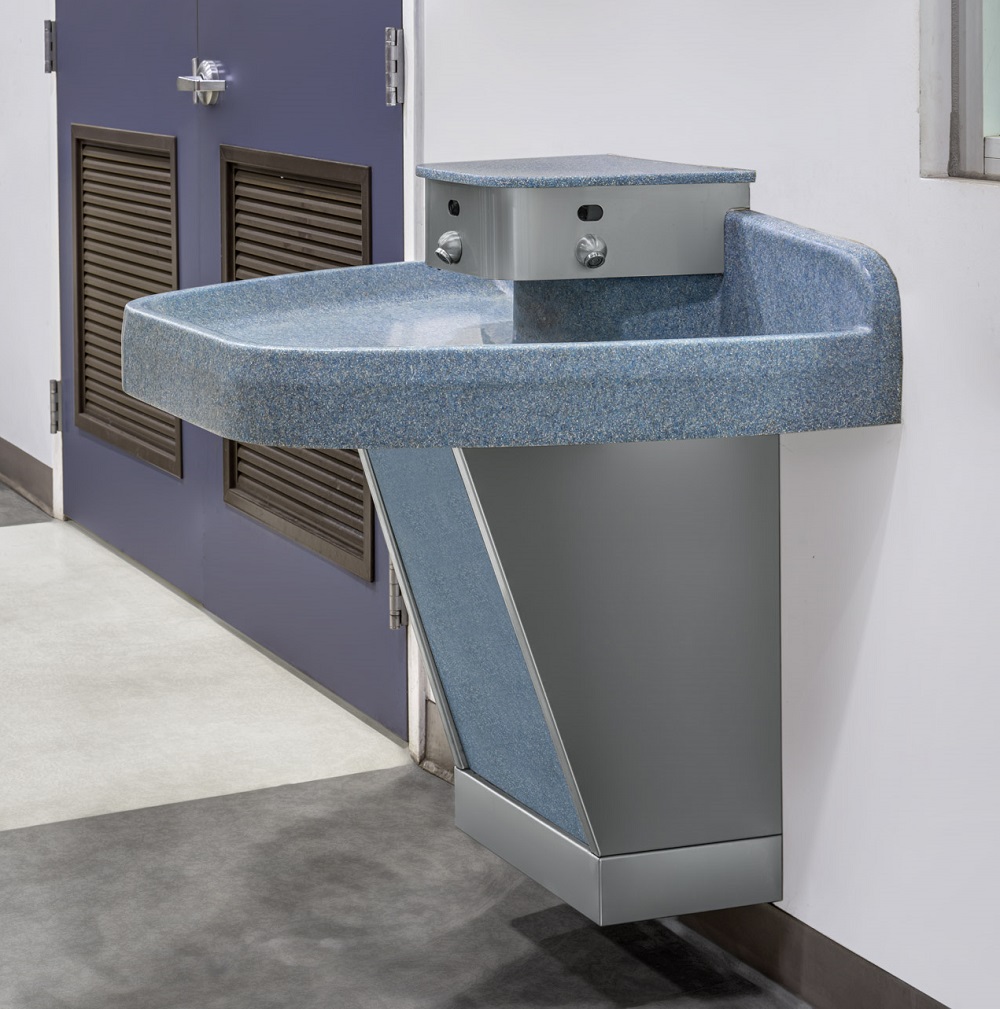 We're proud to have helped William R. Nash give its new headquarters world class hygiene and performance, both inside and outside the restrooms. With the industry's broadest selection of touch-free, sensor-operated faucets, soap dispensers, hand dryers, and flushometers, we look forward to helping other organizations realize the same goals throughout 2021.
Sloan technology has contributed to the construction and renovation of many of the world's most advanced facilities. Want ideas for making your next project more stylish, more hygienic, and more efficient? Contact Sloan!
Stay Up to Date
Sign up for the Sloan blog to receive information on the latest trends in commercial building, technology advancements and product updates. It's the leading source of industry news for architects, designers, engineers and contractors.