Sloan is proud to once again support the Chicago Lakefront JDRF One Walk on September 29 with both a sponsorship and a walking team.
The stRolling Sloans are back!
For several years, we've joined the Juvenile Diabetes Research Foundation (JDRF) One Walk to help find a cure for Type 1 diabetes—a currently incurable condition that affects people of every race and nationality who must regulate their diet and insulin levels every day simply to survive.
The One Walk is just one activity Sloan conducts every year to raise money for the JDRF. "For almost a decade now, we have been exceeding our fundraising goals. We are proud to have raised hundreds of thousands of dollars, all dedicated to an end to Type 1 diabetes," says Executive Administrator/Office Supervisor Monique DiVarco, captain of the stRolling Sloans walking team.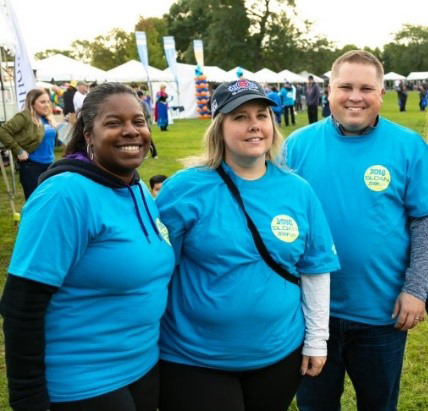 We love being able to make this kind of contribution. Especially since it's so much fun.
Research Toward A Diabetes Cure
Type 1 diabetes prevents the pancreas from producing enough insulin, the hormone that regulates the amount of glucose in the blood. Researchers aren't exactly sure why millions of people get it. No one "does" anything to "deserve" type 1 diabetes—it's something that just happens to people, usually as children, regardless of what shape they're in or what kind of food they eat.
That's why we feel it's so important to help JDRF. Money raised by One Walk events and other initiatives supports exciting diabetes research, including:
Artificial pancreas systems that monitor blood-glucose levels and use an algorithm to automatically provide the right amount of insulin at the right time
Beta cell replacement treatments that replace the pancreas's insulin-producing beta cells destroyed by the body's autoimmune system
Immunotherapies that aim to turn off the deadly autoimmune system attack against beta cells that causes type 1 diabetes
Advancements like these could one day eradicate type 1 diabetes, and we're proud of our efforts to help JDRF achieve that goal. It's part of the culture that makes Sloan, Sloan.
A Culture That Brings Everybody Together
The One Walk isn't the only event in which Sloan raises funds to further diabetes research. At this summer's company barbecue, the "Sloan Soaker" was a popular fundraising game..

"It was an exciting way to raise funds, as well as take the opportunity to soak your supervisor. 100% of the proceeds raised from the game go directly to JDRF," DiVarco says.
She says the barbecue is a great example "of our culture that brings everybody together—not just shop floor employees but office employees, too. Everyone gets to know each other."
One unique aspect of the barbecue—and other Sloan events, such as our Thanksgiving lunch—is that office employees do all the serving. DiVarco says, "That's what makes it a lot of fun. The office employees are out there serving the shop employees, volunteering to get up at 4:00 in the morning to serve the third shift at 6:00 am. VPs are out there at the barbecue cooking on the grills."
Monique is looking forward to this year's walk, of course. "It's a lot of fun. The Walk is only a 3K. You're looking out over the lakefront on a brisk, beautiful day, and just being able to spend time with all the other people there… It's a great way to do good and do it together with our Sloan team mates and others dedicated towards this cause. Almost at every office, people sit across from each other, without much opportunity to talk and bond. At Sloan, we like to carve out time for these type of events that both build stronger relationships with our colleagues and do good for our communities. It's truly a great cause"  
Please help find new advances in diabetes treatment — visit the stRolling Sloans' JDRF One Walk page.
Stay Up to Date
Sign up for the Sloan blog to receive information on the latest trends in commercial building, technology advancements and product updates. It's the leading source of industry news for architects, designers, engineers and contractors.
Thanks for signing up!