At Sloan, we work with people and organizations across a wide variety of industries, in the United States and around the globe. When the COVID-19 pandemic struck early last year, business-as-usual became impossible for nearly all of them.
"We had to pivot," says Sloan Technical Training Manager Andrew Warnes.
That pivot became a massive investment in education for facility managers, plumbers, engineers, architects, and designers—anyone who helps maintain, manage, or create commercial restrooms. And the core of that investment was a series of live webinars, shared once a week or so since April 2020.
So far, we've held almost 50 live sessions attended by more than 14,000 people from at least 20 countries. Many more are accessing the on-demand recordings so that they can learn more about Sloan products and important industry topics at the time that best works for them. Due to popular demand, we've also recently added 14 on-demand webinars in Spanish.
This response inspired us to build a new Learning Management System—a complete repository of all our webinars, videos, and CEU courses—which will be available in July 2021.
Meanwhile, here's a look at the impact our webinars have made throughout one of the most challenging periods in our history. We've also highlighted a few of the top questions people asked during the webinars to give you an idea of the breadth of information covered.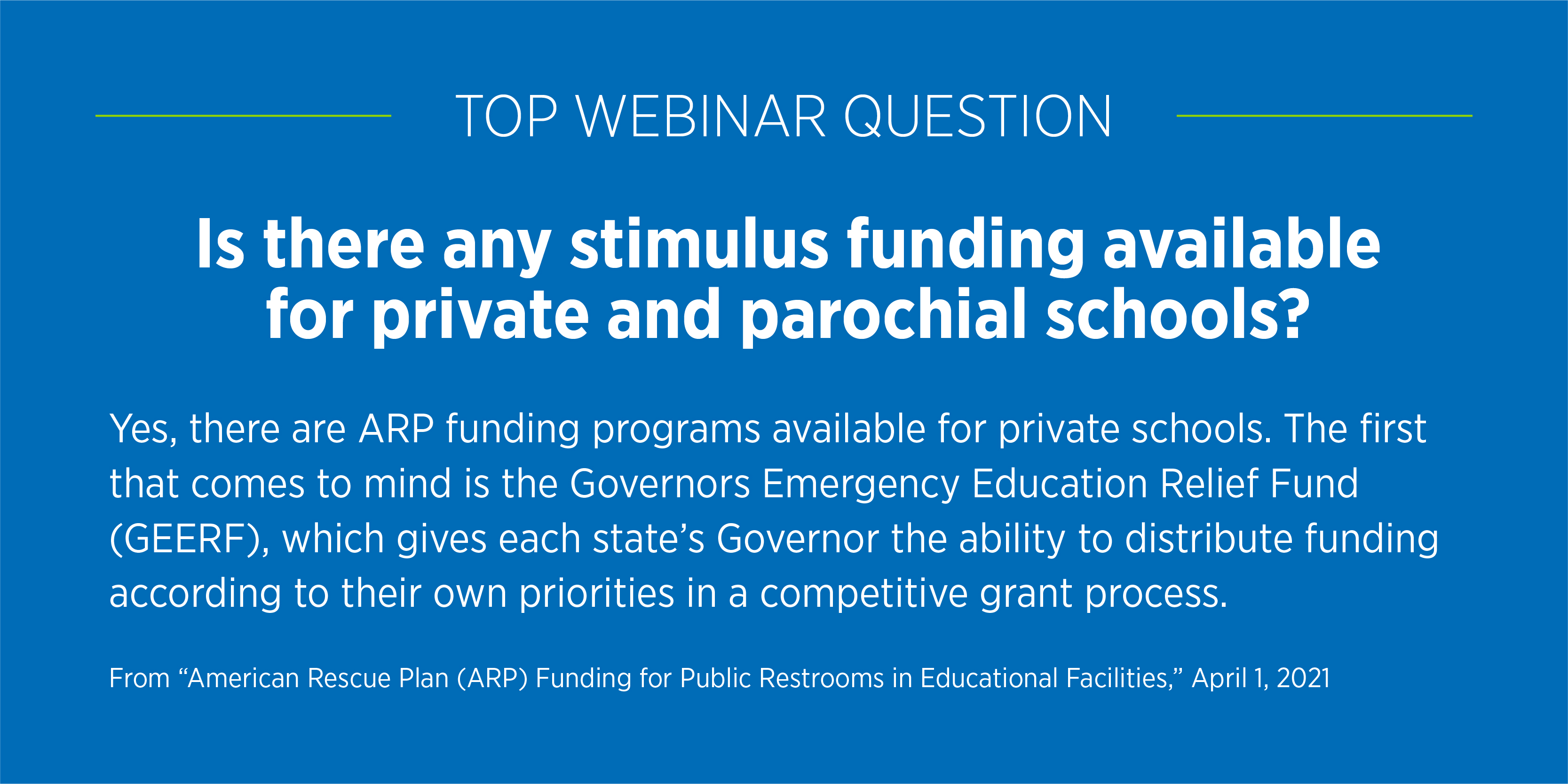 Webinars Covered Key Issues for a Wide, Varied Audience
From the outset, we developed our webinars to explain issues that were foremost on people's minds.
For example, with heightened awareness of hand hygiene during the early days of the pandemic, facilities saw the importance of upgrading from manual to touch-free restroom fixtures. Replacing Manual Faucets with Touch-free Automatic Sensor Faucets (April 2, 2020) and Upgrading Manual Flushometers to Touch-free Sensor Operation (April 9, 2020) became two of our most popular webinars.
This popularity spanned a wide spectrum of attendees. "We had registrations from engineers, plumbers, architects—even from some of our competitors," says Warnes. "The most popular webinars turned out to be some of the most basic—the subjects that come up again and again."
In addition to the ones mentioned above, the most-attended webinars to date have been: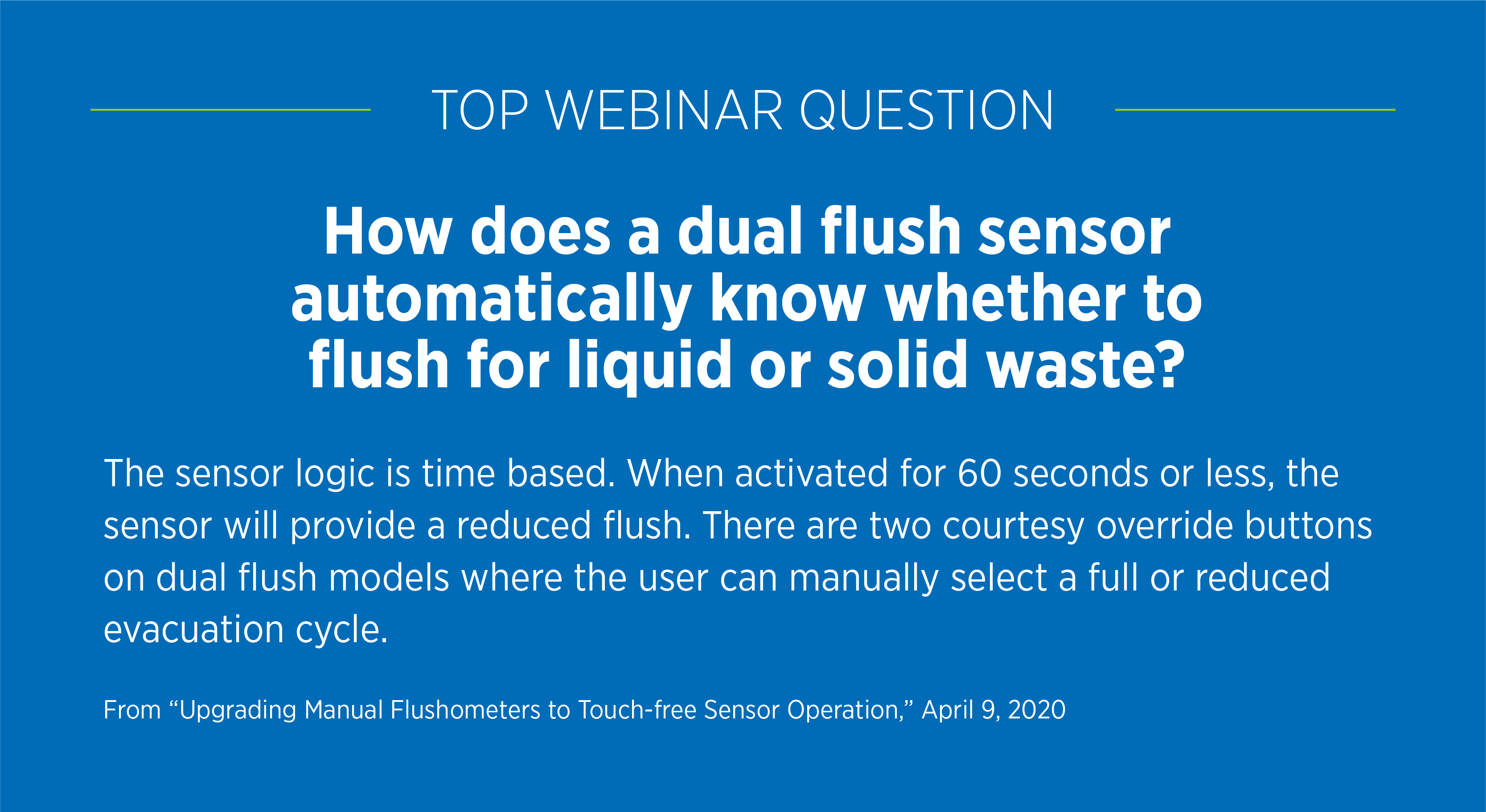 What Attendees Say about These Webinars
With topics addressing what's foremost in people's minds, the webinars attracted attendees from nearly every profession with any connection to commercial restrooms—from ordinary plumbers to respected architects. Here's a sampling of what they've said:
"The Upgrading Manual Flushometers webinar was very professional, and one of the best I've attended while this has been going on. Bravo." —Plumber, Louisville, KY
"Thank you—great products, and very clear presentation of the options." —Architect, Keene, NH
"I've bought 100s of faucets and flushometers from Sloan for the 55 buildings which I am the plumber for. Please inform me of any classes or certifications I could acquire to further my knowledge in your product." —Plumber, Glendale, CA
"Great presentation with guidance, recommendations and practices for us facility managers to create awareness in our unused sites prior to a facility start-up." —Facility Operations Analyst, Aguadilla, PR
"If you have the information, you have the power." —Sales Rep, San Jose, Costa Rica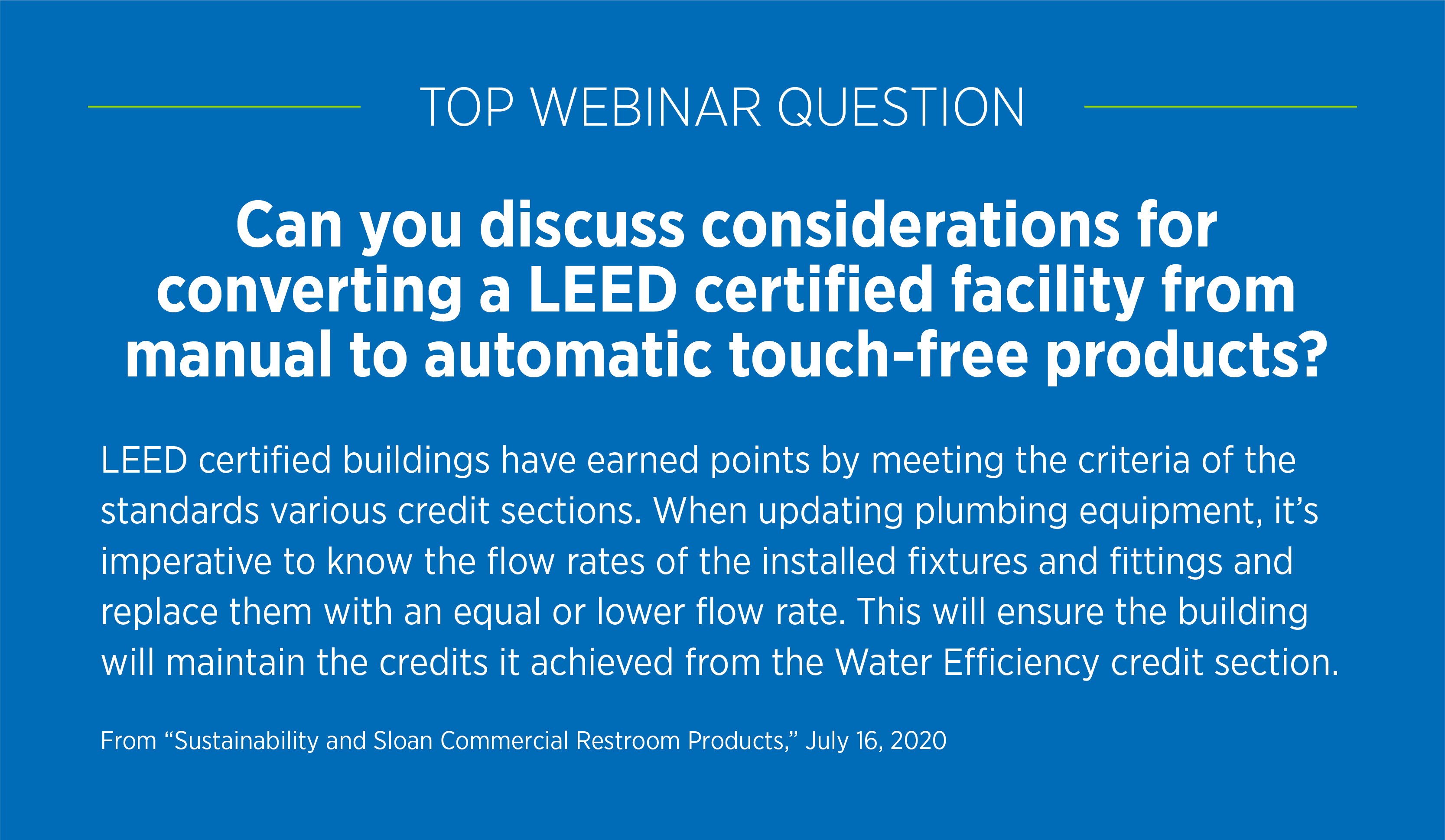 Education Will Always Be Our Priority
You can watch our entire webinar series on-demand, and we intend to keep delivering new, live webinars on the topics you're most interested in. The pandemic may be winding down, but there are always new issues to explore in the world of commercial restroom design and maintenance.
Keep an eye out for our new Learning Management System, coming in July 2021. It's the latest innovation in our commitment to education for everyone who helps maintain, manage, or create commercial restrooms.
Want more in-depth answers to the issues addressed in our webinars? Contact Sloan!
Stay Up to Date
Sign up for the Sloan blog to receive information on the latest trends in commercial building, technology advancements and product updates. It's the leading source of industry news for architects, designers, engineers and contractors.
Thanks for signing up!