When you're dedicated to creating design inspiration for architects and designers, it helps to be based in Chicago.
No city in the world has been home to more innovate architects than Chicago, from Louis Sullivan to Frank Lloyd Wright to Ludwig Mies van der Rohe to modern-day stars like Jeanne Gang.
Take a twenty-minute stroll around downtown Chicago, and you'll experience landmark architecture and design everywhere you look. It's almost impossible to not be inspired.
That's why we've based our Collections—complete product solutions in contemporary environments—on the visual character of iconic Chicago streets. And now, we're proud to introduce two more Collections, complete with exciting new faucet and soap dispenser designs.
The Rush Street Collection
Chicago's Rush Street runs right through the heart of one of the city's busiest areas. It's also just a block or two from famous structures such as the historic Water Tower, the deco classic Wrigley Building, and the John Hancock Center.
The Sloan Rush Street Collection occupies the intersection of a nostalgic past and a glamorous present. Architects and designers will discover understated luxury here: natural finishes, smooth stonework, and gentle forms fused with sharp angles.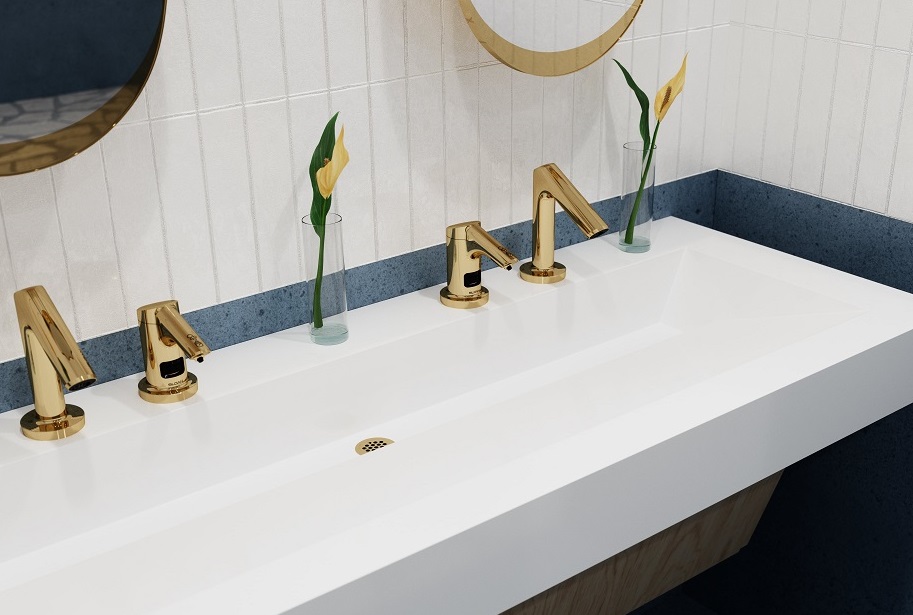 Among its other design innovations, the Rush Street Collection includes the  Optima® ETF-420 Deck-mounted Faucet, paired with the Sloan® ESD-420 Deck-mounted Soap Dispenser available in a variety of finishes. This pairing gives any commercial restroom a stunning presence that's simultaneously classic and sleekly modern.
The Clark Street Collection
Clark Street runs north-south from the city's northern border, through the Loop and well into the south side. Its most famous buildings include the Daley Center, the gleaming, blade-like Sofitel Chicago Magnificent Mile, and our beloved Wrigley Field.
The Sloan Clark Street Collection mirrors the commanding lines of this signature thoroughfare, bringing precise angles into harmony with subtle curves that capture light and attention.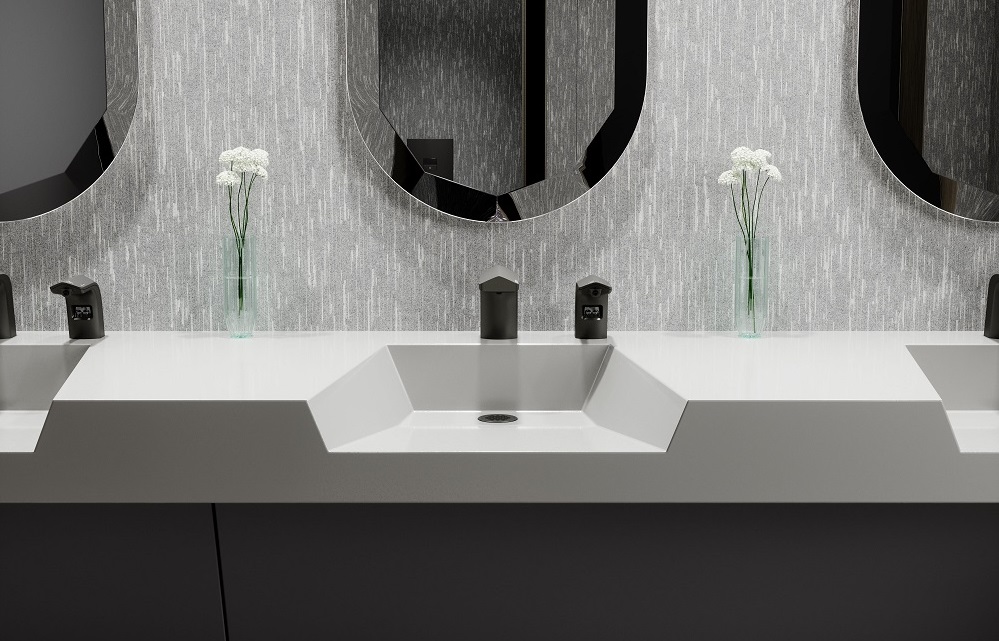 These striking designs include the Optima® ETF-410 Deck-mounted Faucet and the Sloan® ESD-410 Deck-mounted Soap Dispenser available in a variety of finishes. This pairing's understated shapes help restrooms in this collection evoke the confidence and class of so many Chicago structures.
A Complete Line of Faucets and Soap Dispensers for Innovative Design
The new faucet and soap dispenser models in our Rush Street and Clark Street Collections are just a few of the innovative designs available to architects and designers exploring their unique commercial restroom visions.
All our faucets and soap dispensers are sensor-activated, because touch-free restrooms are significantly more hygienic than those equipped with manual fixtures. That matters more and more these days, for obvious reasons.
Plus, you'll find that our striking designs also offer a range of benefits engineers and facility managers will appreciate:
The Sloan Connect® App

, which lets you adjust and configure your Sloan Bluetooth-connected faucets from your smartphone

Power options

including battery, solar, hardwired (with battery backup) and turbine

Optimix™-enabled Faucets

featuring the industry's fastest, most effective ASSE 1070 compliant anti-scald technology incorporated directly into the faucet spout
Our matching faucets and soap dispensers aren't just stunning to look at. They're also exceedingly practical to install, own, and maintain.
Contact Sloan to learn more about the industry's most stylish, sustainable, and hygienic line of faucets and soap dispensers for commercial restrooms.
Stay Up to Date
Sign up for the Sloan blog to receive information on the latest trends in commercial building, technology advancements and product updates. It's the leading source of industry news for architects, designers, engineers and contractors.
Thanks for signing up!