Lo que está cubierto.
Elija la destreza de Sloan con confianza. Conozca nuestras políticas de cobertura.
¿Necesitas más información? Dinos lo que buscas para que podamos apoyarte. Envía tu petición
Sloan Limited Warranty on Products Purchased on or After February 17, 2022
Sloan® Limited Warranty
Subject to the terms, conditions, limitations and exclusions herein, Sloan Valve Company ("Sloan")  warrants to the first end-user owner ("you" and "your") of its products (each, a "Sloan Product") that  such Sloan Product (exclusive of Flushmate® products) will be free from defects in materials and  workmanship for the applicable period set out in the table below (the "Warranty Period"),  commencing on the actual date of purchase by you of such Sloan Product (the "Purchase Date"):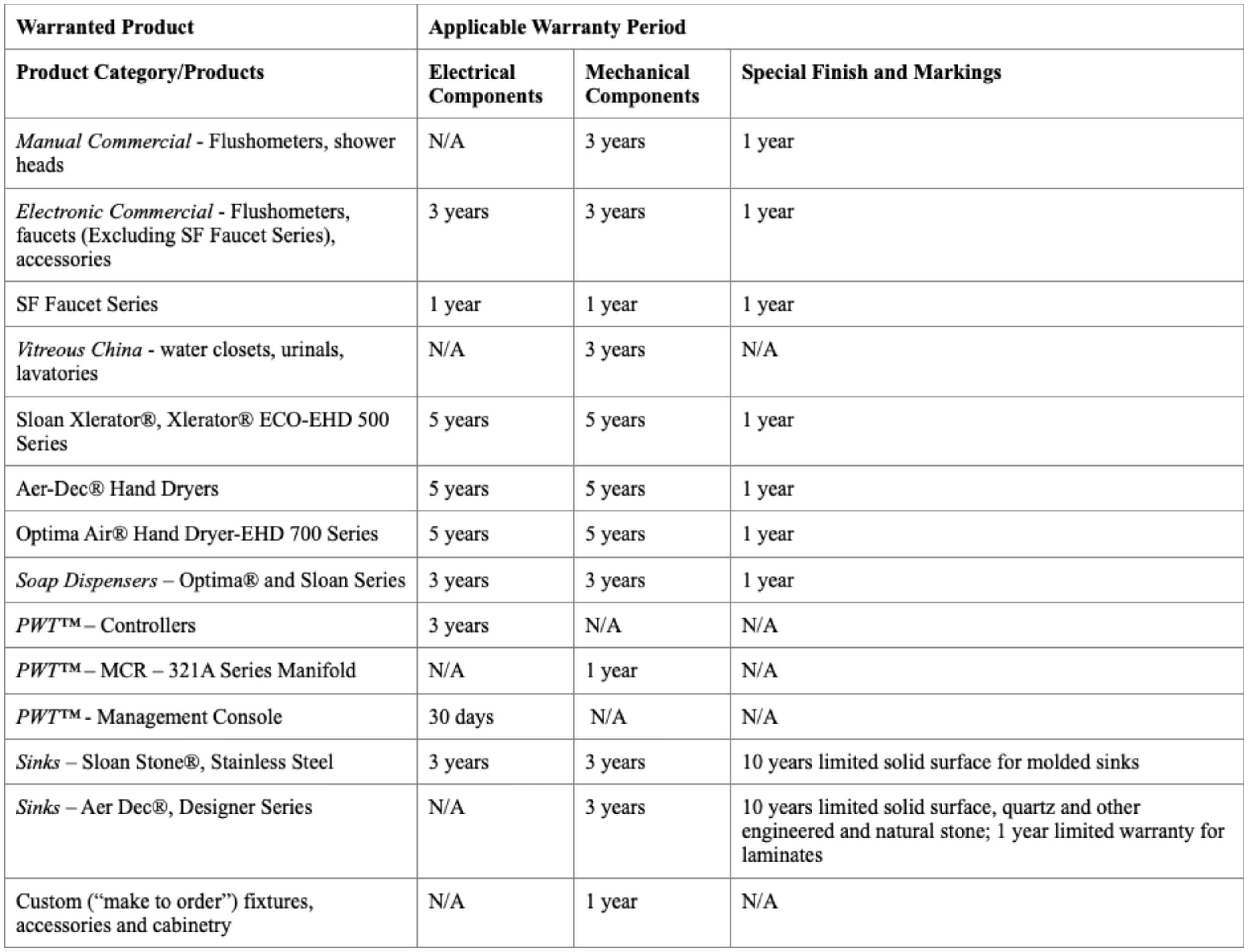 The Warranty Period will automatically terminate upon its expiration irrespective of whether or when the Sloan Product has been installed and/or put to use. You should keep your dated sales receipt for proof of purchase and claims purposes. If you are unable to produce proof of your Purchase Date to Sloan's reasonable satisfaction, the Purchase Date will be the date of manufacture per Sloan's records (e.g., based on the date-coded serial number printed on the Sloan Product, if applicable) or such other date as reasonably determined by Sloan in its discretion.
What is covered by this Limited Warranty?
During the Warranty Period, Sloan will, at its option, repair or replace any Sloan Product or component thereof (each, a "Covered Part"), or refund the purchase price thereof, to the extent such  Covered Part fails to conform with this Limited Warranty under normal use and service. Repair,  replacement or refund, as elected by Sloan in its sole discretion, shall be your sole and exclusive remedy under this Limited Warranty. Unless waived by Sloan, the defective Covered Part must be returned to Sloan at your cost. If Sloan elects to replace any Covered Part, Sloan will send the replacement item to you by normal (non-expedited) shipment method of Sloan's choosing.  Replacement products and parts provided by Sloan under this Limited Warranty are warranted for the remaining portion of the original Warranty Period. 
What is Not Covered by this Limited Warranty?
Any damage, defect or malfunction caused by abuse, misuse, neglect, vandalism, accident, act of  God (e.g., flood, fire, lightning), or other cause beyond Sloan's reasonable control is not covered by this Limited Warranty. Also, any damage, defect or malfunction resulting from one or more of the following is not covered by this Limited Warranty: faulty or improper repair or installation of the Sloan  Product; failure to perform routine or other manufacturer-recommended maintenance of the Sloan Product and/or connected system(s), improper or deficient plumbing and/or water supply (e.g., supply  line pressures and/or water flow greater or less than those specified in Sloan's applicable published  materials); improper or deficient source of electrical power; use of a non-potable, highly-corrosive or  hot/tempered water supply (except with respect to certain products such as faucets that are designed  to operate in high temperatures); alteration or modification of the Sloan Product; use of accessories, components, parts or attachments not manufactured by Sloan; failure of any fixture, device, part,  accessory or product not sold or manufactured by Sloan; use of anti-freeze, chemical agents, petroleum-based lubricants or cleaning products containing harmful substances (e.g., household  bleach, drop-in blocks or tablets, or disinfectants); improper storage or handling of the Sloan Product;  and/or use of the Sloan Product in an application other than as published in Sloan's Owner's Manual  or other technical and promotional materials. Batteries and other consumables such as filters,  cartridges and soap are not covered by this Limited Warranty. This Limited Warranty only covers the cost of repairs performed by Sloan or its authorized service provider in the event that Sloan elects to repair (as opposed to replace) the Covered Part as its choice of remedy hereunder. Performance of any repairs or corrective action or incurring any expense without Sloan's written authorization is at your sole risk and expense. To the maximum extent permitted by applicable law, no claims will be allowed for labor charges, transportation (including expedited shipping) or other costs and incidentals, all of which are your sole responsibility. Furthermore, this Limited Warranty only covers the Sloan Product itself and does not cover any non-Sloan product, fixture, plumbing device, sensor,  actuator, hub, network, system, infrastructure, hardware, software, part or accessory or any Sloan or non-Sloan service. This Limited Warranty is provided solely to you and is not assignable or transferable by you to anyone else. Sloan Products sold within India are covered by a separate warranty so these terms do not apply. 
What Are Your Responsibilities?
You are responsible to ensure that your Sloan Product has been installed, operated and maintained in accordance with Sloan's Installation Instructions, Repair Parts and Maintenance Guide and/or other written manuals, technical materials, instructions and/or recommendations attached to or furnished with the Sloan Product and/or posted on Sloan's website at www.Sloan.com.  If you contend that any Sloan Product is not in conformance with this Limited Warranty, you must allow Sloan the opportunity to inspect the Sloan Product (and the system(s) to which the Sloan Product is attached) and verify/diagnose the condition before you make any repairs or alterations to the Sloan Product.  You must not remove the serial number or label(s) from the Sloan Product.  Your failure to comply with the foregoing requirements will relieve Sloan from any further responsibility to you under this Limited Warranty to the fullest extent allowed by applicable law. Additionally, Sloan strongly recommends that you use genuine Sloan replacement parts when making repairs to your Sloan Product, and that you not use replacement parts purchased from unauthorized resellers as such parts may be used, defective, counterfeit or not designed for use in your country, state, province or jurisdiction (and are not covered by this Limited Warranty); provided, however, following this recommendation is not a condition of this Limited Warranty.
How Do You Make a Warranty Claim?
Sloan only permits distribution and resale of Sloan Products through authorized resellers, such as plumbing distributors and plumbing supply wholesalers. Except as otherwise may be required by applicable law, this Limited Warranty is void unless you purchased the Sloan Product from an authorized reseller.  You should initiate a claim under this Limited Warranty within 30 days of the discovery of the defect by either an email to techsupport@sloan.com or a call to Technical Support at 888.756.2614 and by following the instructions that are provided to you. You must (a) obtain a Return Merchandise Authorization (RMA) number from Sloan prior to returning any Sloan Product, (b) include the RMA number and any applicable serial number(s) for the Sloan Product (and proof of purchase, including the Purchase Date and identification of the authorized reseller from whom you purchased the Sloan Product, and (c) be responsible for and prepay any shipping expense in connection with the return of any Sloan Product. Any product returns, including returns for reasons other than warranty claims (e.g., you ordered the wrong product), should be handled in accordance with Sloan's returns policy (found at www.sloan.com) if purchased directly from Sloan or the returns policies of the authorized reseller from whom you purchased the Sloan Product if not purchased directly from Sloan.
GENERAL DISCLAIMER AND LIMITATION OF DAMAGES
THIS LIMITED WARRANTY SETS FORTH THE ENTIRE AGREEMENT BY SLOAN REGARDING ITS WARRANTY FOR YOUR SLOAN PRODUCT.  EXCEPT AS SET FORTH IN THIS LIMITED WARRANTY, AND TO THE MAXIMUM EXTENT PERMITTED BY APPLICABLE LAW, SLOAN DISCLAIMS ALL EXPRESS, IMPLIED, AND STATUTORY REPRESENTATIONS, WARRANTIES, DECLARATIONS, GUARANTEES AND CONDITIONS WITH RESPECT TO SLOAN PRODUCTS. WITH RESPECT TO IMPLIED WARRANTIES THAT CANNOT BE DISCLAIMED UNDER APPLICABLE LAW, THEN TO THE MAXIMUM EXTENT PERMITTED BY APPLICABLE LAW, SLOAN LIMITS THE DURATION OF ANY APPLICABLE IMPLIED WARRANTIES TO THE WARRANTY PERIODS SET FORTH ABOVE. SLOAN MAKES NO REPRESENTATION, WARRANTY OR GUARANTY AND EXPRESSLY DISCLAIMS ANY AND ALL LOSS, LIABILITY, OR DAMAGES WITH RESPECT TO ANY SERVICE OR NON-SLOAN PRODUCT THAT MAY BE RELATED TO OR USED IN CONNECTION WITH THE SLOAN PRODUCT. ADDITIONALLY, TO THE MAXIMUM EXTENT PERMITTED BY APPLICABLE LAW, (A) IN NO EVENT WILL SLOAN BE LIABLE FOR ANY PUNITIVE, CONSEQUENTIAL, INCIDENTAL, EXEMPLARY, OR SPECIAL DAMAGES, INCLUDING BUT NOT LIMITED TO ANY DAMAGES FOR LOST DATA, LOST CONNECTIONS, LOST COMMUNICATIONS, LOST SALES OR LOST PROFITS, ARISING FROM OR RELATING TO THIS LIMITED WARRANTY, THE SLOAN PRODUCT OR ANY SERVICE RELATED TO OR USED IN CONNECTION WITH THE SLOAN PRODUCT, EVEN IF SLOAN HAS BEEN ADVISED OF THE POSSIBILITY OF SUCH DAMAGES AND (B) SLOAN'S TOTAL CUMULATIVE LIABILITY ARISING FROM OR RELATED TO THIS LIMITED WARRANTY WILL NOT EXCEED THE AMOUNT PAID FOR THE SLOAN PRODUCT BY YOU OR YOUR AUTHORIZED RESELLER, WHICHEVER IS LESS.
DISCLAIMERS REGARDING ELECTRONICS, SOFTWARE AND SERVICES
ALL PRODUCT INFORMATION PROVIDED TO YOU BY SLOAN REGARDING ELECTRONIC COMPONENTS AND SOFTWARE INCLUDED WITH SUCH PRODUCT OR SERVICES THAT MAY BE AVAILABLE RELATED TO OR USED IN CONNECTION WITH SUCH PRODUCT IS PROVIDED FOR YOUR CONVENIENCE, "AS IS," AND "AS AVAILABLE." SLOAN DOES NOT REPRESENT, WARRANT, OR GUARANTEE THAT PRODUCT INFORMATION WILL BE ACCURATE, OR RELIABLE. YOU USE ALL SUCH PRODUCT INFORMATION, INCLUDING ANY ELECTRONICS, SOFTWARE AND SERVICES, AT YOUR OWN DISCRETION AND RISK. YOU WILL BE SOLELY RESPONSIBLE FOR (AND SLOAN DISCLAIMS) ANY AND ALL LOSS, LIABILITY, OR DAMAGES, INCLUDING TO YOUR WIRING, FIXTURES, ELECTRICITY, BUILDING, PRODUCT, ELECTRONICS, SOFTWARE, COMPUTER, HARDWARE, INFRASTRUCTURE, NETWORK, SYSTEMS, MOBILE DEVICE, AND ALL OTHER ITEMS RESULTING FROM YOUR USE OF SUCH PRODUCT INFORMATION. PRODUCT INFORMATION PROVIDED BY SLOAN IS NOT INTENDED AS A SUBSTITUTE FOR DIRECT MEANS OF OBTAINING THE INFORMATION. FOR EXAMPLE, THE SLOAN PRODUCT INFORMATION IS NOT INTENDED AS A SUBSTITUTE FOR AUDIBLE AND VISIBLE INDICATIONS IN THE BUILDING AND ON THE PRODUCT, NOR A SUBSTITUTE FOR A MONITORING OR OTHER SERVICE THAT MONITORS, ACCESSES, LOGS OR RECORDS THE LOCATIONS AND INSTALLATIONS OF THE SLOAN PRODUCTS, ELECTRONICS, SOFTWARE AND SERVICES.
Your Legal Rights Under This Limited Warranty and Applicable Law
This Limited Warranty gives you specific legal rights. You may also have other legal rights that vary by country, state, province, or jurisdiction. Likewise, some of the limitations in this Limited Warranty may not apply in certain countries, states, provinces or jurisdictions under certain circumstances. For example, some states in the U.S. do not allow the exclusion or limitation of incidental or consequential damages, or limitation on how long an implied warranty lasts, so any such limitations or exclusions may not apply to you. The terms of this Limited Warranty will apply only to the extent permitted by applicable law. For a full description of your legal rights you should refer to the laws applicable in your jurisdiction and you may wish to contact a consumer advisory service or legal counsel of your choosing. Any provision of this Limited Warranty that has been determined to be invalid or unenforceable by a competent arbitrator, court or legal authority may be replaced and substituted by such arbitrator, court or legal authority with an alternative provision that achieves the intent and purpose of the original provision to the maximum extent permissible under applicable law.
Procedure for Resolving Disputes
DISPUTE RESOLUTION, BINDING ARBITRATION AND CLASS ACTION WAIVER NOTICE: THIS LIMITED WARRANTY REQUIRES YOU AND SLOAN TO RESOLVE DISPUTES BY BINDING ARBITRATION INSTEAD OF IN COURT, UNLESS YOU CHOOSE TO OPT OUT. IN ARBITRATION, CLASS ACTIONS AND JURY TRIALS ARE NOT PERMITTED. SPECIFICALLY, ALL DISPUTES BETWEEN YOU AND SLOAN ARISING OUT OF OR RELATING IN ANY WAY TO THIS LIMITED WARRANTY OR THE SLOAN PRODUCT OR COVERED PARTS SHALL BE RESOLVED EXCLUSIVELY THROUGH BINDING ARBITRATION, AND NOT IN A COURT OF GENERAL JURISDICTION.  BINDING ARBITRATION MEANS THAT YOU AND SLOAN ARE EACH WAIVING THE RIGHT TO A JURY TRIAL AND TO BRING OR PARTICIPATE IN A CLASS ACTION.  You understand that you would have had a right to litigate disputes through a court, and that you have expressly and knowingly waived that right and agreed to resolve any dispute arising out of this limited warranty through binding arbitration.
The arbitration will be administered by JAMS and will be governed by the JAMS Streamlined Arbitration Rules and Procedures.  The arbitration shall be conducted at mutually agreeable location convenient to you and Sloan, will be conducted before a single neutral arbitrator, and will be limited solely to the dispute between you and Sloan arising out of this limited warranty.  You will have a reasonable opportunity to participate in the process of choosing the arbitrator.  If you initiate the arbitration, you will be required to pay for costs of arbitration up to $250.00.  Sloan will be responsible for paying all other costs of arbitration (including the arbitrator's professional fees), unless the arbitrator determines that your claim was frivolous.  If Sloan initiates the arbitration against you, Sloan will be responsible for all costs of arbitration.  The arbitrator's award will consist of a written statement stating the disposition of each claim and will provide a concise statement of the essential findings and conclusions on which the award was based.  Should either party bring a dispute in an arbitration forum other than JAMS, the court or arbitrator may award the other party its reasonable costs and expenses, including attorneys' fees, incurred in staying or dismissing such other proceedings or in otherwise enforcing compliance with this arbitration provision.  This arbitration agreement is made pursuant to a transaction involving interstate commerce, and shall be governed by the Federal Arbitration Act, 9 U.S.C. § 1, et seq.
PLEASE NOTE THAT IF YOU WISH TO OPT OUT OF THIS DISPUTE RESOLUTION PROCEDURE, YOU MUST PROVIDE AN OPT-OUT NOTICE TO SLOAN NO LATER THAN 30 CALENDAR DAYS AFTER THE PURCHASE DATE.
If any portion of this dispute resolution clause is determined by a court of competent jurisdiction or arbitrator to be invalid or unenforceable based upon any rule of law or public policy, all other terms, provisions and conditions of this dispute resolution clause shall nevertheless remain in full force and effect.  Specifically, you and Sloan each waive the right to any jury trial should this matter be ordered to proceed in court.
Garantía Limitada de Sloan Valve
Excepto que se especifique de otra manera, Sloan Valve Company garantiza que sus productos, fabricados y vendidos para usos comerciales o industriales, estarán libres de defectos de material o mano de obra por un periodo de tres (3) años (un (1) año para llaves SF, acabados especiales y electrónica PWT y 30 días para software PWT) desde la fecha de compra inicial. Durante este periodo, Sloan Valve Company, a su discreción, reparará, reemplazará o reembolsará el precio de compra de cualquier producto que no cumpla con esta garantía bajo uso y servicio normales. Ésta será la única y exclusiva solución con esta garantía. Los productos deben devolverse a Sloan Valve Company, por cuenta del cliente. No se aceptarán reclamaciones por mano de obra, transporte u otros costos. Esta garantía se extiende sólo a personas u organizaciones que compren productos de Sloan Valve Company directamente a Sloan Valve Company con fines de reventa. Esta garantía no cubre la vida de las baterías.
No existen garantías que se extiendan más allá de la descripción en la presente portada. En ningún caso Sloan Valve Company es responsable por ningún daño consecuente de ninguna naturaleza.
Política de Devoluciones de Sloan Valve
Los productos que se hayan determinado que estén defectuosos o que hayan sido embarcados incorrectamente por Sloan Valve Company serán acreditados al precio de factura. Los productos devueltos por razones que no sean defectos o errores de embarque de Sloan estarán sujetos a un cargo por manejo del 25%, el flete de la devolución corre a cargo del cliente. Si la factura no está disponible, entonces el crédito se expedirá basándose en la lista de precios previa, si dicha lista de precios tiene menos de un año de existencia. Todas las devoluciones deben ser autorizadas por la fábrica antes de la devolución. La fábrica expedirá un número de autorización de devolución de material (RMA). El número RMA debe rotularse en la etiqueta de embarque, en cada inspección de carga y en toda documentación relacionada.
Todas las devoluciones de Acabados Especiales, Órdenes Especiales, Fregaderos y productos SloanStone están sujetas a un cargo mínimo por manejo del 50% y deben devolverse antes de transcurrir un año; se requiere la factura original.
Todo material devuelto debe devolverse en las cajas de embarque originales, sin abrir, o empacado adecuadamente. El material se empacará de tal manera que no se dañe durante la devolución.
Material con más de dos años de antigüedad estará sujeto a un cargo por manejo del 50%. No se aceptarán productos con más de 3 años de antigüedad.
Se harán deducciones por cualquier material devuelto que no esté en condiciones de venderse. El material que no esté en condiciones de venderse será devuelto al cliente o hecho chatarra a solicitud del cliente.
Cuando se vaya a devolver un material, llame a su representante, quién contactará a la fábrica para obtener un número RMA. La siguiente información será necesaria:
Número de Factura
Número de Parte del Producto
Número de Código del Producto
Código de Fecha del Producto
Cantidad
Razón para solicitar la devolución (sea específico, "defectuoso" no es una razón). El material devuelto como defectuoso pero que, al inspeccionarse, se encuentre que está en condiciones de servicio, será devuelto al cliente a su cargo o se hará chatarra sin otorgarse crédito alguno. Estará disponible un reporte de la prueba a petición.
Todas las devoluciones deben incluir flete prepagado por el cliente.
El número RMA debe estar en cada carga y en cada contenedor.