When you're an architect or designer planning a high-profile commercial restroom, your imagination probably doesn't start with urinals. After all, restroom visitors are more likely to notice the lighting, the mirrors or the tiles—not to mention the sculpted sinks or stylish faucets.
But think about it this way: Urinals probably get looked at for longer periods of time than any of the elements mentioned above. Urinals make up a big part of visitors' overall visual impression of a restroom—and that's why they should be part of your design vision, as well.
Now, that vision can include our new Designer Urinal.
Elegance that Ordinary Fixtures Can't Deliver
High-end commercial restrooms demand extraordinary fixtures because restroom users in a fine restaurant, an upscale hotel lobby or a modern office building expect a higher degree of style.
The Designer Urinal's sleek shape and sophisticated flair express a design vision any architect or designer can be proud of. Its understated elegance will enhance restroom designs in any of these locations:
Class A office buildings

Finer restaurants

Hotel lobbies

Boutique and retail shopping

Theaters and nightclubs

Upscale event and tourism venues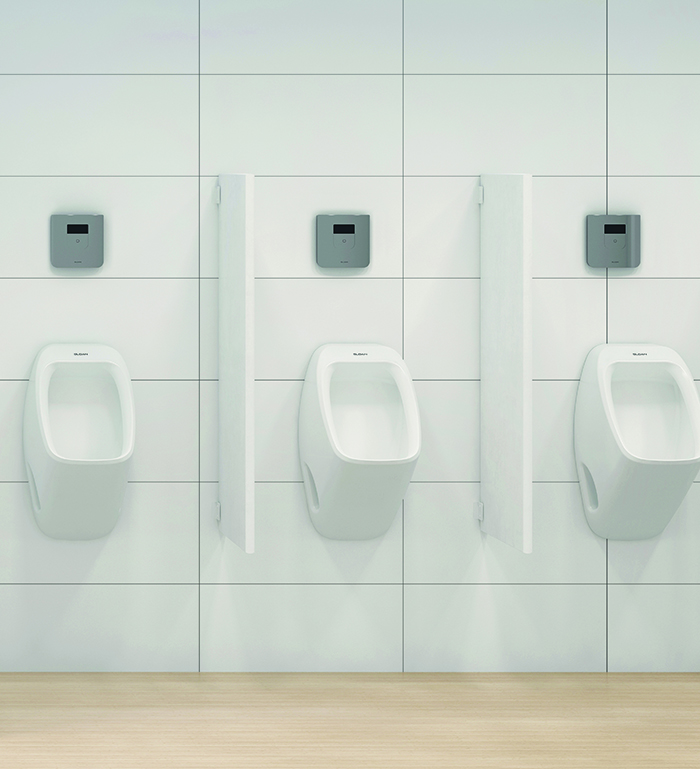 To elevate your restroom design even further, pair the Designer Urinal with the sleek, concealed CX Flushometer for a clean, modern look that optimizes your space.
The Designer Urinal is more than just a beautiful fixture. It's also built for performance, and that fact may be even more important than its looks.
Never Compromise Style for Performance
As striking as its looks may be, the Designer Urinal delivers all the performance you expect from Sloan: industry-leading durability, clockwork reliability, sustainable water savings and even enhanced hygiene.
Durability and reliability: The Designer Urinal is built for optimal performance with any Sloan urinal flushometer—exposed or concealed, manual or sensor-activated—so you can expect worry-free, water-saving performance for years to come.
Water savings: The Designer Urinal can accommodate four flush volume options to help meet the specific needs of the facility where it's installed: 0.125, 0.25, 0.5 and 1.0 gpf.
Enhanced hygiene: A fully skirted trapway gives the Designer Urinal its smooth look and easy-to-clean surface, while a unique, upward-pitched continuous rim reduces splashing. You can also specify SloanTec® hydrophobic glaze to keep Designer Urinals cleaner, longer.
Engineers and Building Owners Approve, Too
Architects and designers may be the ones who specify the Designer Urinal, but engineers and building owners will love it for its easy installation and maintenance.
If you're going to design an upscale commercial restroom, you can't overlook a single detail. The Sloan Designer Urinal adds a distinctive edge to your design vision, with reliability and performance you can count on from Sloan.
In other words: Dependable performance has never looked better.
Check out all the new Designer Urinal details.
Contact Sloan to learn more about the many ways you can give commercial restroom projects your own signature style.
Stay Up to Date
Sign up for the Sloan blog to receive information on the latest trends in commercial building, technology advancements and product updates. It's the leading source of industry news for architects, designers, engineers and contractors.
Thanks for signing up!