Isn't "Golden State Warriors" an unusual name for a sports franchise?
Most pro teams are named after the city where they're based. Some are named for states—the Colorado Rockies come to mind—and others for regions, like the New England Patriots. The Warriors, however, are the only major professional team in the U.S. to have a state's nickname as part of their name.
The team adopted the unusual moniker in 1971 to help unify regional support behind the Warriors after moving from San Francisco to Oakland. (They had previously moved from Philadelphia in 1962.) They've since become one of sports' most iconic brands, winning three NBA championships this decade with an up-tempo, crowd-pleasing style.
This season, moving back across the Bay to a spectacular new home in San Francisco's Chase Center, the "Golden State" branding seems especially appropriate. Chase Center combines style and sustainability in a uniquely California way. It's "Golden State" in every respect.
We're proud that Sloan products are the stars in Chase Center's restrooms. Here's a closer look.
Sustainability the Golden State Needs
In keeping with the recent trend toward green sports facilities, Chase Center has been designed to be environmentally friendly in every way possible. It's on track to achieve LEED Gold certification from the U.S. Green Building Council (USGBC).
Its sustainable measures include:
Regionally-sourced materials that contain recycled content, reducing the use of virgin materials

Stringent requirements for low Volatile Organic Compounds (VOC) content for interior finishes

A light colored roofing material with a high solar reflectance index to reflect sunlight and prevent heat absorption

Indirect-Direct Evaporative Cooling (IDEC) air handling units which reduce the need for mechanical cooling

Wind-driven power sources capable of offsetting 70% of the facility's electrical use

An indoor bike valet for up to 300 bicycles and a corral for over 100 additional bikes during events
Finally, Chase Center recovers graywater from restrooms and showers and even harvests stormwater from the roof. This reclaimed water is then treated on-site before being returned for use in restroom flush fixtures.
Reclaimed water? That's one of our specialties!
Flushometers Built to Handle Reclaimed Water
San Francisco has some of the most progressive building codes in the nation, requiring property owners to install recycled water systems in new construction to any building totaling 40,000 square feet or more.
We believe using reclaimed water to flush toilets and urinals makes a lot of sense, whether required by law or not. (After all, why use fresh drinking water to flush toilets?) That's why we've pioneered the Royal® Reclaimed Sensor Flushometers specified by Chase Center.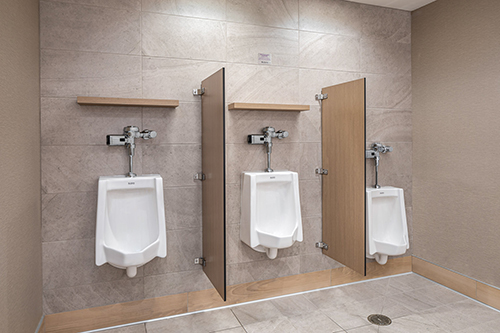 Using reclaimed water instead of fresh water will save Chase Center millions of gallons each year, but ordinary flushometers can't endure the higher chemical concentrations of reclaimed water. Our Royal® 111-1.28 SFSM and Royal 186-0.125 SFSM Sensor Flushometers are engineered to withstand the harsh conditions reclaimed water presents to deliver Sloan performance for decades.
Extraordinary Finishes for Extraordinary Restrooms
Sustainability wasn't the only priority for Chase Center—style was important, too.
An extraordinary arena design needs extraordinary restrooms, and extraordinary restrooms can't have ordinary finishes on their faucets and soap dispensers. That's why Chase Center specified Brushed Nickel special finishes for their EAF-250-ISM Faucets and matching ESD-2000 Soap Dispensers. These perfectly paired fixtures look stunning on Chase Center's 2-, 4-, and 5-station Designer Series™ Gradient trough style sinks.
Our Brushed Nickel finish isn't just first-glance beautiful, either—its Physical Vapor Deposition (PVD) properties keep fingerprints and watermarks away, even during the hundreds of uses each product endures during a game.
Whether it's the beauty of the building or the impact of its sustainability measures, Chase Center is dazzling fans and setting a new standard for sports arenas. It's a one-of-a-kind facility from a franchise that's always played by its own unique style.
Sloan technology has contributed to the construction and renovation of many of the world's premier sports and entertainment facilities. Want ideas for making your next event venue more stylish and water-efficient? Talk to Sloan!
Stay Up to Date
Sign up for the Sloan blog to receive information on the latest trends in commercial building, technology advancements and product updates. It's the leading source of industry news for architects, designers, engineers and contractors.
Thanks for signing up!