Picture a portable restroom. You know what we mean.
Now, replace that image in your mind with the spacious, comfortable, and clean Sloan Mobile Restroom. This is the model for how temporary restrooms should work, look, smell, and feel.
Right now, we're bringing Sloan Mobile Restrooms to some of the most important places in the United States—places where they can support communities affected by the COVID-19 pandemic.
Here's a closer look at Sloan Mobile Restrooms and the help they've been able to deliver.
Comfort, Dignity, and Relief During the Pandemic
The COVID-19 pandemic has made life harder and more complicated for millions of Americans. One example: a rise in homelessness, even as capacity in shelters is reduced by the need for social distancing. In Ft. Collins, Colorado, when restrooms at a Catholic Charities homeless shelter were out of commission, a Sloan Mobile Restroom gave workers and residents the comfort and dignity they needed.
"In the current COVID-19 crisis, such amenities can mean the difference between community health and community outbreak," said Joe Domko, Regional Director Larimer County, Catholic Charities of the Archdiocese of Denver.
COVID-related safety procedures have also forced hospitals to make patients' families wait outside while their loved ones are treated. That scene played out recently at the Tucson Medical Center in Tucson, Arizona, with staff and patient families waiting outside under a blazing July sky. They gained some relief from that uncomfortable situation with the help of a Sloan Mobile Restroom, where they could at least attend to their personal needs.
One more example: The Garden of the Gods public park in Colorado Springs had to close its restrooms as a COVID precaution. Visitors were able to enjoy the park regardless, thanks to an onsite Sloan Mobile Restroom.
Upscale, Comfortable Restrooms—Anywhere
The Sloan Mobile Restrooms are like no other portable restroom you've ever experienced. It's not just a place to relieve yourself—it's a welcome escape from the world outside. Its relaxed indoor environment feels and works like a beautiful permanent restroom in an upscale office building or restaurant.
This clean, comfortable restroom, however, goes just about anywhere.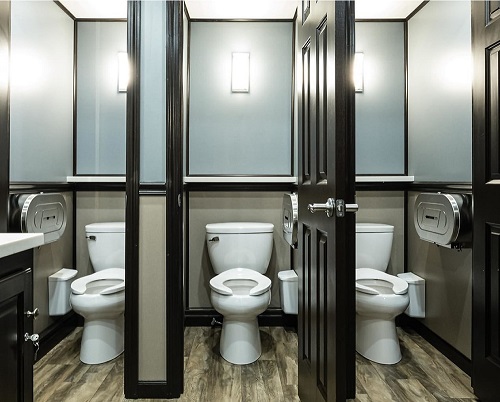 It's built with customizable Sloan hardware that makes it comfortable, hygienic, and easy-to-maintain: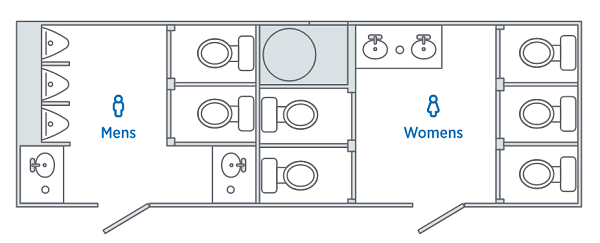 Our Mobile Restrooms are split into men's and women's units, with designated separate entries, and they feature ADA compliant modifications for universal accessibility. They're truly designed for anyone who needs a restroom break—anywhere.
Beyond COVID-19
Someday—soon, we all hope—the COVID-19 pandemic will be over. But, there will be other natural disasters and emergencies, and Sloan Mobile Restrooms will be there to help people displaced by these catastrophes.
In the future, Sloan Mobile Restrooms can also be repurposed for outdoor events to replace the portable restrooms we all know far too well. We also hope to share the Sloan Mobile Showroom with wider audiences, but COVID-19 has it on hiatus until at least January 2021.
A Sloan Mobile Restroom can help make some of the most difficult circumstances more comfortable. Want to bring one to your community? Contact us!
Sloan helps architects, designers, engineers, and building owners stylish, sustainable commercial restrooms. Like to know more? Talk to Sloan!
Stay Up to Date
Sign up for the Sloan blog to receive information on the latest trends in commercial building, technology advancements and product updates. It's the leading source of industry news for architects, designers, engineers and contractors.
Thanks for signing up!