When most people hear "Pasadena, California," they think of the world-famous Rose Bowl, the giant, stately stadium that's possibly the most hallowed site in college football.
Yet, in any normal year, the nearby Pasadena Convention Center hosts far more visitors than the famous New Year's Day football game. With 130,000 square feet of exhibition space and 25 meeting rooms, the Convention Center is one of southern California's leading hubs for conferences and major events.
It's seen its share of history, too: The classic Beaux-Arts Pasadena Civic Auditorium at its core, built in 1932, hosted the Emmy Awards from 1977 until 1997 along with episodes of American Idol and some of Van Halen's earliest gigs.
At the end of 2019, the 50-year-old Conference Center  underwent an extensive upgrade that included new restrooms. To leave a lasting positive impression on guests and ease the burden on the facility's maintenance team, these restroom upgrades included a full suite of Sloan touch-free products—sinks, faucets, hand dryers, and sensor flushometers for both water closets and urinals.
All-in-One Handwashing with the AER-DEC® Sink System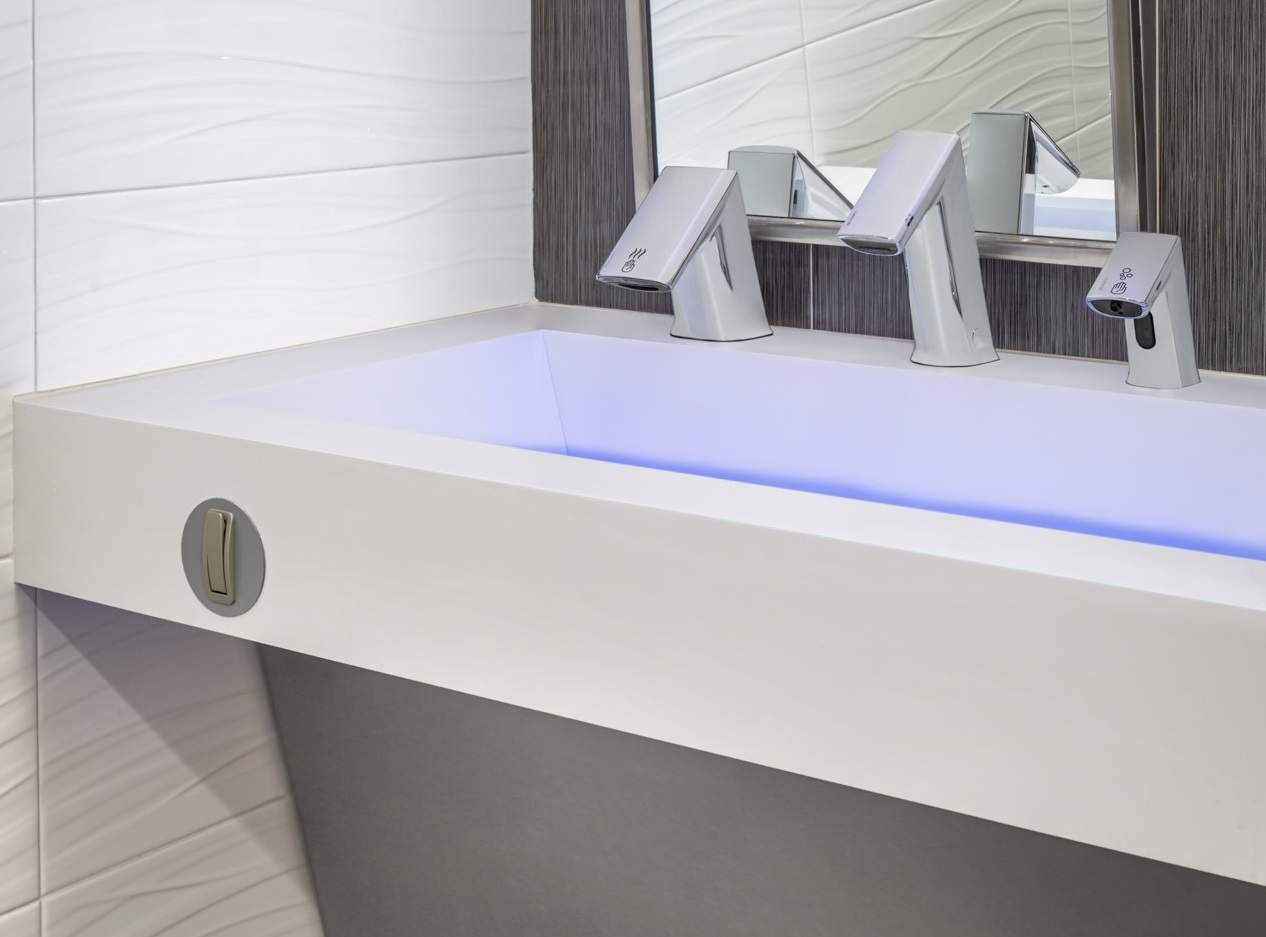 The Convention Center swas interested in an all-in-one handwashing solution which led them specifying the AER-DEC integrated sink systems (AD-82000) throughout the building. The AER-DEC integrated sink system combines a faucet, soap dispenser, and hand dryer in one sleek, touch-free, hygienic, highly efficient system. Their polished chrome faucets, soap dispensers, and hand dryers give the restrooms a sleek edge, and they keep the entire restroom looking cleaner by eliminating paper towel waste as well as the water trails often caused by users moving across the restroom from the sinks to the hand dryers.
What's more, the touch-free faucet, soap dispenser, and hand dryer give the new restrooms a hygiene upgrade, since sensor-operated fixtures are far less likely to breed and spread germs than manual ones.
Water Savings and Sustainability from Advanced Sensor Flushometers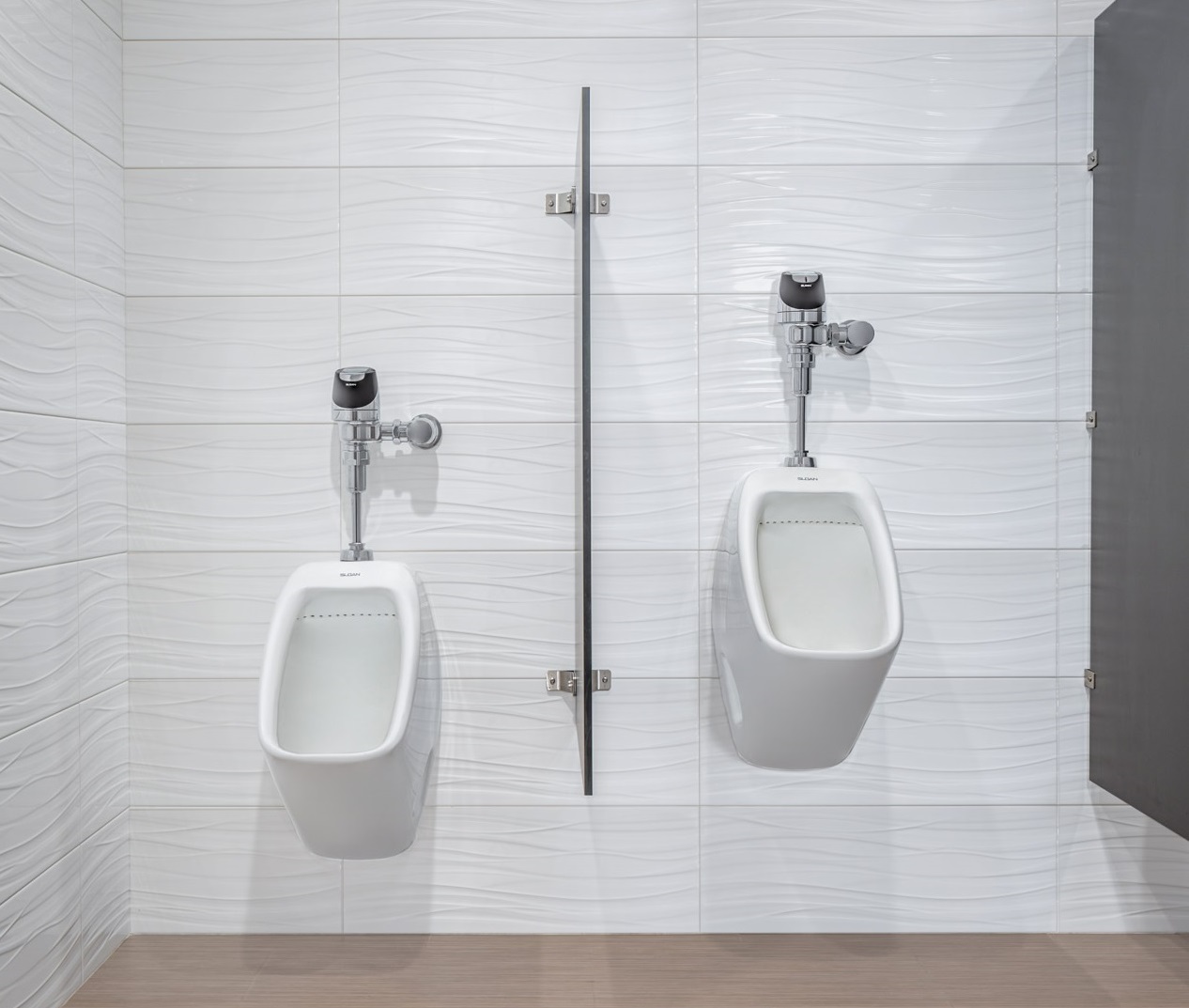 The Pasadena Convention Center is one of the greenest convention centers in North America—certified as LEED Gold. That's one reason they specified Sloan flushometers, water closets, and urinals for their remodeled restrooms.
The Convention Center specified SOLIS® sensor flushometers on both its water closets (1.28 gpf) and urinals (0.125 gpf). Solar-powered and battery-operated, these SOLIS Flushometers feature a user-friendly three-second flush delay.
These flushometers were paired with  wall-mounted water closets and designer washdown urinals. These fixtures are designed to optimize the performance of the flushometers.
They look great, too—and the Convention Center took one more step to keep them looking that way.
Cleaner Appearance, Lower Maintenance, and Enhanced Hygiene
The Convention Center specified its new water closets and urinals with SloanTec® glaze—a unique, proprietary treatment that imparts permanent hydrophobic (water-repellent) and oleophobic (oil-repellent) properties to vitreous china.
By inhibiting the growth of germs and bacteria, Sloan-Tec glaze keeps fixtures looking cleaner while actually making them easier to clean, too.
And, needless to say in the COVID-19 era, anything that inhibits the growth of germs contributes to a more hygienic environment. Combined with all touch-free products, this commitment to hygiene will reassure visitors once they return by the thousands to the storied, historic Pasadena Convention Center.
Sloan technology has contributed to the construction and renovation of many of the world's most advanced entertainment and conference facilities. Want ideas for making your next project more stylish, more hygienic, and more efficient? Contact Sloan!
Stay Up to Date
Sign up for the Sloan blog to receive information on the latest trends in commercial building, technology advancements and product updates. It's the leading source of industry news for architects, designers, engineers and contractors.
Thanks for signing up!