When a company that builds commercial restrooms every day specifies your products, that's a nice endorsement.
When that same company selects your products for the renovated restrooms in their own building, that's a major statement.
PCL Construction is one of the world's leading general contractors. They've built thousands of commercial restrooms and have worked alongside plumbers and installers for more than 40 years. So it's fair to say they know which products help make a restroom durable, stylish, hygienic, and sustainable.
That's why, when PCL Minneapolis relocated to a new office, they specified Sloan products for the renovation. Here's how they met their goals for hygiene and sustainability.
The AER-DEC® Sink System: Greater Hygiene, Smaller Space
Like many contractors overseeing a remodeling effort, PCL needed to keep the existing restroom layout to maximize office space. They chose a Sloan solution that not only made better use of the existing restroom space, but the AER-DEC® integrated sink system also helped create far more hygienic restrooms.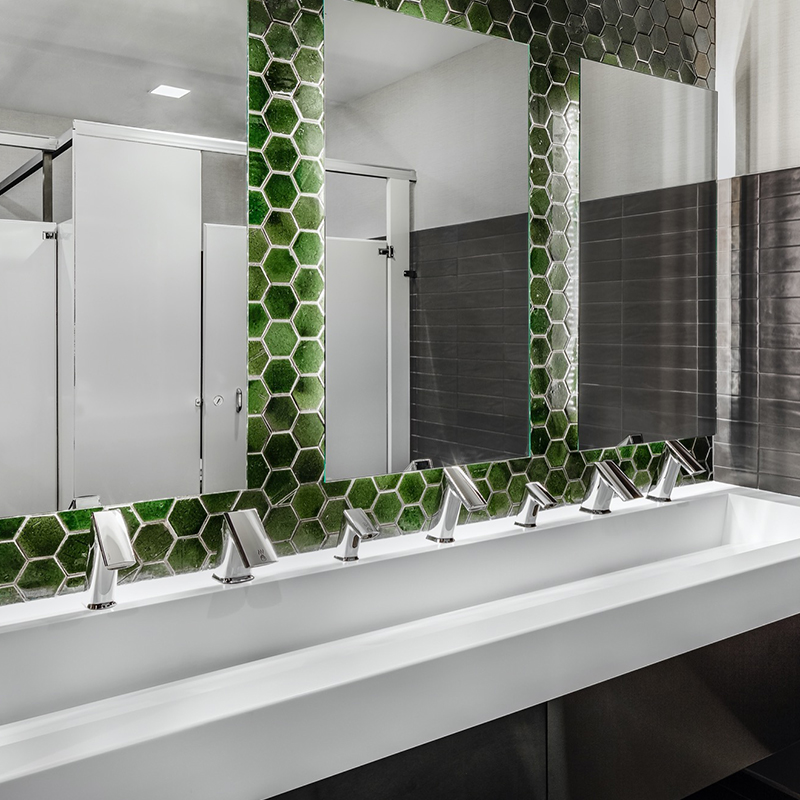 The AER-DEC sink system combines a faucet, soap dispenser, and hand dryer in one sleek, touch-free, hygienic, highly efficient system. What's more, each three-station AER-DEC system occupies less space than three individual sinks, so the remodeled restrooms can serve the same number of people in a more spacious environment.
That environment is also more hygienic, because the unique AER-DEC setup saves users from walking across the floor to reach a hand dryer. Floors stay drip-free and restrooms avoid the mess that comes with paper towels.
Plus, PCL specified sensor-activated BASYS® faucets, Optima® soap dispensers, and hand dryers, giving users a more hygienic, touch-free experience.
Low-Flow Flushometers Help Achieve Greater Sustainability
With more and more businesses recognizing the importance of sustainability, many PCL clients seek LEED certifications for their new and renovated buildings. It's no surprise, then, that PCL is itself committed to sustainability initiatives, ranking #14 in Engineering News-Record's 2019 Top 100 Green Building Contractors.
In its remodeled Minneapolis headquarters, PCL made sustainability a top priority.
Installing AER-DEC integrated sink systems eliminated paper towel waste and helps keep restrooms well-maintained. Beyond that, PCL also specified Sloan low-flow flushometers to promote water conservation at its new facility:
With water usage significantly lower than standard flushometers, these products help PCL Minneapolis achieve the water savings they—and their customers—aspire to.
Renovated Restrooms Impress Two Audiences
When you're a contractor such as PCL, you know your facilities need to impress two audiences—your employees, and your clients. Every client who visits your headquarters is getting a preview of what you might construct for them.
That's why this statement from Mark Bentfield, PCL Construction Services' Building Systems Manager, is significant: "The Sloan products in our new restrooms have made a great impression on our employees. Not only that, but two of our customers recently stopped in and liked the products so much that they also want to install them in their own remodeling efforts."
Sloan technology has contributed to the construction and renovation of many of the world's most advanced office buildings. Want ideas for making your next project more stylish, more hygienic, and more efficient? Contact Sloan!
Stay Up to Date
Sign up for the Sloan blog to receive information on the latest trends in commercial building, technology advancements and product updates. It's the leading source of industry news for architects, designers, engineers and contractors.
Thanks for signing up!