It's about 70 miles across Oklahoma from Tulsa to Stillwater, where large building projects in each city recently deployed Sloan restroom products to accomplish similar goals.
Enhanced hygiene? Check.
Elevated style? Check.
Touch-free user experience? Check.
While these two facilities—a convention center and an elementary school—are very different, their restroom priorities aren't far apart. Here's a detailed look at both.
"Give Them Something to Talk About"
The Cox Business Convention Center in downtown Tulsa's Arena District hosts about 185,000 people every year for galas, dance shows, business conferences, and much more.
With that level of foot traffic, it's no surprise that the venue makes restroom hygiene a top priority. But since the Center's high-profile guests often have style top-of-mind, aesthetics are very important, too.
"We wanted to provide our guests with something they don't normally see," said Willie Williams, Cox Business Center Director of Operations. "We wanted to give them something to talk about when they leave."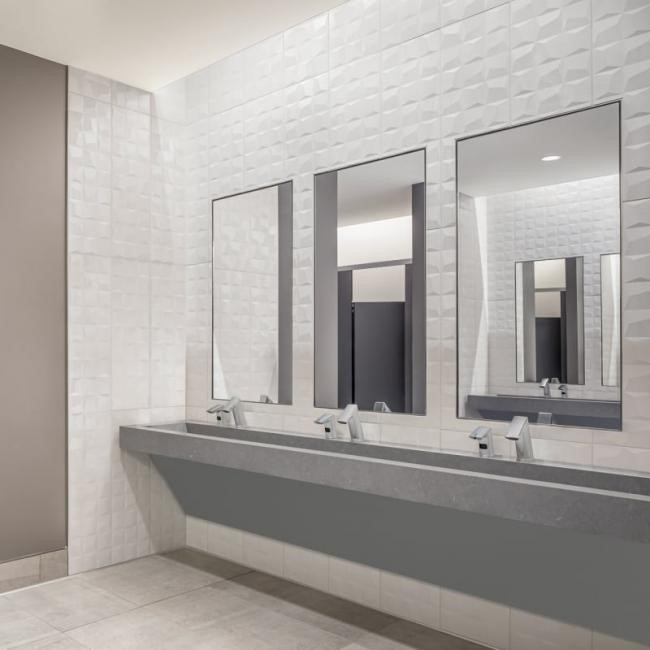 That's why the Cox Center partnered with Sloan for its recent restroom renovations, featuring Designer Series™ Gradient Sinks, along with new faucets, soap dispensers, and flushometers:
Supported by new sinks, all these products work together to create a highly efficient, touch-free, hygienic system. Meanwhile, the entirely hands-free restroom experience promotes proper hand hygiene and overall health and wellness.
Like many events at the Cox Center, the new restrooms are a hit.
"Nice, Clean, and Easy to Maintain"
When Stillwater Public Schools decided to replace the 70-year-old Westwood Elementary School with a brand-new building, they chose Sloan to help create the perfect restrooms for the school's 600 students.
When young kids are involved, hygiene is the top priority, but durability and water usage are also key concerns. Kids, after all, sometimes turn off a faucet too aggressively or don't turn it off all the way. The solution to all three needs is touch-free faucets, and Westwood chose EAF-200 Optima® Hardwired Faucets for all the school's restrooms.
And guess what? Kids care about aesthetics, too. That's why Westwood specified sleek (yet affordable) SloanStone® 3-Station Gradient Sinks to create a cleaner, more modern look for its new restrooms.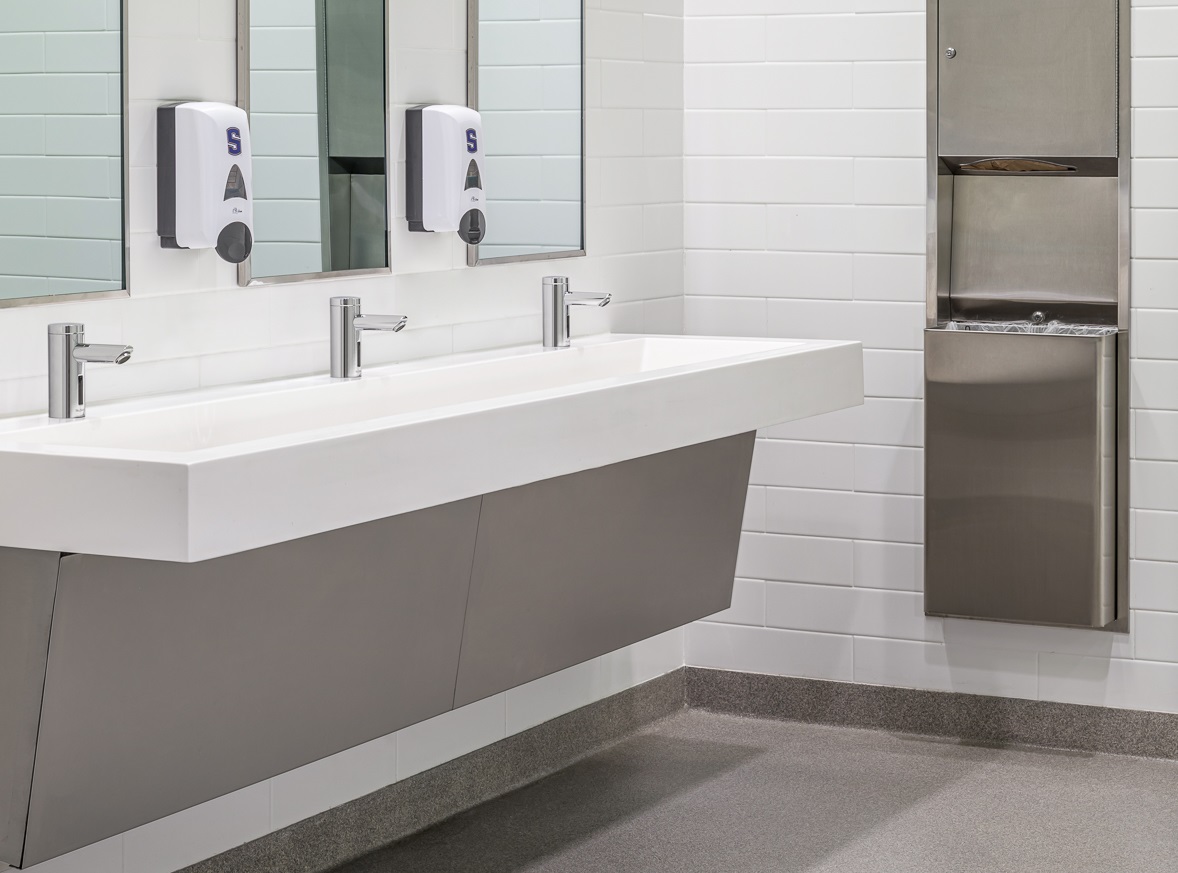 "It just makes people feel better about using our facilities when we know they're nice, clean, and easy to maintain," said John Anders, Facilities Director of Stillwater Public Schools. "That's what Sloan brought to Westwood Elementary School."
Other key Sloan products include:
One final touch to increase the restrooms' cleanliness: All water closets in Westwood Elementary feature SloanTec® Hydrophobic Glaze, which inhibits the growth of germs and bacteria to make cleaning and maintenance easier.
What about Other Types of Facilities?
Do industry-leading Sloan products like the ones mentioned here make sense for other facilities beside entertainment venues and schools? Of course! Sloan is also a leader in helping create hygienic, sustainable restrooms for:
As our two Oklahoma partners can attest, working with Sloan means restrooms never have to compromise between style, hygiene, and user experience.
Sloan technology has contributed to the construction and renovation of many of the world's most advanced facilities. Want ideas for making your next project more stylish, more hygienic, and more efficient? Contact Sloan!
Stay Up to Date
Sign up for the Sloan blog to receive information on the latest trends in commercial building, technology advancements and product updates. It's the leading source of industry news for architects, designers, engineers and contractors.
Thanks for signing up!