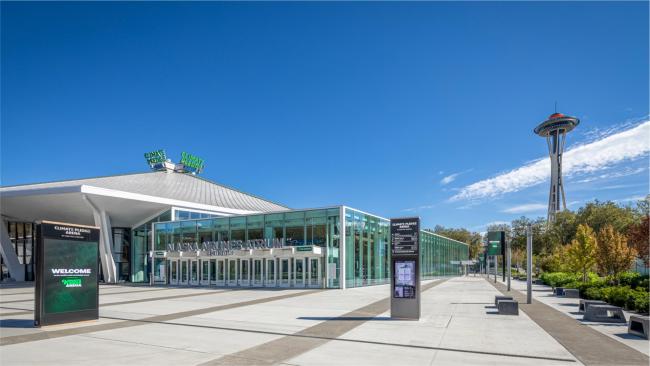 Seattle, WA
Climate Pledge Arena
Since it opened in 2021, Seattle's Climate Pledge Arena has set a goal to be the most progressive, responsible, and sustainable arena in the world.
That's why the venue—sponsored by Amazon—has joined over 375 other corporations in taking the Climate Pledge, an agreement to reach net-zero annual carbon emissions by 2040. The arena is committed to doing its part to reach this goal by creating the first International Living Future Institute-certified zero-carbon arena and becoming the first arena to announce its intention to eliminate single-use plastic.

When it comes to water conservation, the arena's "Rain to Rink" system harvests water off its own roof, collecting it into a 15,000-gallon cistern and turning it into the greenest ice in the NHL. That's not to mention its use of on-site retention tanks to reduce stormwater runoff and its water-saving commercial restroom products.

This is where Sloan commercial restroom fixtures are helping the facility reach its goals. With over a combined 700 water closets, urinals, flushometers, and faucets throughout the arena, Sloan is giving Climate Pledge Arena a boost with its water conservation efforts.
"Sloan is well-known for its track record of high-quality products, and its performance at Climate Pledge Arena has been no exception. Sloan has brought a high level of forward-thinking in water consumption and sustainability to our facility."