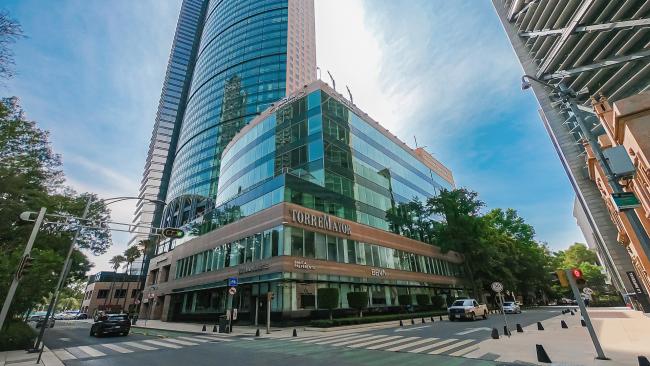 México City, Mexico
Torre Mayor
Productivity, innovation, and environmental awareness define Torre Mayor.
Torre Mayor began the tradition of vertical developments that is now a trend across the country. The building is located at 505 Avenida Reforma, in what was once the Chapultepec Cinema. After assuming the leadership of the Reichman International company, owned by Paul Reichman, the architect who designed the building, construction was completed in 2002.

Torre Mayor has a height of 225 meters over 55 floors, in addition to 4 underground parking levels and 9 above street level, with more than 2,000 self-service spaces. The building is equipped with 29 elevators and 84,135 square meters of office spaces, pressurized emergency stairs, automatic units, air conditioning, mechanical, and electrical and telecommunications systems on each floor. Torre Mayor is included among the most resistant skyscrapers in the world and the one with the highest seismic tolerance on a world scale, with a maximum tolerance of 9.0 on the Richter scale.

Sloan's specification and sales department approached the site and worked with Gutierrez Tello's facilities team to select equipment that met the ICA-Reichman developer requirements. Sloan won the specification, and later, after 10 years of service, the owners sought LEED Gold Certification, and again the teams selected Sloan.
"Sloan is a high quality firm, it is recognized worldwide, the products have very high standards and this is why installed in them in Torre Mayor. Something that was very important to us in our restrooms, is that the brand transcended the timeline. Today we are talking about more than 18 years and we still continue with Sloan. "