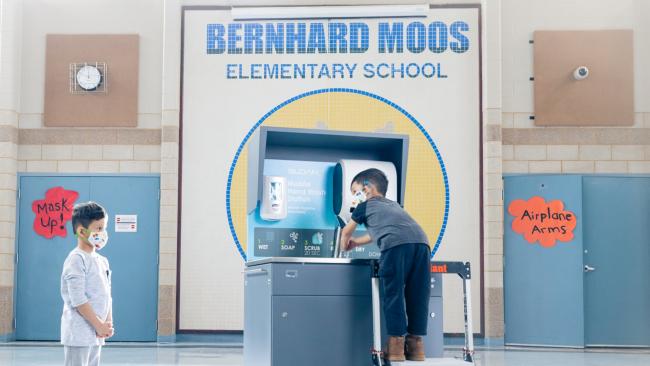 Chicago, IL
Bernhard Moos Elementary School
As a dual-language and International Baccalaureate school, Bernhard Moos Elementary prepares students in Pre-K through eighth grade to become change-makers in the world through an environment that nurtures cultural pluralism and service-oriented learning.
Specifically, the school's global citizens promote diversity while becoming bilingual, biliterate communicators and multicultural agents of change who advocate for a peaceful world. But with 428 students set to return to in-person learning after months of remote education due to the COVID-19 pandemic, the school needed to make sure its building was optimized to create a safe and hygiene-friendly learning environment.

When touring another nearby school, Bernhard Moos Elementary principal Lauren Degiulio noticed Sloan Mobile Handwashing Stations and knew that they would be the perfect solution to help promote hand hygiene beyond the restroom at the school when students and faculty returned.

That's when—with the help of the Wood Family Foundation and its work to empower students and their families—Sloan donated a mobile handwashing station to the school. With this new access to hand hygiene outside of the restroom, the elementary school has been able to successfully welcome back students without any COVID-19 outbreaks.

"Sloan's mobile handwashing station has been a huge benefit to our school as we've welcomed students back to campus. Our cafeteria is the perfect location for the handwashing station, and it has helped us to promote health and wellness for hundreds of students."