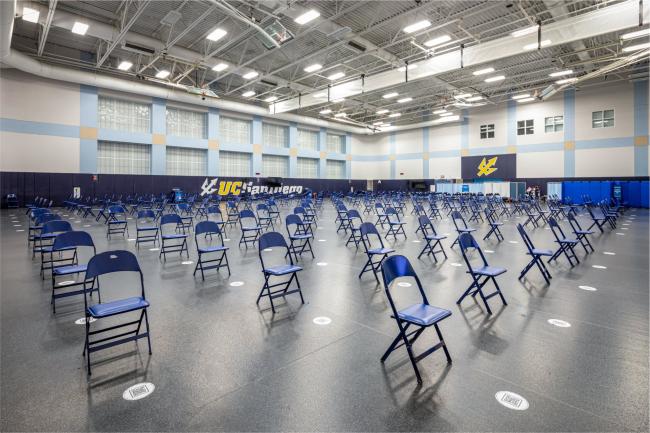 San Diego, CA
University of California San Diego
As one of San Diego County's primary COVID-19 vaccination sites, the Recreation, Intramural, and Athletic Complex (RIMAC) on the campus of UC San Diego is helping vaccinate close to 4,000 people every day.
And with such a high volume of visitors, the UC San Diego facilities team recognized that health and safety protocols would be essential to maintain proper hygiene and overall cleanliness. Specifically, the university needed to prioritize easy access to hand hygiene solutions for staff and patients beyond just the RIMAC's restrooms.
That's why UC San Diego worked with Delco Sales to specify three Sloan mobile handwashing stations to enable more convenient and touch-free handwashing applications on wheels throughout the RIMAC, in addition to the Sloan faucets already in the campus restrooms. Designed to be placed anywhere hygiene is essential, UC San Diego strategically placed mobile handwashing stations throughout the vaccination room, waiting room, and post-vaccine treatment center to make sure a handwashing outlet was nearby, regardless of location.
"Sloan mobile handwashing stations are the ideal solution for our vaccination clinic. They provide a sense of enhanced hygiene at key locations throughout the clinic, while also proving to be very easy to install."