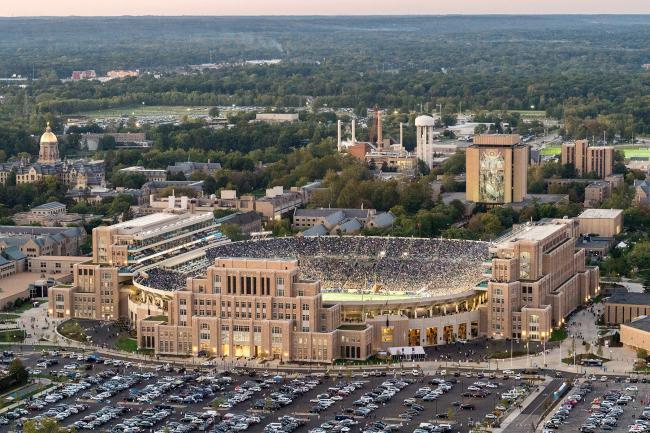 Notre Dame, IN
University of Notre Dame
One of the most iconic sporting venues in collegiate athletics, Notre Dame Stadium is not only at the center of Notre Dame's campus, but the center of the college football universe.

The University endeavored in 2014-18 to evolve the 88-year-old athletic complex and its surrounding areas into more than just a sporting venue, but a year-round epicenter for academic and student life.

The result was the Campus Crossroads Project (CCP), the largest building initiative in the school's illustrious history designed to place Notre Dame Stadium at the intersection of research, student life, event and hospitality space.

Notre Dame and Sloan have a 112-year relationship, which led to Sloan products being designated as the Basis of Design for Notre Dame's entire expansion and renovation. A total of 2,105 Sloan products were specified as part of the CCP, including: water closets, urinals, Royal® and ECOS® flushometers, BASYS® and Optima® faucets and soap dispensers in both new construction and renovations.

*Interior photographs by Jon Miller
The Campus Crossroads Project was a historic endeavor for the University. We're thankful that Sloan was a part of it and excited about its presence in so many of the exciting new facilities on campus.